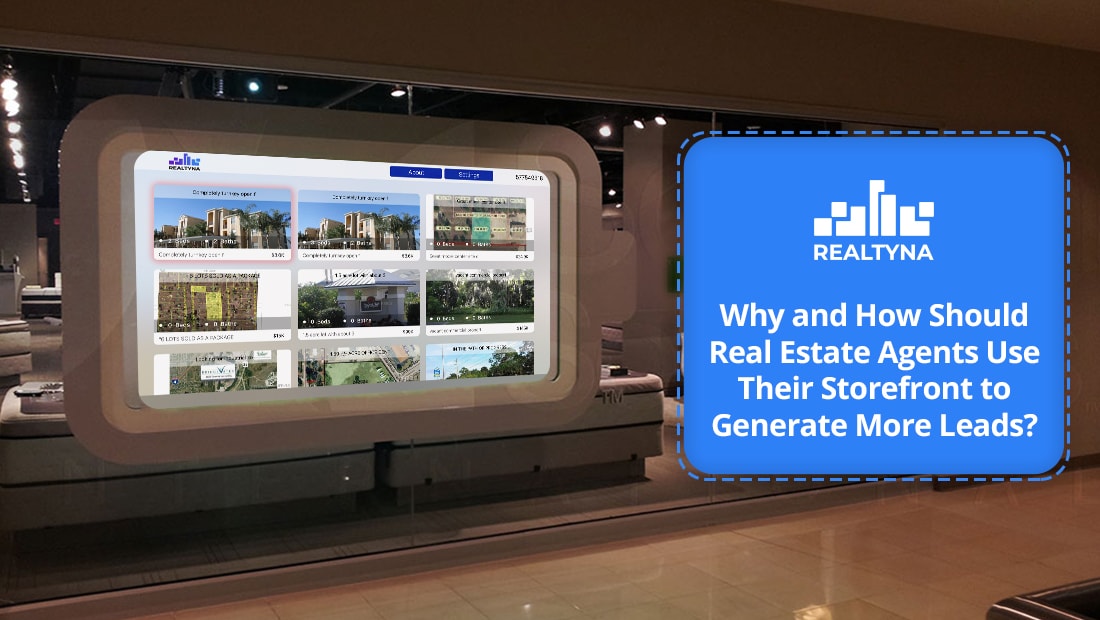 Why and How Should Real Estate Agents Use Their Storefront to Generate More Leads?
13 Aug 2019

Posted at 10:00h
0 Comments
If you want your real estate listings to be displayed in the storefront of your office, lobby or at an event like an open house, you need Realtyna's TV app.
Overview
Let's stop for a second and think about the science behind every marketing technique. What do they have in common? What is the magic behind what seems a very simple yet very effective thing? Here is the thing about marketing- its most important goal is not only to discover what and why people like certain things but also to plant the love if none previously existed.
Time changes and marketing also evolves and moves on, some techniques become more and more popular, some almost extinct. But the goal stays the same. If marketing will exist in the future, and I'm sure as long as trading is a thing, marketing still will be around, figuring out what us, consumers want and how to make us buy more.
But, let's focus on the present time for a moment. Society today is a chaotic. Wild Ouroboros, caught in the never stopping circle of chasing success. We consumers live fast-paced lives and honestly don't even have time or patience to consume long-form content. Give us something that we can read fast, scroll down and understand what the author wants to say to us in mere seconds. Consumers today are more technologically-savvy and empowered than before which poses challenges for marketers today. To be able to compete, an organization has to provide a superior customer experience.
Solution
As already said, we are becoming more and more emotional and impatient to the information that's coming our way. What are the new approaches that marketers can use to attract consumers? Today, I will focus on one of the most successful techniques for a real estate storefront – TV applications.
How does a TV Application work for real estate storefronts? Realtyna's TV add-on App sends your MLS listings from your WPL website to your TV by using Smart TV systems like Apple TV. If you want your website's listings to be displayed in the storefront of your office, lobby or at an event like an open house, you need the TV add-on.
It offers you an innovative hotspot for informing your clients, all while helping growing your brand and saving money, time.
Where Can You Use TV Add-On App?
In the lobby of your office- It will help customers to get a general idea of your brand.

Place the digital screens with TV App near the windows or storefront to attract more leads.

Use the digital screens with TV App while meeting with clients or while attending the conferences to highlight and showcase the MLS listings.
What Are the Main Features of TV Add- On?
Maximize the exposure of your MLS listings

Showcase all your listings and data with high-quality images

Navigate the interface easily

Connect to the supported device of your choice

Generate slide presentation automatically
What are the Benefits of Using a TV App in Your Real Estate Storefront?
Dynamic Content.
This tool was created to empower real estate websites and professionals in the real estate industry. It helps you to showcase dynamic, moving content that inherently attracts passing traffic. It allows the MLS listings on the digital screen to be easily consumed by the passers-by and remembered.
It's Flexible.
The app is highly flexible. It switches regularly between listings, creating rich visual imagery. Every marketer will tell you that interactive content is one of the most essential in attracting clients and improving sales and profits.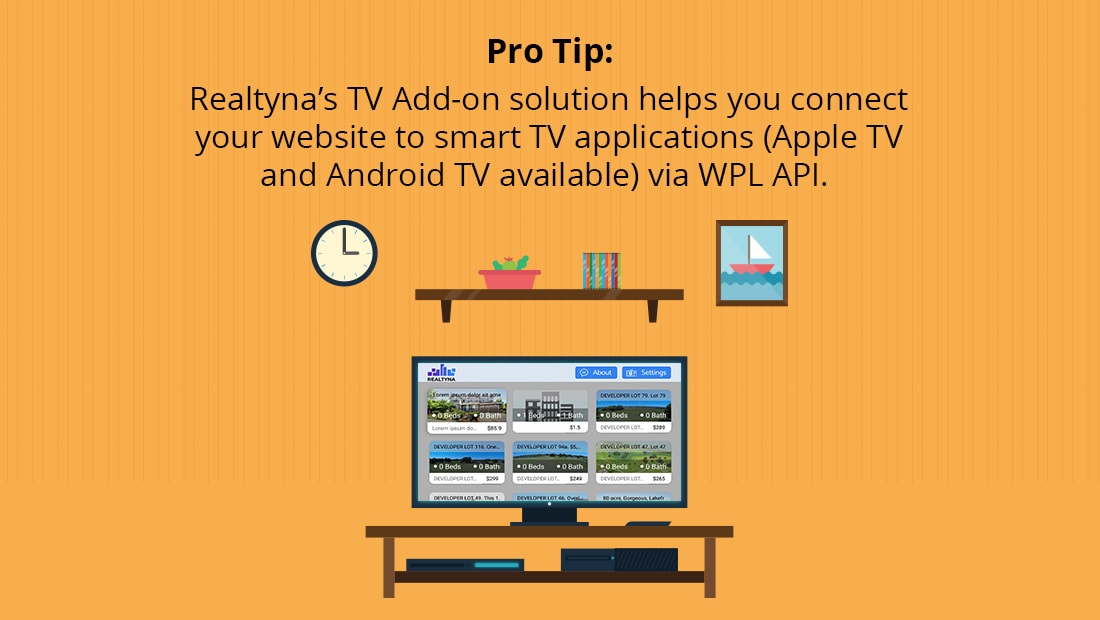 The Message Gets Easily Stuck in the Consumer' Brains.
What every marketer wants is for the message to be memorable. A TV App is one of the methods to get messages stuck in the consumers' brains. How? Beautiful and dynamic visual content will definitely attract the eyes of the clients and make them want to read the message more.
Help Customers to Become More Informed.
Consumers nowadays are very tech-savvy and information hungry. We want to make deliberate informed decisions. TV add-on helps you to become a more ethical brand. It allows customers to get the general idea of your brand, your goals, and values before they purchase something.
Use the Time to Your Advantage.
Probably everyone experienced how time stretches while we're waiting to receive the service. We try to find something to focus on, our eyes are constantly moving, observing the office and focusing on the brightest objects and familiarizing with them. In most cases, it's the digital screens. You can use the time consumers have to wait for service and with the TV add-on, promote your MLS listings. And you know what they say; familiarity increases our likelihood of liking something.
P.S Have any additional questions? Check out 6 Ways a TV App Can Benefit your Business or watch the video below: