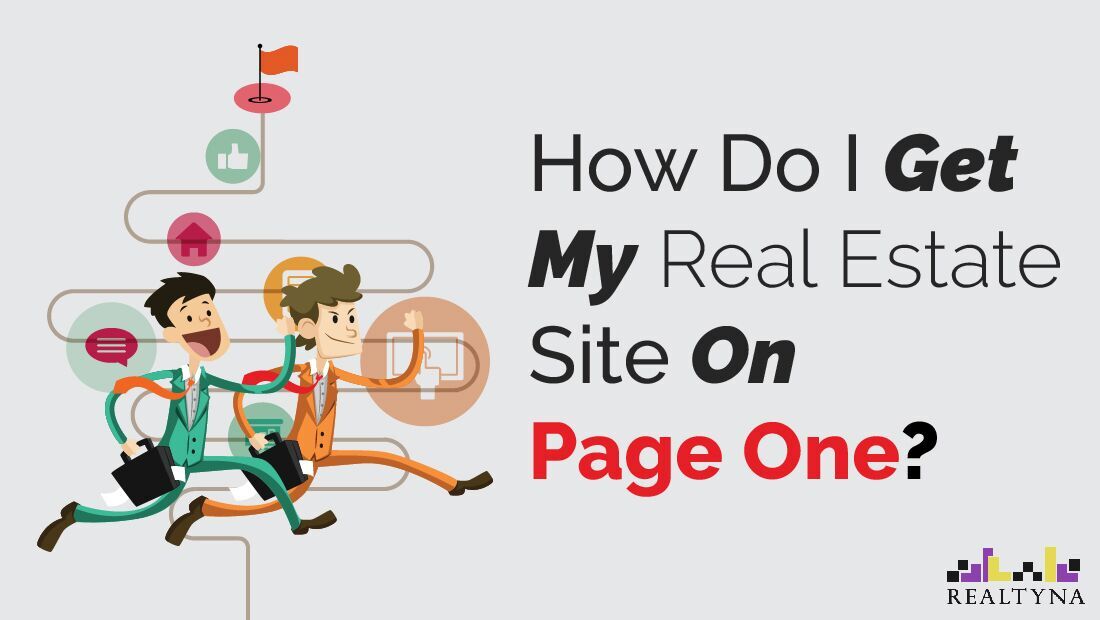 How Do I Get My Real Estate Site on Page One?
05 Dec 2017

Posted at 13:41h
2 Comments
SEO for your real estate site is a long game. You may be hoping to reverse your web fortunes in a few hours, but improving your web presence will take strategy, persistence, and consistency.
We've put together this article to help you plan constructively for your website SEO to help you get your real estate site on page one.
CONTENT
Your website search engine ranking will depend heavily on the content on your site. You should make sure your content is organic, local, and neighborhood-specific.
• Organic
Organic means that the content on your site is indexable or "readable" by search engines. This is important because if a search engine cannot read the content on your site, it cannot provide results for it. Before you do anything else related to SEO, you should make sure you IDX display is organic.
You can check by looking at the url of a listing page on your site. Does it show your domain name and the property address in a clear, understandable format (i.e. yourwebsite.com/properties/123-sample-road)? If so, your page is organic. If not, you should contact your IDX provider for more details and consider a switch to Organic IDX: https://realtyna.com/blog/what-is-organic-mls-integration/
• Local
You may be looking to be the first result in a search for "Denver real estate." While this is an enviable goal, it's not realistic in the short-term as these broad search terms are dominated by portals like—Zillow, Trulia, Realtor.com, etc.
But if you change your search slightly to something more specific, you will find an opportunity. For example, try running search for:
"Where to live in Denver without a car"
"Where to live in Denver if you are single"
You will find the results are much more varied. This is a great place for real estate agents to improve their website ranking. With a few blog posts or website pages, you can be the expert on where to live in your community. This is information you already know. It's just a matter of putting it on your website.
• Neighborhood-Specific
You should remember that some homebuyers are running searches by neighborhood rather than city. If you are not providing individual neighborhood pages on your site, you risk missing out on these buyers. Also, portals are not able to provide neighborhood-level detail, so it's a place where smaller real estate brokerages and agents can shine.
You should provide neighborhood content such as:
"Best neighborhood in Denver for walking to shops and restaurants"
"Top five Denver neighborhoods for pizza"
FORMAT
Now that you have a strategy for the content of your site, we will focus on correctly formatting this content to get your real estate site on page one. To make sure you are providing the most information to search engines, you should look at your url structure, keywords, and metadata.
• URL Structure
When creating a new page or blog post, you will have the opportunity to define its url: https://realtyna.com/blog/best-wordpress-idx-for-seo/
This should be as clear and human readable as possible and it should include the keywords from your new page (we have more on keywords below).
In addition, the keywords should be as close to your domain name as possible as search engines do not index content beyond the fifth url level. Let's take a look at a couple urls:
yourwebsite.com/blog/top-foodie-neighboorhoods-in-denver
This is a well structure url.
yourwebsite.com/c/online.blog/neighborhoods/7750/show.html
This one, not so much.
• Keywords
Your pages and blog posts should include keywords for the web searches you are targeting. These keywords should appear in the url, page title, and regularly throughout the body of the page.
You should have a mix of long-tail keywords (i.e. top five jogging paths in Denver) and short-tail keywords (i.e. Denver coffee spots).
• Metadata
Metadata provides more details about your site. For example the meta description is the information that appears below the title of your page in search engine results.
The meta description should tell the users what they are about to click on. It should be short and sweet. Try to keep it under 160 characters. Many IDX systems will automatically generate metadata for the listing pages, but you should pay attention to metadata on your blog, neighborhood and other pages too.
LINKS
Once you have content posted to your site, you should use linking to attract viewers from related content around the web and keep them on your site longer: https://realtyna.com/blog/idx-seo-everything-you-need-to-know/
• Back Links
You should aim to leave a paper trail of links to your content around the web. One strategy is to comment on other blogs and link back to a related page on your site. You also could register you business with online directories, such as Yelp, Whitepages, local.com, etc. Providing your website to these databases will generate a back link to your site and help new users find it. But honestly, the best way to generate back links is to develop great content. This will encourage your website visitors to share your site with friends.
• Internal Links
You also should inter-link the content within your site. When you create a new page, you should include a link to a related page on your site. This will help keep your visitors on your site longer, and it will help with search engine indexing by providing a fresh link to old content.
OTHER
With content, format, and links we have covered the key points in an SEO strategy. Here are some other tips to get your real estate site on page one: https://realtyna.com/blog/why-isnt-my-real-estate-website-ranking/
• Location
During the indexing process, search engines take note of location data. You should include an embedded property map with geo-locations for each listing on your site. Many IX providers will include this automatically, but you should double check.
• Photo/Video
Photos and videos are among the most popular content on the web, so make sure you add them regularly to your site. But search engines also index them, so you should make sure your photos and video names include keywords for related web searches. A lot of real estate agents forget this, but it is an easy way to boost your SEO.
• Page Speed
Load times matter. If your website is burdensome and your page speeds are low, your users are less likely to come back to your site which will make it less likely you get your real estate site on page one.
• Social Media
Social media will help you develop a community for your site and cultivate regular readers. Also, search engines index some social media, so the more you are posting to Facebook and others the more likely search engines are to advance your website ranking.
• Mobile Responsive
Having a responsive site will make your site easier to view on mobile devices. This can help you by keeping your mobile viewers on your site longer, and it makes your site easier to share, making it more likely users create backlinks to your content.
A clear real estate SEO strategy is key to separate your business from the pack. Contact us for a free SEO consultation about your site: https://realtyna.com/real-estate-seo-enhancement/
Or check out search engine optimized IDX products here: https://realtyna.com/mls-integration-for-wpl/