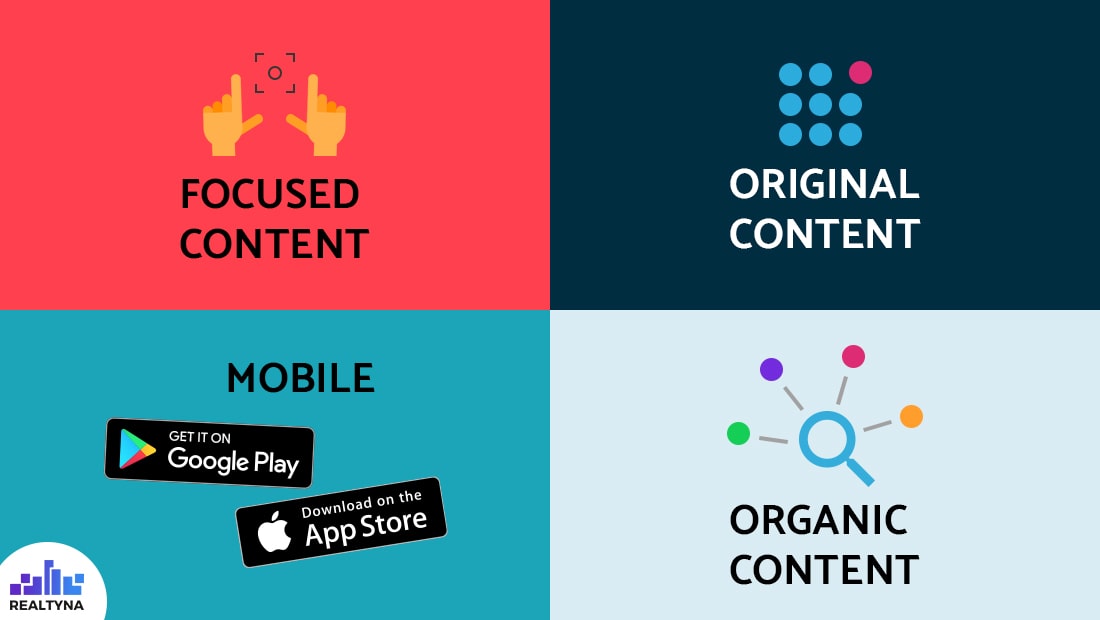 How do I drive more traffic to my real estate website?
National Association of Realtors studies have shown that more and more homebuyers are turning to the Internet for their property search.
But most of this web traffic is to the major portal sites like Zillow, Trulia, realtor.com etc.
This leaves individual agents and brokers with a smaller share of the pie.
You might ask: How do I drive more traffic to my real estate website?
To ensure you get your share, you should have an active and engaging content and marketing strategy.
We provide four guidelines below:
1) ORGANIC CONTENT
It is important to realize the role search engines play in the real estate market online. You might think your clients are searching your name or your company name to find your website. This maybe true for some of your clients, but you are not going to attract many new visitors this way.
Instead your website needs to appear in search engine results when homebuyers run a generic search for real estate in your town. If your website does not appear when a homebuyer searches "your town name homes for sale" or something similar, you are probably not attracting as much traffic as you could be.
One of the keys to improving your search engine visibility is organic property listings.
Organic listings reside on your website server and are able to be indexed or "seen" by search engines. This increases the number of pages that could result when a homebuyer runs a relevant web search.
Without organic listings your real estate website will lack some serious SEO juice.
We have more details on organic listings here: https://realtyna.com/blog/best-idx-integration-in-seo/
2) FOCUSED CONTENT
It is important to realize that your website is not going to compete with the large portal sites nationwide—at least not overnight.
But this does not mean you cannot compete with and beat portals in your local market right away.
Your site should be hyper local so that when someone searches homes in your town your site is on page one.
Your site also should reflect your business model. If you focus on premium homes your site content and property search should reflect this.
One way to better control the MLS listings on your site is to consider a RETS feed: https://realtyna.com/blog/what-is-a-rets-feed/
With a RETS feed you will have a personal connection to your MLS database allowing you filter content by location and property type.
A RETS feed also will typically update faster than a portal site, affording you the most accurate listings.
3) ORIGINAL CONTENT
It's important to differentiate your site from the other real estate brokers and agents in your area that use IDX.
One way to do this is with original content from a blog.
A blog is a great way to engage with potential clients and build community.
No one knows the market in your better than you. Why not show off this knowledge by highlighting noteworthy properties or photos on your blog?
Think of the questions homebuyers ask when looking for homes. Provide the answers on your site, and you'll attract new visitors.
We have more tips on real estate blogging here: https://realtyna.com/blog/boosting-real-estate-business-blog/
4) MOBILE
You should remember that more and more homebuyers are integrating mobile into their property searches. Don't turn off these potential clients by forcing them to view a full web version of your site on their phone.
At the very least, your real estate website should be mobile responsive. But if you want to get ahead, you should consider a mobile app downloadable from Google Play or the iTunes Store.
An app will allow your clients to engage with your site while on the move, and it will allow you to claim territory on their device home screen.
We have more on increasing ROI with mobile apps here: https://realtyna.com/video/real-estate-mobile-apps/
For more than eight years, we've been designing and implementing products to help real estate professionals improve their businesses online via WordPress.
We are specialists in organic listings, RETS, SEO, and mobile.
If you are looking to improve you WordPress site and want everything under one roof, contact Realtyna for a free consult.