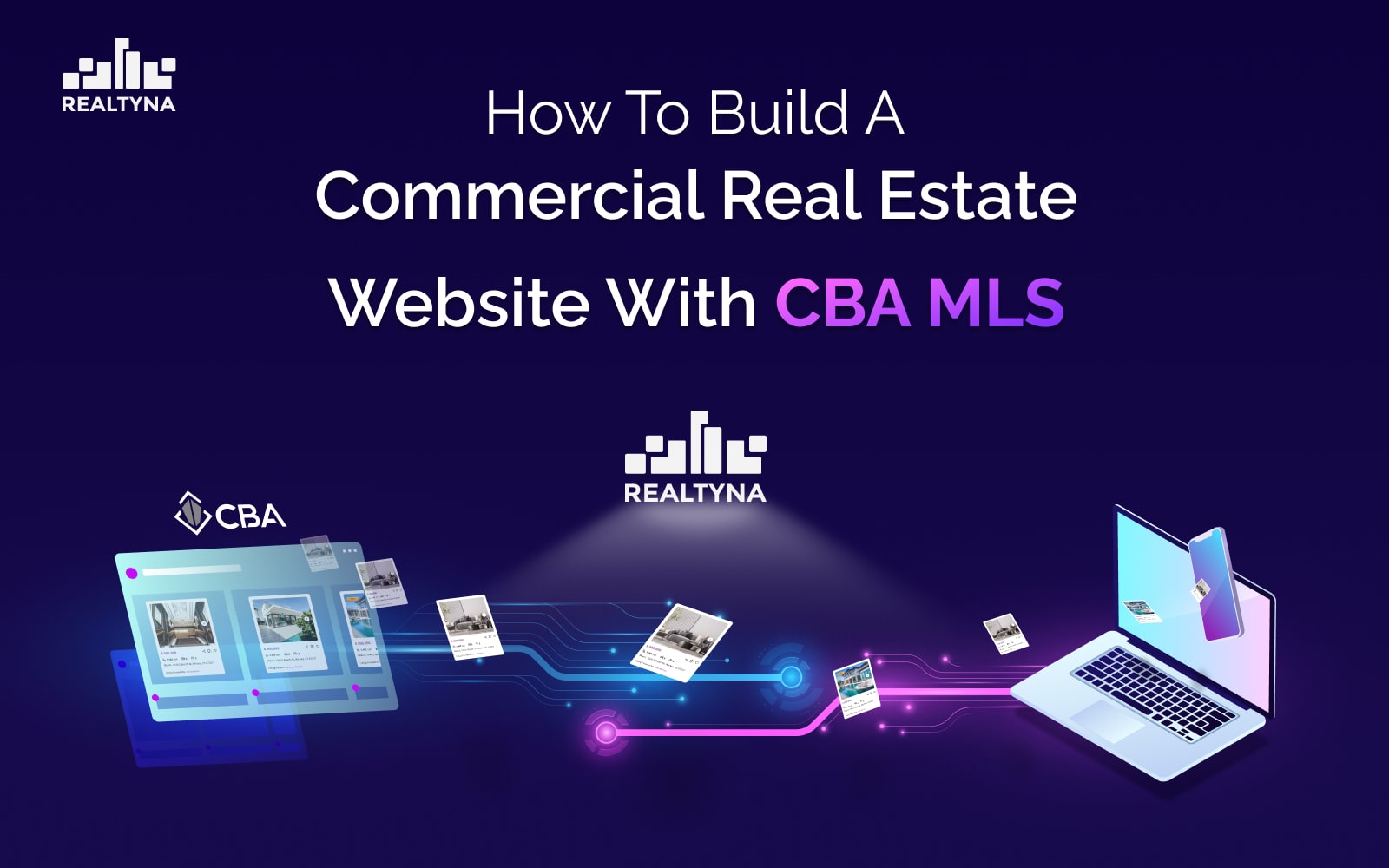 How to Build a Commercial Real Estate Website with CBA MLS
01 Jun 2023

Posted at 10:00h
0 Comments
Commercial real estate is a unique industry. The nature of business varies from residential and others in a sense that you are directly involved with business people rather than ordinary homebuyers. Given the fact that your website is now your most effective lead generation tool, building a CRE website that converts is key to ultimate success.
In this review, we are going to discuss the role of a converting website in the success of a commercial real estate broker. Also, we are going to learn more about the Commercial Brokers Association and how they can benefit from Realtyna's Organic MLS Integration.
Who Is the Commercial Brokers Association?
The Commercial Brokers Association (CBA) is an organization that represents and serves commercial real estate brokers, agents, and professionals. It is commonly found in various regions or cities and acts as a collective voice for its members, advocating for their interests and promoting professional standards within the commercial real estate industry.
What Is Organic MLS Integration?
Organic MLS integration is a web solution by Realtyna that gives real estate professionals and web developers the tools they need to integrate MLS listings into a website or app. With this solutions, you can benefit from:
Full ownership of the solutions the solution,

Full SEO credit as the listings are integrated as organic content on your site,

Flexibility when it comes to updates,

And ability to have custom MLS fields, which is not offered by other tech vendors.
Learn more about how Organic MLS Integration works here:
How to Build a Commercial Real Estate Site for CBA MLS?
Realtyna is an official vendor with over 200 MLSs across the States and Canada, including Commercial Real Estate Associations. You can follow the steps below to bring live, accurate MLS listings from CBA MLS to your website:
Step One: Setup the WordPress Site
This is the first and most basic step. All you have to do is log onto WordPress.org and follow the steps. For this step, you need a proper domain name that represents your business. Some MLSs have specific guidelines on domain names, and you need to check them before choosing one. Check out the following article to learn more about best practices on choosing a domain name for your real estate website:
The Importance of Domain Name for Your Real Estate Website
Realtyna offers cloud hosting services, which is designed for MLS/IDX websites. Learn more about this service here:
Step Two: Get Organic MLS Integration
Organic MLS Integration is a bundle of a core plugin and addons. Once you have it, you can start the integration progress. Please note Realtyna's products and MLS teams will take of all the installations and the demo integrations. You can contact our products experts for more details:
Step Three: Get The Feed from MLS
To get the MLS Feed from the CBA, you must be an active member with them. Realtyna's MLS team will handle the approval process. This might take a while depending on your MLS. You can contact Realtyna's MLS department today for more details.
Step Four: Setup the Site
Now, it's time to set up the site. For a detailed tutorial, please follow the following steps:
How to Build an IDX Real Estate Website
If you prefer a video course, you can check out the following Udemy course:
How to Build a Real Estate Website With WordPress and WPL | Udemy
With the purchase of Realtyna's Organic MLS integration, Realtyna's team will set up your solution and provide tech support for a year for free according to our support coverage.
Step Five: Start Generating Leads
Once your website is set up and listings are displayed, you can start actively marketing yourself as a real estate agent with a competitive edge. Organic listings will increase your chances of getting ranked and after a while will help you outrank even the biggest portals in your local area.
Need Assistance?
Realtyna's product advisors are available to provide you with a free consultation. You can reach out to us by requesting a demo, call or use the live chat feature on our website.
Get your free consultation on your MLS and website inquiries today: