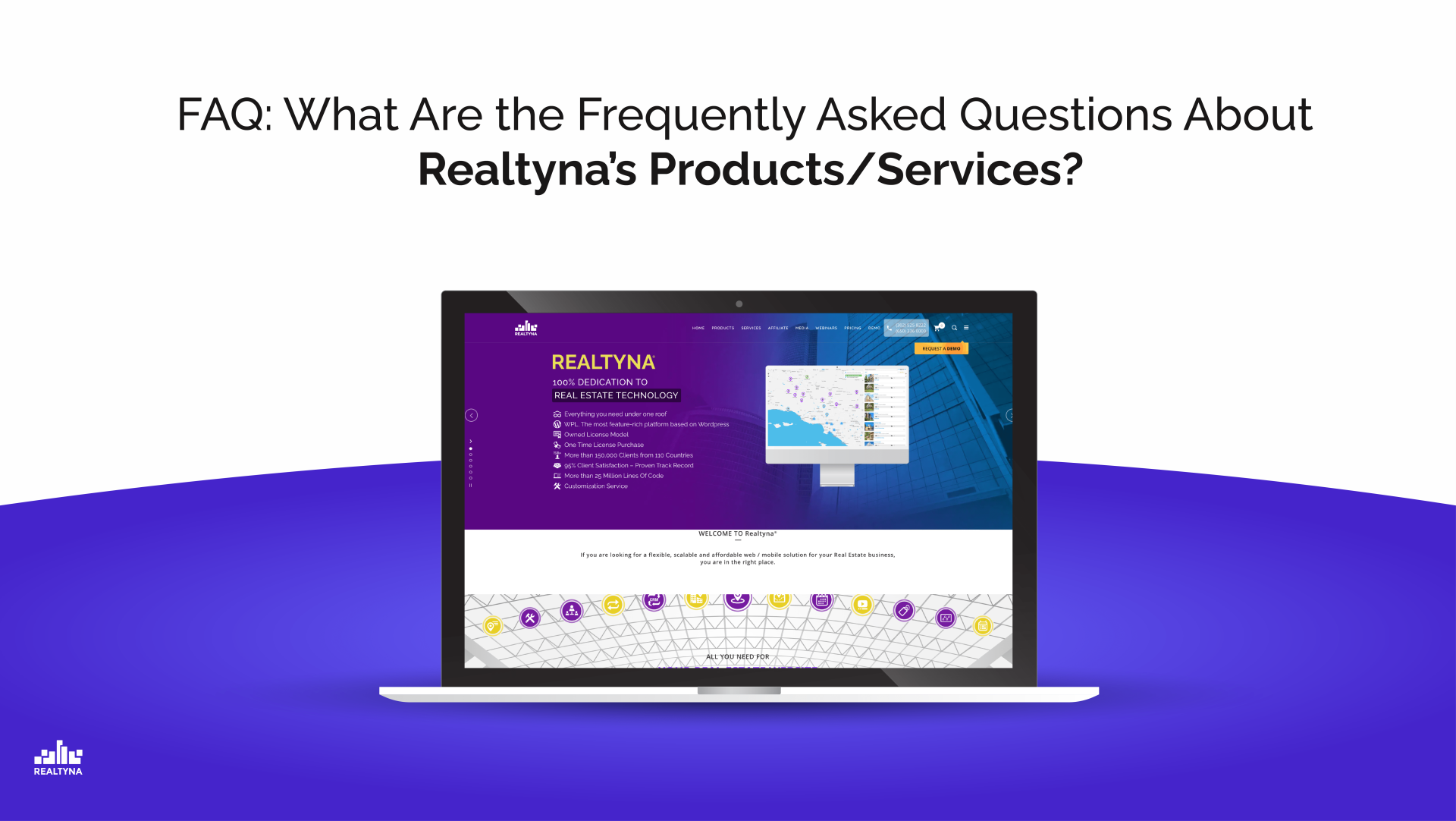 FAQ: What Are the Frequently Asked Questions About Realtyna's Products/Services?
22 Feb 2022

Posted at 11:00h
0 Comments
In today's article, we will share frequently asked questions about Realtyna's products and services and guide you through some of them.
Here is a list of the most common questions clients ask:
What plugins do you offer, and which is the best fit for my website?
First of all, WPL Pro is our core product, which works as a WordPress website builder and provides you with many functionalities on your website, including listing management, search engine optimization, a contact form, share options, location system, basic search features, and many more. You need this plugin as a base to integrate any of our products. You can find more information about it here: WPL PRO Platform.
For integrating your listings into your WordPress-based website, you can use our Organic MLS Integration. With this solution, you can import the listings from the MLS provider straight into your website. Also, you can automatically generate indexable property details pages for each listing pulled from your MLS and set automatic updates. This will increase your website's SEO value, among others.
Here is a brief video explanation of our Organic MLS Integration and its benefits in comparison to other IDX Technologies: Organic MLS RETS Integration.
We also have over 30 different plugins that offer additional features to your website. Here's a quick video about our Products and Services.
Where can I find a free demo of your products? (Or request for a free demo)
If you are interested in viewing a live demo of our products, click on the accompanying link to check out our core product (WPL Pro) + all our add-ons, different themes, and designs: WPL Demos.
Are Realtyna's products compatible with my WordPress theme?
Yes. Generally, Realtyna's products are designed for flexibility and are compatible with thousands of themes. You can find more information on our list of themes compatible with Realtyna's products here: Realtyna Compatibility.
How can I reach certain MLS?
Some clients also ask questions regarding the MLS. Since we share MLS provider coverage on our website, people assume that we are the MLS.
It is important to note that we are not an MLS provider. However, we are a software company that provides tools for real estate websites. Notwithstanding, we provide MLS coverage data, which you can find here: MLS Provider Coverage.
For any specific queries, we suggest that you contact your chosen MLS directly.
How much does each product cost?
For information about Realtyna's product prices, check out our WPL shop here: Realtyna's WPL Shop. Additionally, we can make a presentation for you upon your request.
How can I activate my WPL plugin after installation?
Take a look at our WPL manual for in-depth information on how to activate your plugin. WPL Manual.
Thank you for reading! If you have any specific questions or need support, contact us on our intercom chats, and one of our team members will be happy to assist you.
In the meantime, check out our recent blog posts:
What Are The Different Types of APIs?
How Real Estate Agents Can Benefit From Influencer Marketing