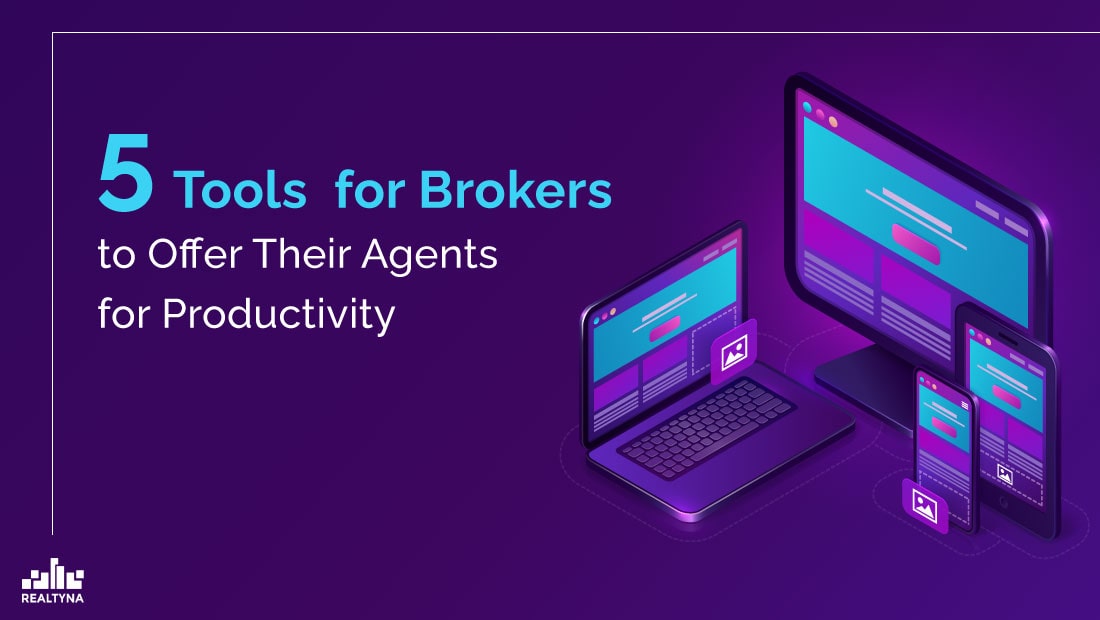 5 Tools for Brokers to Offer Their Agents for Productivity
27 Jul 2022

Posted at 11:00h
0 Comments
As real estate brokers and leaders in the industry, it is often a daunting task to keep agents in the brokerage motivated at all times to achieve their goals. Even when a commission is involved, agents sometimes lose their motivation to work and might be less productive. Thus, the responsibility falls back on the Realtor/broker to think outside the box and provide agents with tools to assist them in reaching their goals without hassle.
If you're interested in knowing what productivity real estate tools to offer your real estate agents for effective outcomes, continue reading.
Top 5 Real Estate Brokerage Productivity Tools for Agents
There are several tools that brokerages can offer their agents to be more productive and to attract more agent sign-ups to the brokerage. In the following paragraphs, we will discuss 5 top productivity tools every broker should consider offering their agents for the best productive outcomes.
RealtyFeed® App
RealtyFeed® is a real estate listing platform that offers a variety of benefits for brokers and all real estate professionals. Designed by Realtyna, RealtyFeed® is an innovative technological solution that helps brokerages reinvent productivity in their agencies while providing a stress-free work environment for their agents. With this solution, brokers can create personalized real estate apps for their agents that help them automate marketing, generate high-quality leads, increase visibility on search engines, and empower them to work stress-free while saving time.
RealtyFeed® provides brokerages with a solution that enables agents to work without stress and helps them interact efficiently with their clients and build better relationships through their personalized agent apps. In addition, MLS members can also attract more exposure to their listings through the RealtyFeed® platform's advanced marketing system. The tool is packed with many features for agents and is a robust productivity tool that brokers can offer their agents for productivity. Some of the features of the platform include:
Owning a custom agent real estate app

Getting access to Privileged® Listings

Hassle-free marketing

Better client relationships and communication

Generation of high-quality leads

Automation of marketing processes

Increased search engine visibility (high SEO value) and more
White Label Web/App Solution for Brokerages and Providers
Another top productivity tool on our list that real estate brokers can offer their agents is Realtyna's White Label Web/App Solution for Brokerages/Providers. One of the most exciting features of this tool is that it offers real estate brokerages, real estate associations, and MLSs the opportunity to provide custom modern real estate app designs for their members. As a result, real estate agents can rely on this technology to stay connected to the customers, increasing productivity.
Furthermore, through this Web/App solution, real estate brokers can create individually customized real estate applications for their agents with unique agent profiles, entirely under their brokerage with complete data ownership. These branded iOS and Android apps help real estate agents under these brokerages stand out from the competition as it improves their visibility in the real estate market. Increase agent sign-ups to your brokerage with this franchise solution. Below are additional benefits of the tool:
Feature-rich custom-branded app

Complete control and ownership of data

Modern real estate application software design

Increased visibility through iTunes App Store and Google Play Store

Overall increased productivity, and more
Android/iOS Tablet App
Android/iOS Tablet App is another useful tool that increases agent productivity. With technology quickly advancing in the real estate industry, it is essential to have multiple tools to showcase your listings. Brokers can offer their agents the new Android/iOS Tablet App to help them maximize output and personalize their businesses to stay ahead of their competition.
What makes the Tablet App unique is its ability to provide real estate agents with a seamless listing experience. Customers can now find your properties using their mobile devices and easily get your website information by downloading your app and engaging on your platform.
Another exciting feature of this app is the ability to activate automatic approval of properties registered by users or registered as was waiting for approval, just to name a few.
Display all properties available in the map page's current coordinate range, select map layers (street view, hybrid), and many more with the Android/iOS Tablet App. The app offers other features, as seen below:
Displays complete information about each property

Direct communication with the relevant agent by mail, phone, call, and SMS.

Increases your visibility and availability to customers on Google Play Store and iTunes App Store.

Also, it offers complete website search systems—avoid extra costs for Google Places Search service.
TV App
Have you ever noticed the beautiful display of listings on brokerage TV screens? Well, most people often wonder how they can have their listings displayed on the TV screen. The simple solution used for this is the TV App. Through the TV App Add-on, brokerages can use this advanced marketing technology to showcase their listings or real estate websites. For example, besides MLS listings, at an open house, agents can display selling points of the property on screen for potential buyers at the event. This tool is designed to empower real estate professionals through flawlessly marketing their listings.
For agents to increase productivity, brokerages can offer agents the TV App, which is an exciting and innovative tool. The add-on app uses smart TV systems like Apple TV and Android TVs. Display your listings and websites in your office lobby or at an open house to attract high-quality buyers.
The TV App also maximizes listing exposure and automates slide presentations of listings for real estate websites and listings. Which provides high chances of success for agents. Other features provided by this app are:
Choose how the listings will be displayed on cycle

Generates Slide presentations automatically

Showcase all your listings and data with high-quality images

Easy interface navigation and more.
Privileged® Listings
The next productivity solution on our list for brokers to offer to their agents is Privileged® Listing. This new listing on RealtyFeed® offers a better alternative to pocket listings. It gives sellers' agents and sellers complete control over the property's exposure. This implies that with Privileged® Listings, unlike pocket listings, the agents lists properties publicly yet reserve exclusivity and privacy through RealtyFeed®. How does it work?
Agents can subscribe to RealtyFeed® for access to Privileged® Listing. They can publish their listings on the platform while controlling the amount of public access to the listing information. Further, interested buyers can request access to the full details of the property. This process helps filter the number of spam requests agents receive on listings and will only have inquiries from serious buyers while maintaining the homeowner's privacy.
So Privileged® Listing is the ultimate solution for public figures or individuals who wish to have privacy during their home selling process. However, the property will get maximum exposure still, but access to the listing will only be granted to the prospective buyer upon request. The solution provides a long-lasting solution to problems raised by pocket listings as it:
Provides exclusivity and privacy

High-quality lead generation, since only serious buyers will request access to listing information

Increase your visibility on search engines

Build better relationships with your clients
Final Words
With the growth of competition in the real estate industry, brokers must ensure their agents get the best tools to be highly productive. Technology has made the process very straightforward. People tend to thrive more with advanced technology. So, take advantage of these productivity tools and increase agent efficiency.
Read the following articles for more real estate tips:
What Is Privileged® Listing and How It Can Help MLS Providers Battle Pocket Listings and Off-market Listings
How to Build a High-converting WordPress Real Estate Website with WPL and Organic MLS Integration – Udemy