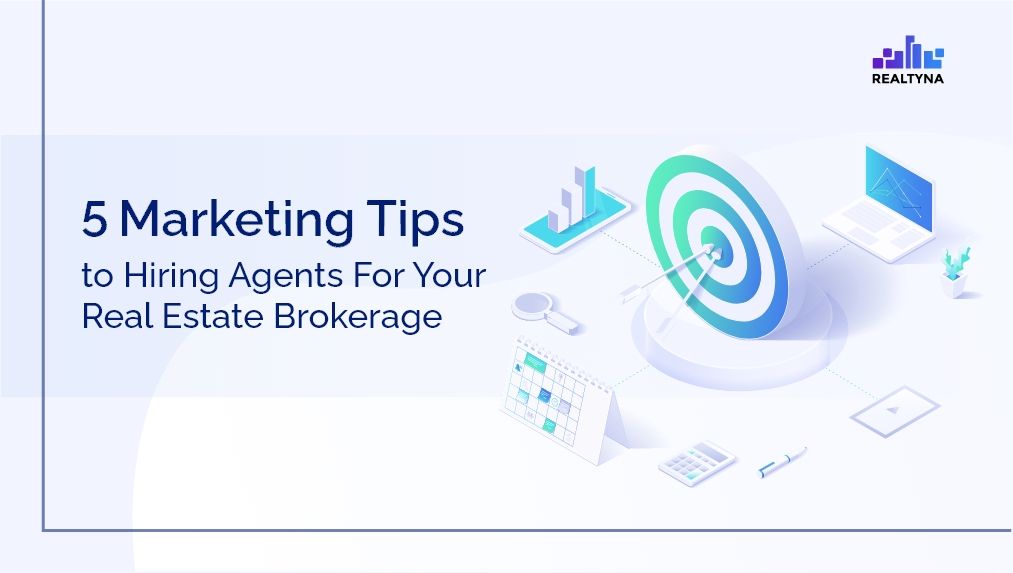 5 Marketing Tips to Hiring Agents For Your Real Estate Brokerage
18 Oct 2021

Posted at 11:00h
0 Comments
To promote your business online and start recruiting real estate agents for your brokerage, you must have prepared a strong and effective marketing strategy. Not only will a marketing strategy help you save time and money, but also, it will ensure that you get qualified agents at your doorsteps. If you are interested in learning more ways to develop your marketing strategy, keep reading.
Invest in Real Estate Technology
Real estate technology is a necessary part of improving your agents' selling process. Agents often rely on tech tools provided by their brokerages. Due to this, a good way to promote your brokerage is by investing in real estate technology and advertising it to your prospective agents. By researching the type of technology that drives agents the most to excel at their work, you can easily determine the recruiting process for your future agents.
Provide an Online Listing and Search Presence
Agents often choose brokerages that provide an excellent listing system. By providing your agents with an MLS listing on your brokerage website, you can ensure a drastic boost in the engagement of your future clients. You should also make sure that your candidates can easily find your recruitment ad by using the right keywords on Google. You can, for instance, add your brokerage to the list of ads shown on Google with the help of Google AdWords. This tool will help you target agents within your preferred location.
Make Use of Video Marketing
Video marketing is quite an important yet effective way of promoting your brokerage to potential agents. If done correctly, it can drive successful results. Video marketing in general, has become widely used by different organizations. The reason why it's much more effective than standard marketing methods is that it is more intriguing. It helps you stand out from other competitive brokerages and demonstrates your company's overall aim. With the help of video marketing, you can easily show off your office space. That way, you can ensure that your prospective agents will have a comfortable working environment, where they can reply to their clients' emails, post listings, and feel more comfortable and at home. This shows agents that you are willing to provide them with a comfortable working environment, where they can easily cooperate with their coworkers and strive to better your brokerage.
Send Out a Recruitment Email
Emails are a great communication tool. For example, you can compose an email recruiting agents for your brokerage. Here are some tips that will help you write a good recruitment email.
Do your research:

Before sending out your recruitment email, make sure you have done your research. Know what type of agents you want to recruit. If you have a specific one in mind, find out more about them. The best way to do that is through social media sites. LinkedIn, for instance, is a great platform that provides you with information about your candidate and their job history.
Write a good subject line:

The subject line is a significant part of making your email stand out. If your subject line does not impress your client, they are more likely to ignore it. So while writing the subject line, make sure it is interesting and eye-catching. However, you don't want to overhype it. The best way to go is by making it short yet informative. When your recipient sees your email, it should have an immediate impact on them.
Write a clear CTA:

Now, (CTA) aka Call to action, is another important part of your email. It's what's going to get your clients to write a reply. The whole point of including it in your email is to drive your candidate to action. So you must ensure that it is clear what you want your candidates to do.
Document your performance:

Finally, don't forget to document your performance. Keep a list of all the candidates that replied to your email, keep count of the number of emails opened, and document your progress.
Focus on Career Growth and Opportunities
Last but not least, focus the overall aim of your ad on the agents' growth and development. Talk about the opportunities that this position will bring to them, list all you have to offer, and be prepared to answer any questions. By appearing professional and well-mannered, there are better chances of attracting qualified candidates to your real estate brokerage.
Thanks for reading! Make sure to check out more of our blog posts for more marketing tips.
Creative Ways to Advertise Your Real Estate Business
Collaborating With Media and Reporters For Brand Awareness in Real Estate