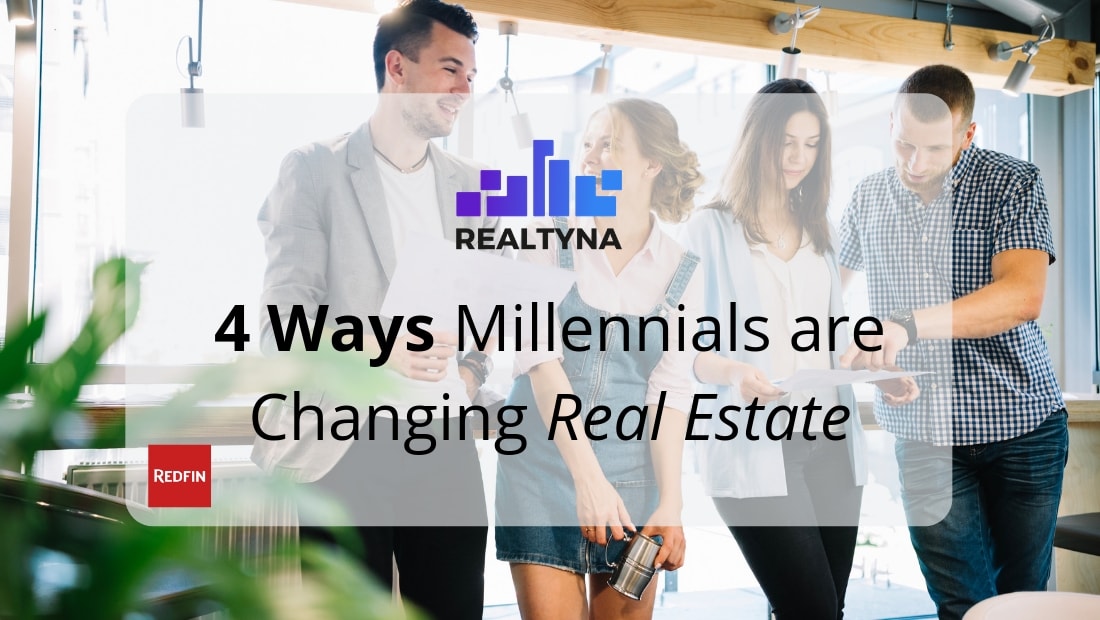 4 Trends that Explain how Millennials are Changing Real Estate
18 Apr 2019

Posted at 10:00h
0 Comments
April Guest Post of the Month By: Jennifer Karami.
Jennifer Karami is a writer at Redfin, a modern real estate brokerage that uses technology to help people buy and sell homes. With a 1% listing fee and full-service agents, Redfin is redefining real estate in the consumer's favor.
Millennials are possibly one of the most misunderstood age groups. From their technology to their outlook to their must-haves, millennials do things a little differently than prior generations. When it comes to real estate, the best way to reach millennial clientele is to understand their unique situation in order to meet their needs.
Data shows that millennials are more creative about saving for a down payment, more likely to favor stocks, more bullish about home prices, and more concerned with home-specific features (like walkability and open floor plan) than their parents. Anyone involved in house-hunting for a millennial will benefit from reading the results of these surveys.
#1. Millennials are Getting Creative with Ways to Save for a Down Payment
In 2018 a Redfin survey revealed the top concerns among millennials who planned to buy a house. Affordability was at the forefront of respondents' minds.
50% of respondents cited having enough money for a down payment as a top concern

45% worried about affording a home in their preferred location

41% were concerned with rising home prices
Their anxiety is understandable as places like San Francisco become increasingly unaffordable.
When asked how they plan to afford their mortgage,
32% of respondents said they plan to pursue additional employment

19% intend to rent out a room to someone they know

15% say they will drive for a ride-sharing service

14% plan to split ownership of the home with friends or roommates
Millennials used several tactics and sources to accumulate the money needed for a down payment on their first home. Those tactics included:
69% saved directly from paychecks

36% used earnings from a second job

10% sold cryptocurrency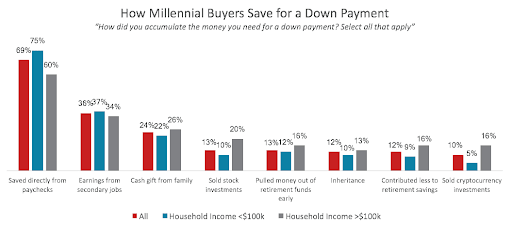 Millennials are in a unique position, having launched their careers while struggling to pay off student loans in the midst of a financial crisis. Saving enough to set aside toward a down payment would have been a significant accomplishment. While some rely on family wealth, others have worked extra hours or gotten creative to finance their home purchase. Understanding the financial situation of millennial clientele can help agents better serve this population.
#2 Older Millennials Think Stocks are a Better Investment than Real Estate
A 2019 survey found that 52% of older millennials and Gen-Xers (aged 35-44) believe the stock market is a better long-term investment than real estate. They were the only age group in which the majority favored stocks over real estate. The majority of other age groups had more confidence in real estate as an investment. A likely explanation for this trend is the housing crash of 2008.
"The oldest Millennials and youngest Gen-Xers entered their late twenties or early thirties during the housing crash, which explains why they are more skeptical about investing in real-estate," said Redfin chief economist Daryl Fairweather.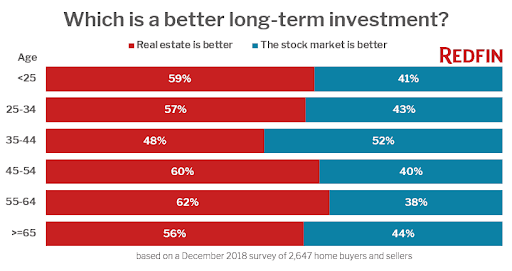 This generation experienced a major setback right as they were getting ready to get married, start a family, and buy their first home. These events likely traumatized them and shook their confidence in the housing market. Agents can help assuage their anxiety by finding homes that are likely to be a solid financial investment.
#3 Millennial Homeowners Think Differently Than Their Parents
Among millennials who already own homes, their outlook on the housing market is different than prior generations. In general, they are more optimistic:
86% of homeowners under age 35 believe that prices will rise in the next 12 months.

63% of millennials believe they'll be able to afford living in their city a decade from now, compared to just 51% of those aged 45 to 54.

Only 18% percent of millennials said they'll live in their home for more than 10 years, whereas 30% of homeowners in each of the older groups intend to remain in their home for another decade or longer.
In addition, millennial homeowners are more likely to become "house rich" in the future, as mortgage rates remain low (<5%). Instead of selling their houses, many plan to rent their places out in the future, meaning they will become the next generation of landlords.
#4 Millennials Love an Open Floor Plan, and Other Features
Younger buyers make up a considerable portion of the real estate market, so it's important to keep them in mind when staging and selling a home. Certain features appeal to millennials in particular, such as in-home smart technology, location and remodels.
Kitchen and bathroom remodels provide the highest ROI of all. A 2016 study showed that homeowners received $11,769 more for their homes on average if they remodeled the bathroom, and $38,938 more on average for a remodeled kitchen. Millennials don't want to have to pay to do this themselves – they'd rather have a brand new kitchen with granite countertops and a bathroom with fresh stone tiling.
In 2014, the National Association of Realtors found that most younger buyers are interested in large, open spaces with fewer walls and partitions. Millennials love an open floor plan because they like to socialize with friends and family without feeling confined to a room. They're more keen to use rooms multifunctionally – for instance, a yoga space in the dining room corner. If it is practical, sellers should consider tearing down a wall or two to attract younger buyers.
Make a home "millennial friendly" by updating the kitchen, bathroom, and floor plan. As smart homes become commonplace, consider adding smart technology like a Nest thermostat to appeal to younger buyers. Keep in mind that location is key for this demographic, and many millennials would rather live close to a "walkable" urban core where most errands can be accomplished on foot. In fact, each point on Walk Score can increase a home's price by an average of $3,250.
Millennials are entering the housing market armed with technology, and they're ready to buy. Agents would be wise to familiarize themselves with millennial clients' preferences, pain points, anxieties, and finances in order to better serve this demographic. By using the most up-to-date technology, communicating effectively, and understanding their motivations, agents can help millennials find their dream home.