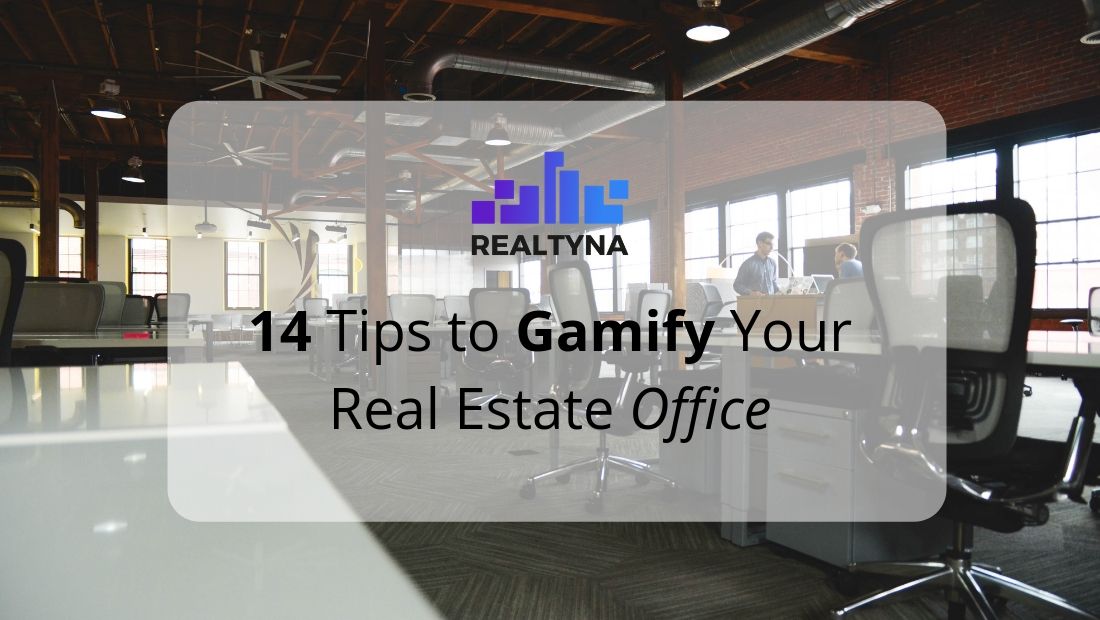 14 Tips to Gamify Your Real Estate Office
09 Jul 2019

Posted at 12:13h
0 Comments
Sometimes we all need a little motivation. And more and more companies are responding with gamification.
Gamification is the strategy of using games and friendly competition to make certain work tasks less draining.
The popularity of gamification appears to be supported by the research. Several studies have found that gamification has positive effects on motivation while some appear to link gamification with higher learning outcomes.
As a profession, real estate is fairly non-traditional. Many of us work flexible hours. Sometimes we work independently. But gamification still has a lot of offer.
The next time motivation is low, refer to these 14 tips to gamify your real estate office.
1) Provide Badges For Daily Sales Activities
A number of CRM providers are now integrating gamification into their sales processes. The gamification of sales allows agents to know how they are performing compared to others, but in a non-personalized way through the use of avatars. In particular, we like Zoho CRM. Zoho CRM allows you to earn badges for follow-ups, converting leads, and closing deals. You can also create contests to help agents meet monthly or quarterly targets.
2) Use Learning Management Software for Office Trainings
Getting up to speed in a new position can be a lengthy and frustrating process. With learning management software, you can take away some of the stress by providing a clear, game-oriented training environment. A strong LMS will empower your team with the information they need and give them the freedom to learn at their own pace.
3) Take Advantage of Continuing Education Games
Lets face it; continuing education requirements are probably not the most exciting aspect of being a real estate agent. But one company offers a gamified alternative. InteractCE has worked with real estate associations in 16 states to offer a fun, interactive learning platform for license renewals.
4) Set Up a Referral Challenge
Some sales software systems allow you to set up contests. If you are seeking to improve your referral numbers, consider a referral contest with trophies for different lead categories such as family, friends, partners, neighbors, etc. With multiple winners, you can keep motivation for referrals high across your team, not just with one or two top performers.
5) Create Social Media Power Scores
Many web tools provide quantitative measures of social media reach and influence. You can use these tools to set up a game that gives a power ranking to each of your team members based on their social media skills and the traffic they drive to your site. This gives the incentive to use social media to promote your office and its services.
6) Reward Data-Entry With E-Gifts
Every office has its mundane tasks. A real estate office is no exception. By setting up a contest and rewarding performance with an e-gift, you can make that thing no one wants to do more fun.
7) Broadcast Newsflash As Objectives Met
A couple of companies, such as Hoopla, allow you to broadcast a sort of news/sports channel within your office with information on your team objectives and the progress in meeting them. The channel updates as progress in made and profiles leading employees like a 24-hour cable news network.
8) Create Culture of Recognition With Social Feedback Board
It is well documented that people are happier when they get recognition for their efforts and feedback on their work. One way to incorporate this into a real estate office is through employee recognition software or a feedback board. These services create a social media type platform for the office in which team members can message and reward one another. This provides a culture of recognition and positive dialogue.
9) Create Contest to Increase User Generated Content
You do not need to limit gamification strategies to your office. You can use them on your leads too. By creating online activities, such as a photo submission contest, you can motivate your users to engage with your platform and provide content.
10) Create Rewards For User Activity on Your Site
You can also turn general activity on your website into a sort of game. By providing titles, such as Super Commenter, or rewards for certain behaviors, you can make your website more dynamic and interactive. This will encourage your leads to spend more time there.
11) Boost Agent Collaboration With Team Building Games
Many gamification strategies seek to provide friendly competition within the office. But you can use gamification to promote other office cultures too. If your office lacks the spirit of collaboration, some online team building games or multi-person puzzles can provide the activities you need to get agents working together.
12) Foster Creativity With Brainstorming Software
The competition in real estate is fierce. As a result, brokers and agents need to constantly innovate. You can promote innovation within your office with brainstorming software. These tools allow you to gather contributions from your team and manage creativity in a game environment.
13) Promote Efficiency With Pre and Post Meeting Performance Management
The best real estate offices are efficient with their meetings. Agents plan extensively before they meet and implement quickly after finishing. You can make this part of your office with meeting management software. These tools provide a fictional road map of steps to take before and after a meeting to maximize your productivity.
14) Create Leaderboards
Of course gamification solutions do not need to be online or techy. Something as simple as a white board with prizes for the quarterly team leader may provide the motivation you need to increase productivity and keep agents happy in your real estate office.
So now you know how to gamify your real estate office. The best offices mix and match these strategies to provide multiple motivations and engage more agents. Questions or feedback? Leave them in the comments. Or for more Realtyna content, check out our List of Universities that Offer a Degree in Real Estate.