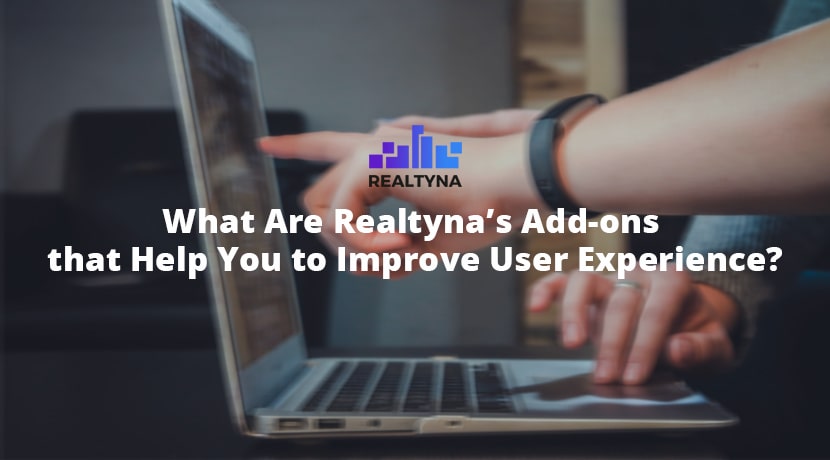 What Are Realtyna's Add-ons that Help You to Improve User Experience?
22 Jun 2020

Posted at 11:00h
0 Comments
We will continue to talk about the recent real estate industry changes and how Realtyna's add-ons can help you overcome them. You can check out our blog about our marketing add-ons and how you can use them in your marketing strategies.
In this article, we will talk about add-ons that improve the user-experience. The user-experience provides a positive experience for your website visitors to enhance the loyalty to your brand. A positive user experience is one of the key factors that influence your lead generation.
First-time visitors expect your website to be on point. If this is not the case, there is a high probability they will leave it to never come back.
What features do your real estate clients want to see on your website while scrolling through the listings?
We will take a guess and name these factors:
Page Loading Time

Interactive features that provide the best and the richest information
Let's start from the Interactive features.
We have mentioned it time and time again. Buyers purchase a property based on many different factors. Before they make such an important financial decision, they want to make sure that the region they choose to live in is suitable for them. That's why it's so important to provide this kind of information to them. The real estate website that has it all will be the one they will visit most frequently.
WPL
WordPress Listings or WPL is the most scalable and extendable platform for creating a converting real estate website with IDX features. It has many add-ons and features. And most importantly it's 100% customizable with a lifetime license. To learn more about WPL, check out our blog WPL in a Nutshell.
Neighborhood Add-on
Experienced real estate professionals know that it's important to choose a niche and to work with specific demographic information or within a specific location. By narrowing your niche, you're able to easily generate leads and become an expert.
If you're already working within a specific niche, that's great. We suggest that you offer your expertise to your clients and future leads. You can do this with Neighborhood Add-on. With Neighborhood Add-on, you can have neighborhood pages and assign listings to them. Moreover, you can create a hierarchy of neighborhoods and communities and show the center of the neighborhood on the map.
This way you can demonstrate your expertise as well as provide helpful information to your clients.
School Info Add-on
It's likely that some of your clients have kids. And that means school is an important factor in their buying decision. The School Info Add-on includes information about nearby schools and ratings. The rating info provides more information about the quality of schools in the neighborhood near the specific property location.
Yelp Integration
Yelp Info automatically pulls restaurants, services, gyms, shopping, and nightlife options from Yelp and integrates them on your property details page so users can see what kind of businesses are nearby.
Demographic Add-on
With Demographic Add-on visitors can define statistical information such as median income, average home value, distance to downtown, school rate, tax rate and population on specific regions on the map, that they can draw on and customize.
Complex and Community Add-on
With Complex and Community Add-on, you can add the following information into your IDX system: building features and amenities, address, building demographics, proximity to the points of interest, photos, etc.
Advanced Portal Search Add-on
Providing the best user experience is the key to establishing a loyal audience. Advanced Portal Search Add-on or APS helps you to provide the best customer experience. Here are some of the functions that help you to achieve the desired result:
Ajax-based search

– With APS's Ajax-based search, you will instantly update your content and search results without refreshing the page. In a nutshell, APS's Ajax-based search is a more subtle and classic way to update your information without reloading your pages again and again.

Map View

: Map view is a section on the property listing page. The Map View is a very comfortable feature to help users search for properties. You can draw circles/polygons and zoom the map to narrow down your search. It's even possible to narrow the search down to a specific school district. With the Zooming/Panning option, you can browse new searches on the map and it will instantly update the information so you'll be able to receive the latest and freshest information about properties.

Saved Search

– With the saved search function, your clients are able to save searches of the properties they like. With some limitations on real estate activities still in place, many real estate clients are watching the market carefully. As a prospective homebuyer, it's important to stay in tune with the latest updates on the property you like. Most importantly the saved search number is unlimited. Saving properties gives your clients an option to stay aware of their preferred listing types.

Email Notifications

– With the email notification feature, clients are constantly updated about their saved searches. That way clients don't need to constantly check the website for the updates. Every new information is automatically sent on their email.
Mobile Apps
With Mobile Apps you can Increase :
Brand awareness

Lead generation

Client Contact
Mobile Apps automatically connect to your website. After you install a mobile app and connect your website, your name will be automatically published on Google Play and Apple's iTunes app store. You can track mobile users amongst your clients and invite them to download the app from a related store.
With Mobile Apps, you don't need to worry about updating your information manually. When MLS listings are updated, the mobile app will automatically update it as well. If you're interested in mobile apps, visit IOS/Android Apps.
P.S Interested in Realtyna's Add-ons for marketing? Check out this article Realtyna's Made-for-Marketing Add-ons: 2020 Edition.