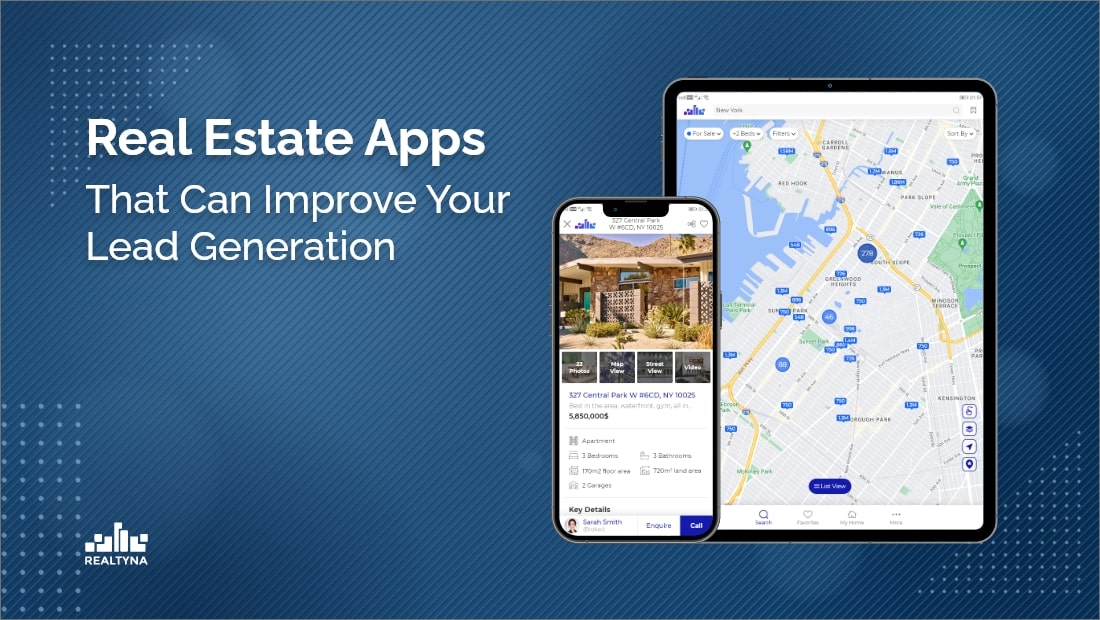 Top Real Estate Apps That Can Improve Your Lead Generation
11 Jun 2022

Posted at 12:00h
0 Comments
With a wide variety of real estate apps available, it does not have to be difficult to display your property listings to clients. That is why in today's article, we will discuss the best Realtyna apps that can help you display your listings more creatively and improve your lead generation.
Realtyna's iOS/Android Mobile App
Realtyna's iOS/Android mobile app is an excellent addition to your real estate business as it can transform your lead generation tactics. It is a great way to attract more customers to your website and keep them engaged. Also, the app offers customization features where you can customize your logo and create powerful branding.
The app has a direct sync to your website and comes with MLS listings that can be automatically updated. Users can also download your app on Google Play and iTunes App Store which will result in better lead generation. In addition, the app provides a lot of features for customers, such as the ability to search for properties, mark their favorites, preview saved searches, and benefit from search filters.
Overall, Realtyna's iOS/Android mobile app is a great solution to help build stronger relationships with your customers and increase your company's profit at the same time.

Realtyna's Tablet/iPad Apps
Realtyna's Tablet/iPad app can help you stand out in the ever-changing real estate market. It helps your customers to find your properties more quickly and conveniently. You can also automatically sync the app to your website and keep your customers engaged no matter where they are.
Additionally, the app comes with many helpful features that display complete property details, such as detailed information on each property on sale and direct communication with a broker.
Realtyna's Tablet/iPad app allows you to favorite your properties and save them for later. It also provides recommendations on the top 5 nearby properties, with details descriptions of each of them, and comes with QR code features to make it more convenient for your clients to scan your listings.
Realtyna's TV App
Another solution to consider is Realtyna's TV app. Realtyna's TV app can provide additional benefits for your real estate business. With the evolving technology, displaying your listings on different platforms is the key to gaining new leads. And with Realtyna's TV app, you can do just that.
Realtyna's TV app allows your property listings to be displayed on the big screen. This is a great way to show your listings at future open house events. The app also can help you maximize your listings exposure and display them in high-quality images. Additionally, you can navigate through the interface more conveniently and connect with your choice of supported devices.
If you're interested in reading more about beneficial apps for real estate agents, please check out our article on Best Apps for Real Estate Agents in 2022.
Thanks for reading! For similar content, make sure to check out more of our blog posts.
The Importance of Domain Name for Your Real Estate Website
Why Is it Important to Have a Chatbot On Your Real Estate WordPress Website