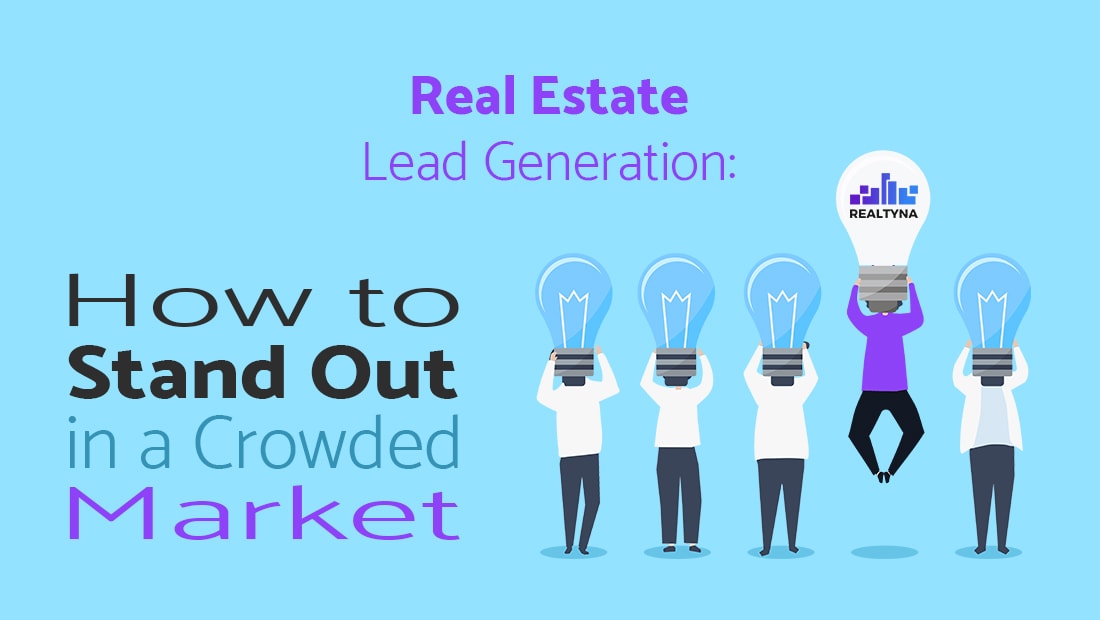 Real Estate Lead Generation: How to Stand Out in a Crowded Market
16 Jan 2019

Posted at 10:33h
0 Comments
Lead generation is simple in theory, but unfortunately, generating leads effectively is not as simple.
Why is that? Well, to start with, potential customers are constantly bombarded with ads everywhere they look: their mailbox, their tv, and their phones. They are literally becoming immune to advertisements, which explains the significant drop in advertising effectiveness.
The oversupply of real estate professionals sure doesn't help either!
However, you shouldn't feel discouraged at all, because, in 2019, the opportunities to stand out are endless! There is plenty of fish in the sea (but there's also a lot of trash).
So how can you truly stand out and generate quality leads in 2019? The answer is simpler than you think: visual content.
Research continues to prove that the future of lead generation (in almost every industry) is visual content. The reason is clear: the human brain processes visuals 60,000 times faster than text. The infographic below could help you understand exactly why visual content is the future: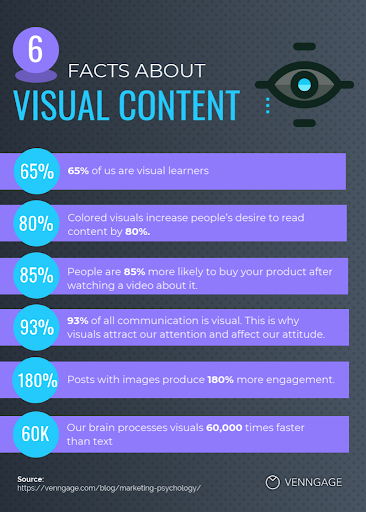 There are hundreds of studies done by marketers, psychologists and cognitive neuroscientists that prove this exact hypothesis: visual content is the future.
So how can real estate professionals use visual content to generate more qualified leads and boost their lead gen conversion rates?
We'll look at 3 main ways:
Using visual content to attract new prospects

Using visual content to generate more leads

Using visual content to nurture your leads and get new customers
Let's start with the first one:
1) Using Visual Content to Attract New Prospects
Real estate professionals struggle with this quite often. Most professionals want to find the right prospects for their business and convince them to become leads and eventually customers.
Here's the mistake: the key to attracting more prospects is not to figure out where to find them, but instead, to make it easier for them to find you!
So let's focus on one of the ways prospects today find out about your services: social media.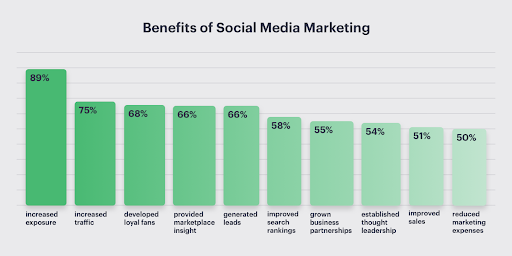 In the age of Google, Facebook and Instagram, the benefits of social media marketing for real estate professionals are endless. But for us, social media is an opportunity to establish yourself as an "authority" in a specific niche.
The first step is finding your niche. Targeting everyone is simply not an option anymore. Identify your exact audience and start producing content that speaks specifically to that audience. Not only will that convince prospects to follow your brand, but it'll also get them to trust your insights, trust your content and eventually, trust your brand!
But as we mentioned earlier, not all content is equal. Visual content (whether it's an infographic, chart, image, etc..) actually increases engagement on posts by a staggering 120-180%! It also increases the desire to read (and share) your content by more than 80%.
That gives you the opportunity to create content that gets more clicks, more shares, reaches more people and helps you significantly increase your exposure and your marketing return on investment!
Finally, not only will visual content allow you to perform better on social media, but it'll also influence your search engine ranking! More engagement on your posts/pages would improve your search engine rankings, which of course makes it much easier for your potential prospects to find you and learn more about your brand and services!
2) Using Visual Content to Generate Leads
Using visual content to influence social media and search engine engagement is great, but, it takes time to get results there. So how can you use visual content to generate more qualified leads today?
You'll have to offer your prospects a piece of content that is value enough for them to leave their contact information (name, phone number, email, etc..) in return for access to the content. This could be a real estate report, ebook, webinar or any other piece of content.
My personal favorite for the real estate industry is reports showing predictions, prices across regions and other vital information that leads might be interested in. Below are the content types that typically produce the highest conversion rates: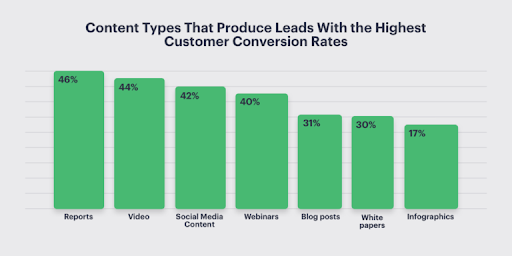 Social media content, as you can see, isn't only effective for attracting prospects, but it's also a very effective way of generating leads when done right. Some customers, however, prefer watching videos rather than reading, so this is where videos and webinars become a powerful way to execute your real estate marketing strategies effectively.
The type of content you create depends primarily on your audience and the information you'd like to share. But always keep in mind that if a picture is worth a thousand words, a video is worth a thousand pictures!
3) Using Visual Content to Nurture Your Leads and Get New Customers
Generating qualified leads is only half the battle. The second half is what we refer to as the lead nurturing phase. This is the phase where you educate your leads in an attempt to turn them into customers!
Here, you'd ideally want to not only educate your leads about the industry and the right opportunities for them, but also educate them about your brand and how it could make all their struggles disappear.
There are a lot of strategies you can use to capitalize on the power of visual content in this phase. You could, for example, guide them through the education process by providing checklists, timelines, exit popups and videos to make it fun and seamless.
Additionally, you can use visual content in any emails you send, which will make "boring" real estate emails stand out in their inbox and get them to actually take action rather than simply deleting those emails. Visual content allows you to make your brand memorable by presenting it in a unique way and as a result, make your brand stand out!
In a nutshell, the key here is to create the right content, to the right people, using the right visuals, which if done right, will not only help you attract more leads, but also would skyrocket your conversion rates and win you more loyal customers!
Conclusion
We humans, are visual animals. Our brains are designed to process visuals, not text. Understanding this key truth and capitalizing on it will allow you to attract your potential customer's attention and affect their behavior.
Real estate professionals can use visual content in every step of their lead generation process as it allows your brand to be different in a world where everyone is doing the same exact thing and expecting a different result!
_______________
Author's bio:

Naser Alubaidi
Naser is a Growth Marketer at Venngage. He is a tech enthusiast with a B.A in Financial & Business Economics and a background in marketing. Naser is passionate about product marketing, strategy, and growth. You can connect with him on LinkedIn.