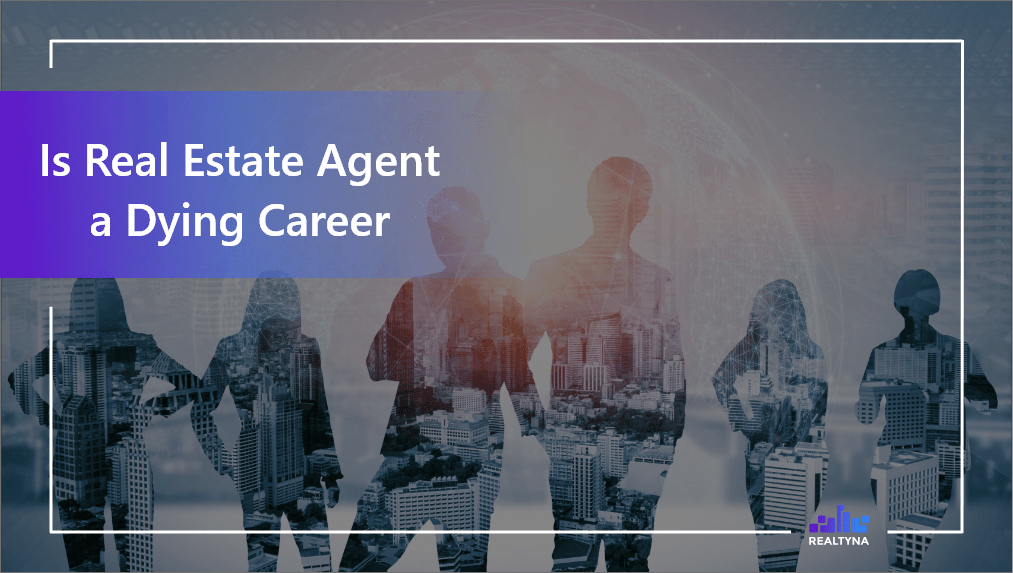 Is Real Estate Agent a Dying Career?
29 Jul 2021
Posted at 11:00h
0 Comments
Before we answer this question, let's examine the butterfly effect. Imagine, the real estate agent profession does not exist. What would happen?
If the real estate agent profession didn't exist, the buyer and seller would have to do everything by themselves, and in everything I mean:
Buyers would have to:
Search for houses

See some of those houses a second or third time

Discuss price ranges and negotiate an offer

Discuss the relative pros and cons of all the homes and compare them to each other

Drive through neighborhoods more than once

Communicate with sellers

And much more…
For sellers this means that they should:
Price the home correctly

Market their property

Communicate with buyers and negotiate the price

Be present for the home inspection

Attend the appraisal
If clients could do all of this together with their own job, there would be a risk that real estate agent was a dying career, but is that possible?
The real estate agent is an expert on the trends and pricing of the local property market. He/she is a bridge between the buyer and seller, knows how to negotiate, and suggests the best service to both buyers and sellers. If a real estate agent's profession didn't exist, the client would have to do everything and take responsibility for his/herself. The seller would be in charge of listing a house, advertising it, and setting up showings for it. Moreover, he/she would need to agree on the price, provide all necessary information and work with other sellers.
For the buyer's case, submitting bids, negotiating pricing, and handling all of the legal tasks associated with buying a home would be the buyer's responsibility. If the buyer doesn't have experience or knowledge of real estate transactions and markets, this process would be exceedingly difficult. It's not unthinkable to buy or sell a house without a real estate agent, but it's clear that these processes demand a considerable amount of energy, time, and expertise.
Will Real Estate Agents Be Replaced With Artificial Intelligence?
We see that some of the tasks that in the past were done by an agent today can be done by the computer. Zillow and Trulia have shown that the house searching process does not need an agent. One can search by themselves with the help of these websites, assess home value, and research neighborhoods. Moreover, property showings can be done without the real estate agent using a prerecorded video screen.
But Can Everything Be Done Without an Agent?
From today's perspective, some of the procedures can't be done without a real estate agent. These are:
Negotiations

Creating property descriptions

Creating contracts that protect buyers and sellers interests

Keeping the deal when an issue or disagreement comes out

Producing the data
As you see, there are some actions that can't be completed without a human being. But little by little, artificial intelligence will develop, and real estate agents should be prepared for more changes in the industry.
How Can Real Estate Agents Compete in the Age of Artificial Intelligence?
First of all, we should take into consideration that artificial intelligence was created to enlighten our lives, not to create a new puzzle. Accordingly, real estate professionals should use this prospect for their well-being and development. That is why they should:
Adopt and integrate with the new technology

Focus on personal and unique service and deliver a good user experience

Work on themselves and try to improve their skills

Be creative and try to offer something different to their clients
To Conclude
I can't tell you exactly how many years the real estate agent career will remain the same as it is today, but it is clear it can't be dying or replaced from today's perspective. On the other hand, real estate agents should try their best to be creative and motivated. They should use artificial intelligence beneficially for them and develop their skills as much as possible.
For more on this, see our blog about coaching programs that will help you become a better professional
6 Real Estate Coaching Programs-Become a Better Real Estate Agent