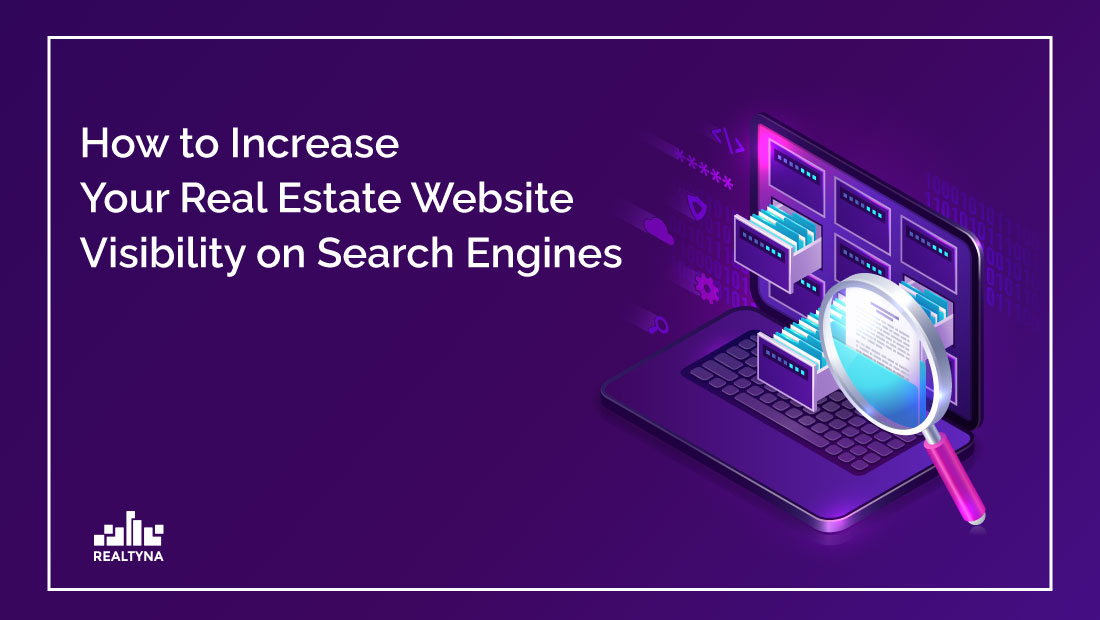 How to Increase Your Real Estate Website Visibility on Search Engines
19 Aug 2021

Posted at 11:00h
0 Comments
There is no questioning that more and more real estate decisions are being made online due to the growth of digital real estate and the popularity of real estate marketplaces. In addition, a recent study by the National Association of Realtors found that millennials are the most popular homebuyers in the U.S. Realtors, however, must prepare for the requirements of this technologically savvy generation, which appears to be shifting the tide.
When consumers are searching for someone to assist them in the buying and selling of property, you want to appear in the top search results. And for that, you need a good SEO plan. So let's look at what search engine optimization is and how you can use it to benefit your real estate firm.
What is Real Estate SEO?
For real estate, search engine optimization (SEO) is optimizing your online content to attract visitors through organic search results rather than paid online advertising such as Google Ads. It is essential to have your content show on Google's first page because it positions you to direct traffic to your site. SEO for agents and brokers has become an extremely competitive sector as more firms compete for real estate's organic SERP (Search Engine Result Page). Simply having a website and participating on social media is not enough.
You may improve your content for search engines and search engine optimization (SEO) practices with content from your website, mobile app, and social media platform. Keywords and links were the primary ranking factors in the early SEO days. The essential thing is to provide a pleasant user experience that meets their demands and, of course, keywords.
SEO is a long-term approach, and you shouldn't expect to see returns right away from your investment. Thus, looking at real estate SEO to improve your business goals will help it grow now and in the future.
How To Achieve a Great Search Experience on Your Website
Fix crawling and indexing issues first.

Make sure people know where and how to get in touch with you. You can do this by setting up a Google My Business account.

Use real estate-specific data.

Monitor how the keywords on your website rank.

Improve your Expertise Trust and Authority (EAT) factors.

Ensure that the technical aspects of your website are optimized correctly.

Create content with your client in mind.

Frequently study your SEO competitors and learn from them.

Make sure your internal search works correctly.

Provide mobile optimization for your real estate website.

Ensure that your website complies with the Americans with Disabilities Act (ADA) regulations.
What Are The Main Benefits Of SEO For Real Estate Businesses?
According to Statscounter GlobalStats, Google dominates U.S. search results by 88.83 percent. Besides Google, other search engines such as Bing and Yahoo hold 5.4 and 3 percent of the market. You should consider this when optimizing your content. Although their percentage of the market is smaller, ensure that you use all resources available to place yourself right in front of your potential clients. Here are a few benefits that SEO provides for your business.
Gets Your Brand Name Out There
Quality SEO content promotes your company as a go-to source of information, which in turn fosters trust among your target audience. Whenever someone encounters your content and acquires new knowledge, your brand becomes more familiar to them, boosting brand awareness. And an improved brand recognition will have an even more significant impact on conversion rates.
Attracts More Visitors And Sales
The major advantage of a solid SEO plan that includes excellent content is that it increases your incoming traffic and sales. The number of visitors and the type of people who come to your site will also increase, making you more likely to turn visitors into clients. Turn this traffic into new traffic by placing relevant conversion rates.
Generates New Leads
You should incorporate your real estate SEO strategy into your marketing and sales campaign to be more effective. Since it directs people straight to your website, search engine optimization (SEO) generates fresh leads. In addition, create conversion points that can guide users when they visit your website. Contact forms, newsletters, and local data-driven market studies are all possible conversion points that immediately take care of the needs of your clients and prospects.
However, customizing your content to the unique demands of target audiences is important when implementing any lead-generating plan.
Bottom Line
We've taken a deep dive into what real estate SEO is all about, listed how you can get a great SEO experience on your website, and how SEO benefits real estate businesses. Now is the time to act.
Related Topics: Do's and Don'ts of Creating Real Estate Websites and Five Real Estate Searches That You Should Be Aware of – Guide for Real Estate Agents