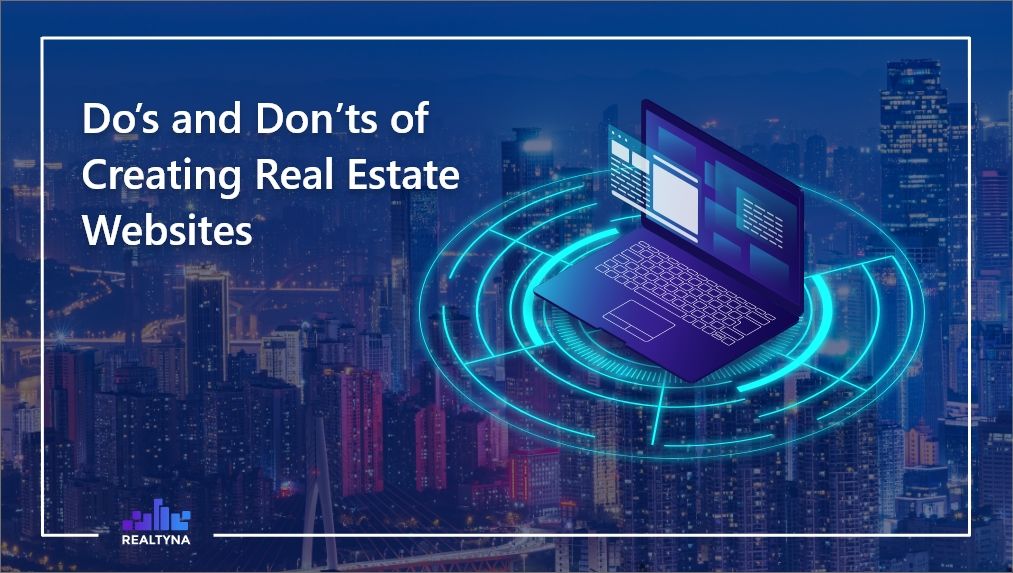 Do's and Don'ts of Creating Real Estate Websites
08 Aug 2021
Posted at 11:00h
0 Comments
Technology is advancing every day by getting closer to the competencies of end users. 30 years ago, working with computers was the job of geniuses and nerds. Today, thanks to the advancements of computer technology, even a five-year-old child can play with it. Creating a real estate website became somewhat easier.
The same thing has happened in website creation technology. Only five years ago to create websites, you needed to know programming and a bunch of other complicated software programs. Today, creating great-looking and great-functioning real estate websites is like building a prefabricated house. You may need someone to put different blocks together or tweak them the way you want, but knowing a few tips will save you tons of time and money.
Choosing the Correct Programs to Assist Your Real Estate Website Development
1. Use a Standard and Popular Content Management System (CMS)
CMS is like the skeleton of a website that holds together and organizes the contents of the website. Creating a website without a CMS is possible, but using one costs less. Actually, the most famous CMS are free and will allow you to easily expand and manage your real estate website.
There are quite a number of CMS applications in the market. But the most popular one that Realtyna uses is WordPress. See the article: Why WordPress Is the Best Solution for Your Real Estate Website
There are several reasons why you should choose a popular CMS for your real estate website:
There are plenty of designs and templates available for them.

There are thousands of third-party applications that extend the CMS capabilities, such as property listing engine, banner management, forums, and etc.

There are plenty of well-trained and low-cost human resources available for building your real estate website.

There are lots of free regular updates containing security patches, enhancements, and new features.
2. Choose a Real Estate Application for Your Real Estate Website that:
Offers lots of features. Even if you do not need some of the features now, you may need them down the road.

Comes with reputable support. Most of the web applications only provide forum support for professional developers. As the end-user, you need personalized support. Such vendors may seem more expensive in the beginning, but in the long run the support they provide saves you lots of money.

Is being updated regularly for adding new features and bug resolution. Do some research and find out how often the application is being updated. If an application comes with an automatic update feature it shows the importance of updates for that vendor.

Is supported by lots of optional add-ons to ensure your future expansions and requirements. e. Provides a Software Development Kit (SDK), which allows development of extra features without altering the standard codes of the application. The SDK also allows third party experienced programmers to add features to the system, without altering the standard codes of the application.
As a professional vendor of Real Estate applications, Realtyna provides all of the above mentioned requirements.
3. Avoid Non-Standard Versions of Applications for Your Real Estate Website
This is something that you must avoid at any cost. At times you may have specific requirements that need extra development. As we mentioned before, first you should choose an application with SDK. Then be very clear with your programmers that they have to use the SDK platform and that in the end of the project, the CMS and all the main applications need to remain standard.
The reasons are:
Everyday security advisors find new bugs or threats in software programs

. If you have a non-standard altered application, you cannot update the platform and this leaves you with a bug in the system, which is a potential security risk.

Competitiveness

: Some vendors have a Research & Development team (R&D) that monitors the newest technologies in the market and implements them before the end users even notice them. If you have a non-standard application, adding a new feature or add-on will cost you a lot more because instead of purchasing a ready add-on, you need to spend money on matching it with your non-standard application.

Support service is usually free or low cost in the standard applications

; however it will be costly in non-standard versions. Vendors will not support non-standard versions of its applications. If you find a bug in the system, instead of referring to the original vendor for fixing the bug, you will need to find the third party developer that you had hired before and pay them to solve the bug. If you cannot find that developer, you will spend even more because a new developer needs more time to realize and solve the issue.

Compatibility Issues

: Vendors are obliged to update their products to keep up with ever changing technologies. Usually when a new version is released, the old version will be outdated after a few months. As we explained before, non-standard applications cannot be updated and that results in compatibility issues with the new technologies.
Last Several Words
For all of the above reasons, even if your selected application comes with a SDK, first try to hire the original vendors for your customization projects for your real estate website, rather than the third party programmers. The original developers are the best choice because no one knows the codes better than them and as a result a great amount of time can be saved. For more information, see the blogpost: Why Do You Need WordPress for Your Real Estate Business