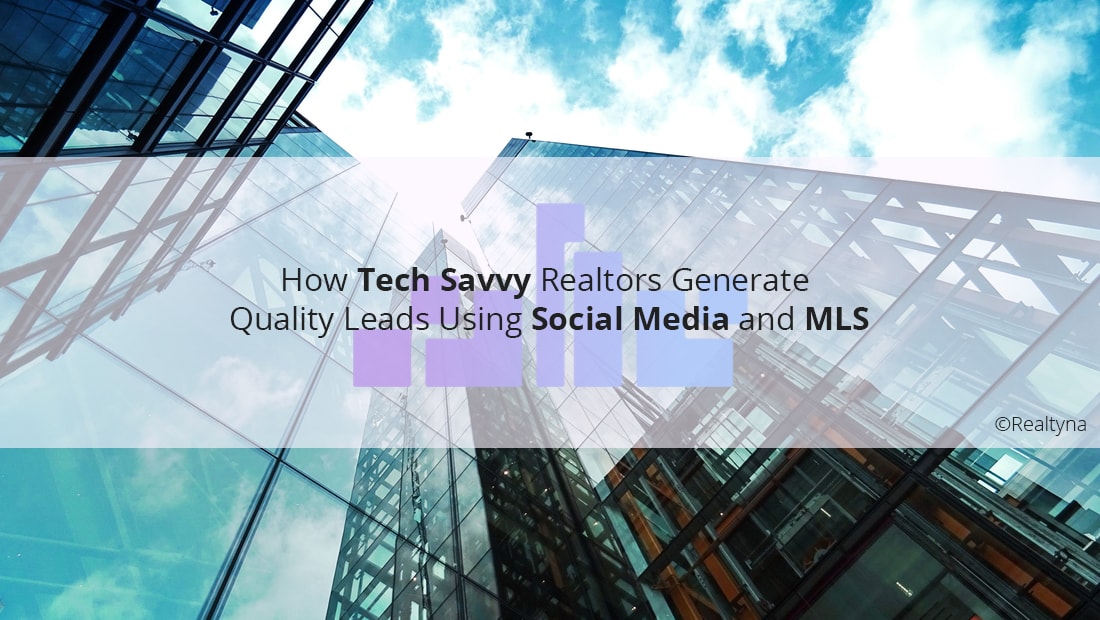 How Tech Savvy Realtors Generate Quality Leads Using Social Media and MLS

Posted at 11:18h
0 Comments
There is so much potential in social media that we sometimes tend to fail to notice. But no more overlooking. This article is to underline the importance of social media, as well as MLS Integration, when it comes to generating quality leads. Sounds interesting so far? Let's dig in a little further then.
No doubt, social media is one of the greatest tools for expanding your business, however, when using it as a means of lead generation, it gets a little tricky. Meaning, that one has to have a thoroughly prepared plan and a great marketing strategy prior to using social media for quality lead generation. Here are a few tips for using it efficiently and effectively. It's a two-in-one.
USING A LEAD MAGNET
Using a lead magnet has proved to be quite successful, so why not use it? Basically, a lead magnet can be any incentive that is offered to the target audience in exchange for providing their email addresses. Incentive can range anywhere between a free PDF ebook and exclusive video content. Good lead magnets should be super specific, of high value, demonstrating expertise and most importantly, not a scam. If it meets all of those requirements, you're good to go with it. Otherwise, the rule of thumb is, everything might get even worse.

The best part, however, is that social media is a great platform to show off your lead magnet and get those emails you've been hunting for. Don't limit yourself, come up with the most creative and relatable content for your lead magnet. After all, it's exactly what's going to get you the quality leads.
RUNNING SWEEPSTAKES
We all love winning a good prize. You can easily come up with some Instagram contest idea, for example. Create a good call for action and translate it into a relatable, easy to understand post and wait for the answers in the comments. You might as well add the link in your bio and ask the participants to click on it in order for them to enter the contest. This way, you'll get user-generated content that you'll be able to use for targeted marketing later on. There you go, you've got yourself some hot leads.
You can even promote such sweepstakes through your other online channels, such as emails and blogs even.
TWITTER CHATS
Twitter has become a great deal of a thing online. A tweet here, a tweet there and KABOOM, you're in the limelight. Just kidding, I wish it were actually like that. In reality, it takes much effort and time to get the marketing stuff going on through Twitter, or any other social media to be honest. So again, you have to have everything planned out prior using it. One of the ways you could benefit from this social media platform is with the help of its chats. Twitter chats are basically Q&As. So there's a lot of engagement going on there. You can either act as an expert, or invite one to answer the questions. Besides, in case you invite an expert to do that for you, they'll automatically end up promoting your company's goods/services to their audience. Congratulations, you've significantly enlarged your target audience, thus, the leads.
LUKE'S TIP
USING LINKEDIN
Believe me, LinkedIn's algorithm loves hot conversations going on. Use it and ask questions. That is as simple as it is. The best part here is that LinkedIn users just love sharing their stories and opinions, so asking questions on this platform is a great way to get your post shared more widely. Be smart, use the LinkedIn audience to get the engagement for your questions, thus some shares for your content across the digital channel.
FACEBOOK GROUPS
Did you know that an average Facebook user is most likely to see group posts more frequently in their newsfeed than ordinary posts from friends/pages? Maybe it has something to do with the Facebook algorithm thinking that just because you chose to be a part of a specific group, you definitely want to hear from it often. It's the perfect opportunity for your business. Create a Facebook group, be active, be helpful, be nerdy, or just act casual. You'll be surprised just how much your business has been missing out on.
ABOUT MLS INTEGRATION
Now that we you know about the social media tricks that you can put to good use, let us say a couple of words about just how important it is in real estate industry to have MLS integration for your website. Chances are, the vast majority of home buyers want to be able to search for all properties in one place. Plus, with the help of MLS integration, chances are, you're going to keep the potential customer busy on your website for a longer time.

Luring the target audience to your website is one thing (which can be done through the social media tricks that we've already covered), but keeping them there for a long time is another. And it's done through a good MLS integration
Now that you know how to capture the attention of your target audience through social media channels and then how to keep them browsing your website for a really long time with the help of a good MLS integration, you're good to go. Still got any questions? Why hesitate when you can just leave a comment down below!
Watch our video: