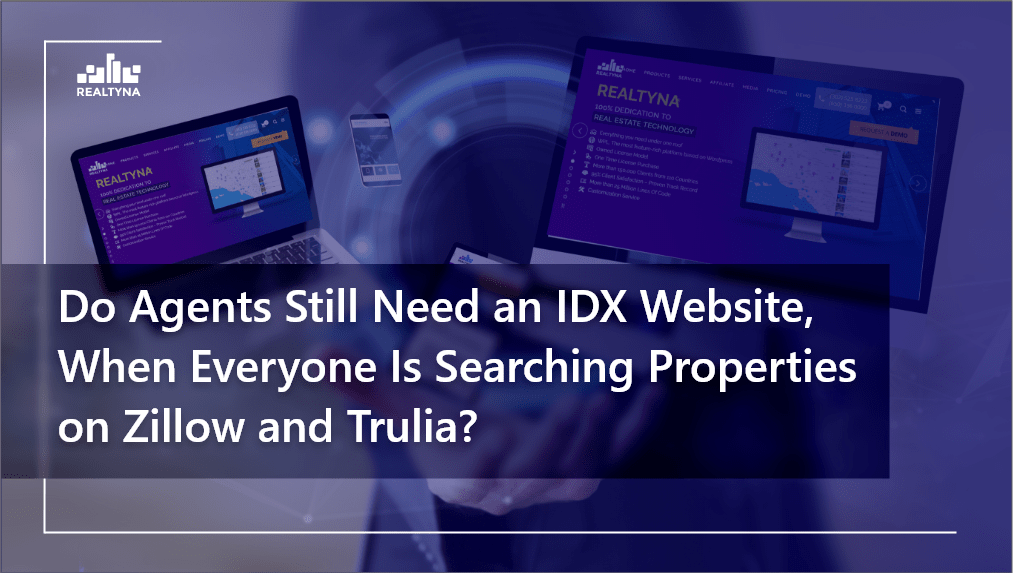 Do Agents Still Need an IDX Website When Everyone Is Searching Properties on Zillow and Trulia?
11 Jul 2021

Posted at 11:00h
0 Comments
The short answer is yes. As a real estate agent, you need a real estate website. A long answer involves many factors that influence the benefits of having your own real estate website. We will discuss key factors below.
Locality Equals Success
This is not something that can be said about every industry, but real estate especially rewards those who chose to emphasize locality. For homebuyers, chances are they will first turn to Google for research and check Google maps. If you specialize in the specific area they're interested in, it's a high probability your real estate website will pop up. This will help you to establish your authority in this specific area.
Lead Acquisition With IDX Website
Let's talk business for a moment. Having leads is great, but it doesn't necessarily mean they're your clients unless you convert them into real clients. This can be done with a proper real estate website and a simple conversion form. You can collect email addresses once your leads sign up for more information. And with Google Pixel, you'll be able to track your visitors and use the data for your Facebook ads. With a good IDX website, you'll be able to collect data and further your marketing strategies. Email marketing is just one of the potential marketing strategies you can use with the data collected from your website.
Reviews on the Real Estate Website
With an abundance of information nowadays, it's hard to know who to trust and what service to choose. Testimonials are one of the best ways to showcase the eligibility of your service. As many studies have shown, people generally trust websites with positive reviews, and subsequently, it influences their decision-making process. They are more likely to choose your service if you have positive reviews on your website.
An IDX website is a multipurpose platform. Providing an option for reviews is just one of those benefits of having a website.
All Information In One Place
Consider your real estate IDX website your digital business card. It has all information about your brand and services in one place. Starting from your contact information, your potential clients will be able to check listings, and if they're interested, it will be easy for them to contact you instantly.
And it's just the tip of the iceberg of the information you can store on your IDX website.
Blogging
As we already mentioned, your IDX website gives you an option to have all information in one place and that includes blogging. The seasoned real estate professionals will tell you that one of the most important things is to showcase your expertise, to let your clients know that you're the person who will help them solve their real estate problems. And blogging helps you to showcase all your expertise.
Blogging and IDX websites have mutually beneficial purposes. IDX website is a platform where you can showcase your skills and expertise through blogging and blogging subsequently helps you to rank your real estate website.
P.S. Want to know more about building a real estate website? Check out our blogs What to Consider While Building Your Real Estate Website and How To Build a Real Estate Agent Website in Canada.