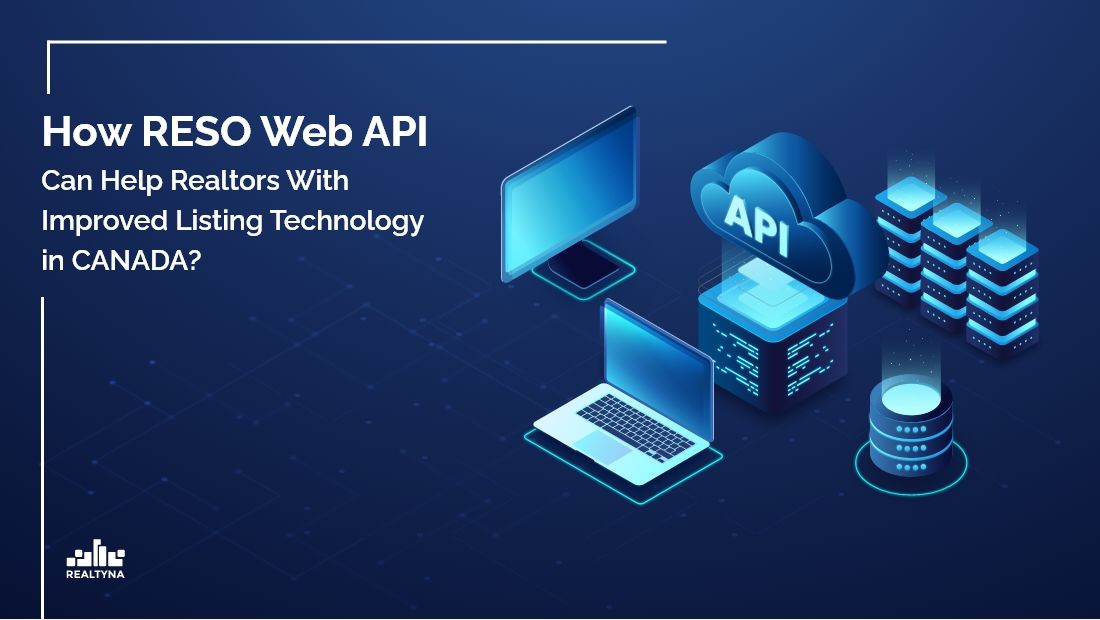 How Can RESO Web API Help Realtors With Improved Listing Technology in Canada?
27 Jun 2022

Posted at 11:00h
0 Comments
MLSs have provided a successful property listing management model for Realtors in the US and Canada for almost two decades. These technology companies, most of which are moderated by local Reators' Boards or Associations across North America, offer the necessary technology and guidelines to ensure transparency and accountability for Realtors and their clients.
The primary technology used for this purpose has been RETS, which stands for Real Estate Transaction Standards. NAR developed these guidelines in 1999, and it is still in use. However, with advances in Proptech and web development, the need for a new set of standards became a priority for RESO, the organization responsible for this task. Their solution for a streamlined and efficient technology is the RESO Web API.
What Is RESO Web API?
Like most industries, the real estate industry is shifting towards API-based programming and development. Real Estate Standard Organization introduced its Web API in 2017 with the main aim of further streamlining the world of real estate data.
The technology provides a more flexible and scalable means to offer listings data across MLSs and make life easier for Realtors and their clients. As of early 2022, the majority of MLSs in the US and Canada have made a switch to RESO Web API or offering it as an alternative to RETS.
RESO has recently announced that RETS will be retiring soon.
What Are the Advantages of RESO Web API Compared to Predecessor Technologies?
RESO Web API, as a relatively new technology, comes with the following benefits:
The API provides a better platform for open data technologies, hence limiting the need for expensive and troublesome local hosting.
Just like any other technology, RESO Web API has been designed with higher levels of data protection in mind, especially regarding valuable data assets such as property listings.
API stands for Application Programming Interface which, in other words, means a more convenient platform for developers of various experiences and programming languages to handle integrations easily.
Another advantage of RESO Web API is the flexibility to integrate with third-party applications. Using RESO Web API, Realtors can easily connect a site to a mobile application or another platform. This, in turn, will reduce their costs and hassles.
With over 700 MLSs in the US and Canada, collaboration and sharing have become easier thanks to the consistency of data provided by RESO Web API.
Check out the following article for a use case for RESO Web API:
​​Rising Use-case for RESO Web API: Headless Real Estate CMS!

Why Should Realtors in Canada Care?
The real estate industry in Canada is moving towards new technologies along with their southern neighbors. New and flexible technologies play a key role in the Canadian market, where there is more diversity in terms of language and ethnicity for buyers and sellers.
Here is how RESO standards can help:
International Data Standards
RESO data dictionary allows for a seamless and accurate translation of the data. This is an important feature for Canadian real estate where English and French are theofficial languages.
Paving the Path for Further Innovations
Despite being an API, RETS technology was very complex and outdated. It was limited to developers with experience in the field. RESO Web API has resolved this issue by providing a platform where third-party integrations and cross-platform development can easily take place. As a result, development costs for MLSs and other data consumers will reduce.
The Last, But Indeed the Most Important, Simplicity
Traditional technologies are complex. The design of RESO Web API is built with simplicity and is fully supported by documentation available on the internet.
What Is the Catch?
Practically nothing. Arguably, there is a need for remapping data on the side of MLSs, but that is only a matter of time and dedication. API-based development is defining the industry's future, and real estate professionals should follow suit.
How to Get Started
Realtyna is a certified vendor of RESO API and an official vendor of over 200 MLSs across the US and Canada.
If you are an MLS or Association considering moving to RESO Web API, or you wish to learn more about how to create your own MLS, make sure to check out the following article:
How to Create a Multiple Listing Service (MLS)
If you wish to learn more about how to integrate RESO Web API to your website, read the guide below: