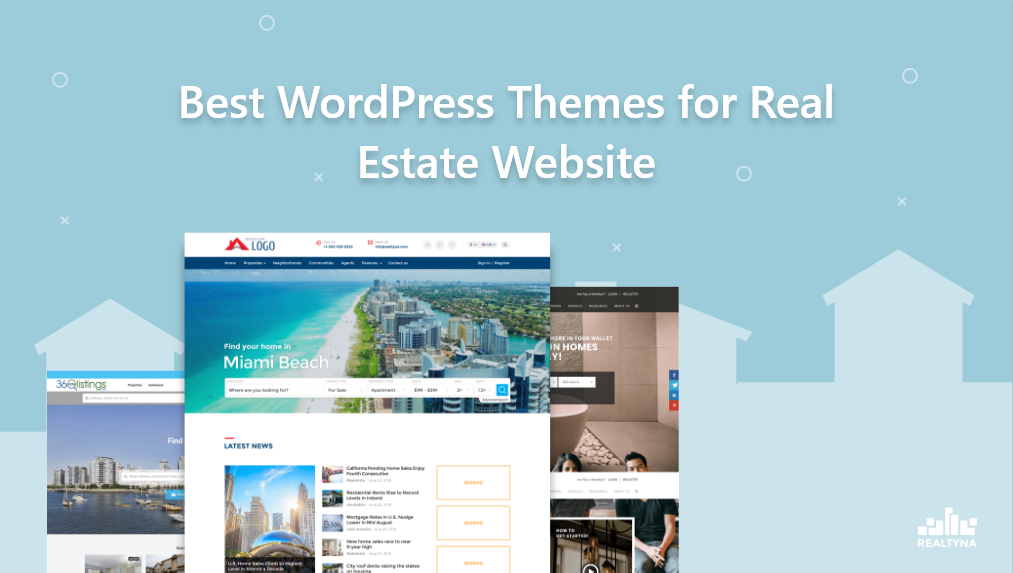 Best WordPress Themes for Real Estate Website
01 Jul 2021

Posted at 11:00h
0 Comments
If you are a real estate agent and you are looking for the best WordPress theme for your real estate website, then this is the right blog to read.
Running a real estate website is a huge responsibility. As thousands of websites are available on the market, you need to have different useful features to run a successful real estate website.
Themes are something that will help your real estate website to stand out from the crowd. Today, we are going to discuss the best WordPress themes for real estate websites and the main ways to determine the best WordPress theme.
Let's jump into it!
Top Three Ways to Determine the Best WordPress Theme
Responsive
While choosing the best theme for your real estate website, it is important to choose the most responsive theme. It should be well-structured in different screen sizes and devices. In the 21st century, people are using different devices while surfing the net. Responsive real estate website themes will help you to generate leads from different devices.
Needs No Coding
As there are hundreds of WordPress real estate themes available on the internet, it is important to choose one wisely. You can have easy-to-use themes available on your website. There are WordPress themes that do not need much coding and permit small customization. This will give you the chance to make small changes on your real estate website even with little knowledge in WordPress.
Useful Features
The best way to determine the most useful WordPress real estate website theme is to see whether this theme is compatible with useful features. Running a real estate website is very difficult. You need to have all the useful features on your website. That's why you should choose the WordPress theme that contains useful features and has no limits in adding these features.
Three Best Themes for Your Real Estate Website
Sesame Theme
Sesame is the most flexible theme available on WordPress. It is a free theme. This theme comes with customizer options, easy setup, and recommended support. This theme allows both homeowners and agents to submit their properties for rent, sale and vacation rental. For more information, check my article on everything you need to know about Sesame Theme.
Divi Theme
Divi theme is definitely built up in a modern manner. This theme allows you to manage listings and to have a well-structured real estate website. On this WordPress theme, you can create different neighborhood pages with pictures in any city. For more information, check the demo out there.
BeTheme
Your real estate website visitors want to see as much information as possible about the properties. This theme is designed from the perspective of a website visitor's needs. You can have all the features and useful add-ons with the help of Be Theme.
Last Several Words
Themes are important for creating the real estate website. Apart from this, you will need some other tools like videos on websites. For more information, check our article on 3 ways to add a video background to your WordPress real estate website.
As a real estate professional, you may want to study the use of WordPress and to create a website on your own. If you want to know more about WordPress, check my article on the 9 best YouTube and Udemy instructors for learning WordPress and launching your real estate website. This will help you to choose the best WordPress instructor according to your needs.