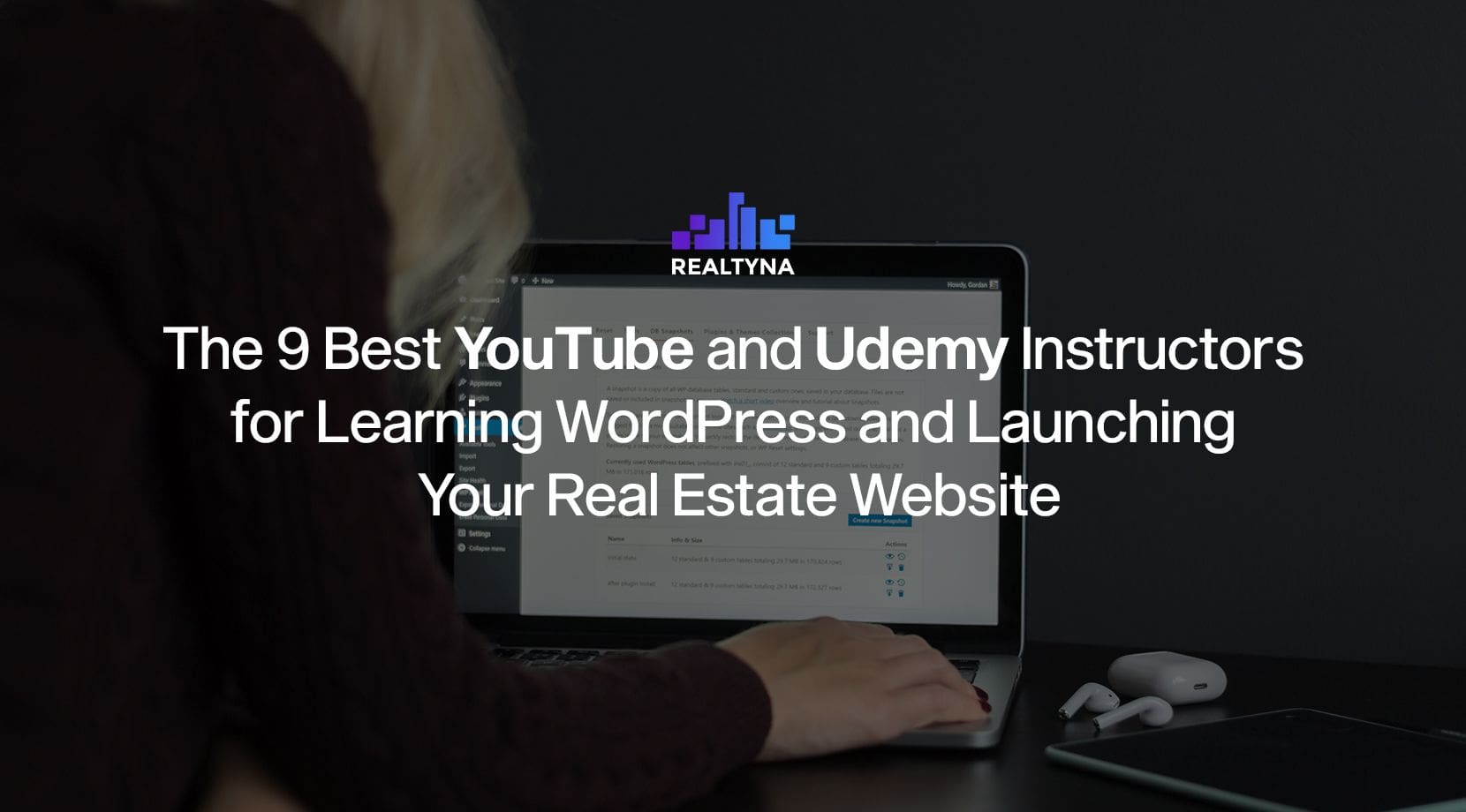 The 9 Best YouTube and Udemy Instructors for Learning WordPress and Launching Your Real Estate Website
04 Jun 2021

Posted at 11:00h
0 Comments
Almost every company operates online by having a website. WordPress is one of the best platforms for creating websites, especially real estate websites. Since WordPress is one of the best, there are many tips, tricks and study courses about this platform available on the internet.
Today we are going to speak about the best WordPress instructors, mainly available on two platforms: Youtube and Udemy. If you are interested in WordPress tutorials and study guides, this is the right place for you.
Let's jump into it!
YouTube Channels
YouTube is the platform that is used by everyone for different purposes. It can be used for entertainment, enlightenment and more. YouTube is a totally free platform and visitors can view any video available there simply with no cost. Here, we will show you the 5 main YouTube channels that focus on the usage and building of a website on WordPress.
Envato Tuts +
It has over 506,000 subscribers and almost 5,000 videos available on its YouTube channel. Envato Tuts + definitely helps subscribers to be more productive and creative by offering them tutorials and free courses on different topics such as WordPress, Illustrator, Sketch, Adobe XD and more. As we can see, they have different types of videos, but as this topic is about WordPress instructors, let us highlight what videos they have on this subject:
WordPress for beginners\free course
How to edit the home page in WordPress
How to delete your WordPress account or blog
IdeaSpot
IdeasSpot has more than 9,000 subscribers. On this YouTube channel, you can find educational, free tutorials on different topics such as web design, WordPress and making your own blogs. Some of the video topics include:
WordPress Speed Optimization-Boost your Google PageSpeed Insights scores
Best Free WordPress Backup Plugins 2021
WordPress Form Builder Tutorial | HappyForms Visual Form Builder
LivingWithPixels
This is the YouTube channel made by Rino, an instructor who teaches people how to build and design websites without any coding needed. Rino has 91,000 subscribers and 66 videos available on YouTube. He states that after watching and following his videos, you will start living with pixels, and that's why he chose this name for his YouTube Channel. Some of his video titles include the following:
Elementor WordPress Tutorial-The Basics in 10 minutes
How to Create a Transparent Header Menu in WordPress with Elementor Pro
How to make your Elementor website multi language- Polylang for Elementor
Tyler Moore
Tyler Moore can be considered as a professional tutor and video maker when it comes to making websites on YouTube. He has more than 200 videos available on his channel. His free videos help thousands of people to create their own professional websites without any coding, as he explains everything step by step.
Some of his videos are highlighted below:
How to make WordPress website 2021
How to make a website-absolute beginner
How to make website like Joe Rogan
Chris Winter Tutorials
He has more than 88,000 subscribers on his YouTube channel and 86 videos available. His area of activity includes stock markets, basic financial advice, affiliate marketing and more. His videos include WordPress tutorials, and he has many videos about WordPress in general.
His videos include:
How to make WordPress Website on Bluehost in 2021
WordPress step-by-step tutorial 2021
How to make a WordPress website 2021 on Hostgator

WordPress Instructors on Udemy
Udemy is considered one of the main platforms for studying any subject people are interested in. Speaking about WordPress, there are tons of courses available there. But today, we are going to speak about four main instructors, who have very interesting courses on WordPress and more.
John Westbrook
He has more than 50,000 students and almost 2,000 reviews. By offering interesting courses, he tries his best to teach beginners the usage of technology. As we can read in his bio, he is highly experienced in WordPress and other web-based technologies that are used nowadays. He has 8 courses and 4 of them are only about WordPress.
The 4 courses on WordPress contain the titles shown below:
WordPress for Beginners
WordPress Theme Customization 102-Create a WP Child Theme
WordPress Theme Customization 101 (for beginners)
How To Create a WordPress Menu Driven Site & Blog
Phil Elbiner
He is one of the most well-known instructors you can see on Udemy. His audience consists of more than 2 million students and has more than 280,000 reviews. He simply offers step-by-step tutorials and project-based learning, which make his courses more interesting and easy to learn. He has a total of 138 interesting courses available on Udemy.
WordPress for beginners: Create Your Own WordPress website
Digital Marketing Automation: save time and get more done
Darrel Wilson
He is a professional WordPress designer and instructor. He has more than 150,000 students. He is the author of 26 courses available on Udemy. We can simply say that his courses are really cost-effective ones. Some of the course's titles are written below:
How to Make WordPress Website-Elementor Page Builder
How To Make a WordPress Website-Divi Theme Tutorial
How to make a real estate website with WordPress
How to make a membership website with WordPress
Andrew Williams
He is a writer and publisher of several books related to WordPress. As he is a former teacher, he can easily explain everything in his courses on Udemy. He has 29 courses available on Udemy. Andrew can be considered as one of the main instructors of WordPress. His students are a total of 119,351, and he has more than 25,000 reviews.
Learn Elementor-WordPress Front-End Developer course
WordPress intermediate skills
WordPress Security-How to stop hackers
Best WordPress Plugins
Last Several Words
As the internet has made everything easier, especially in the case of education, there are tons of online courses and videos about different topics. What should we do in this case?
We should take this opportunity and try our best to enlighten ourselves via the internet where hundreds of instructors are ready to help us be more productive by offering interesting courses.