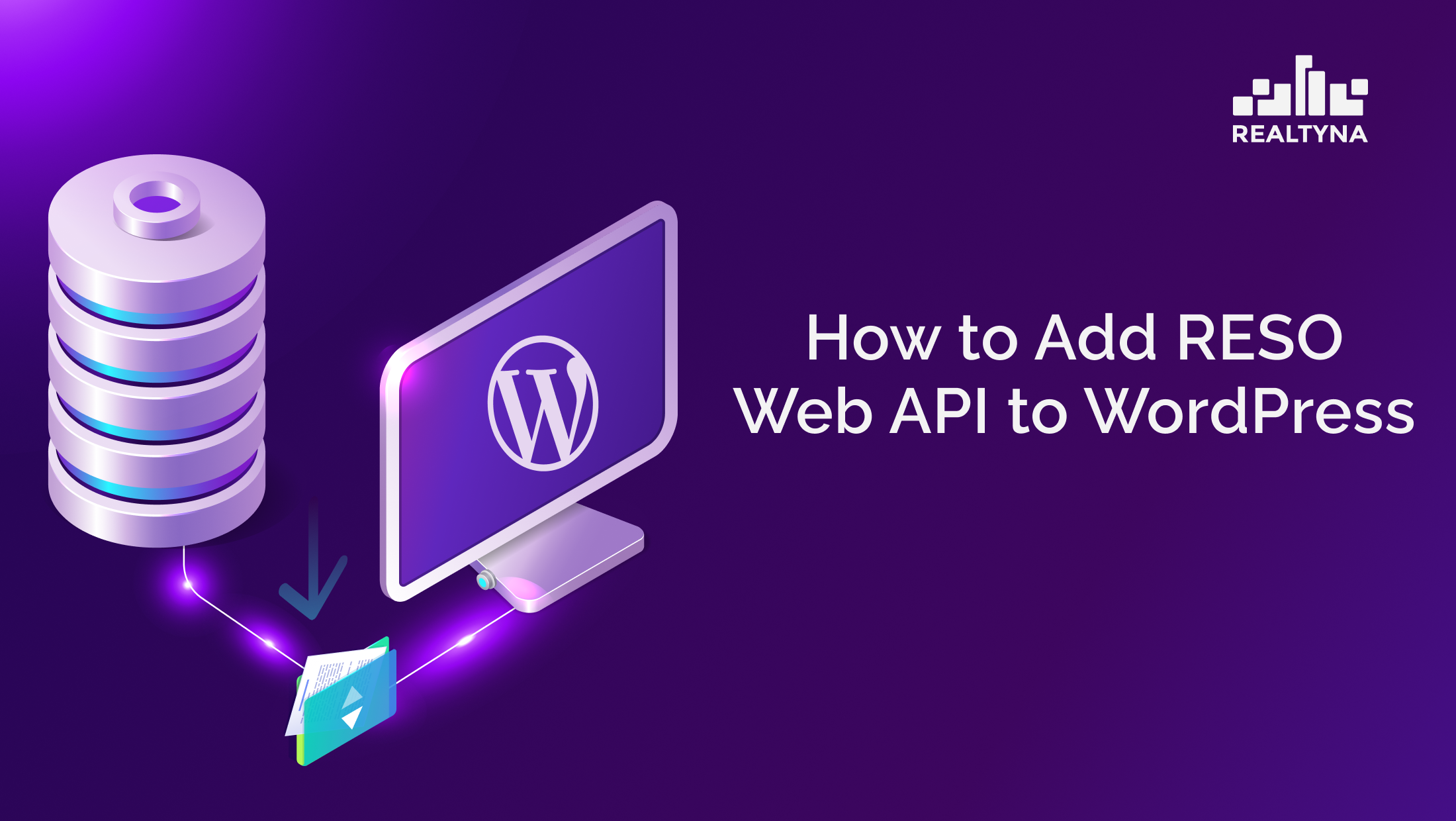 How to Add RESO Web API to WordPress
15 Sep 2022

Posted at 11:00h
0 Comments
A listing site is unquestionably the most important tool Realtors have nowadays. It is a place where they serve buyers and sellers. MLSs are the biggest providers of listings data, and their members can integrate this data into their sites using the latest technologies, such as the RESO Web API.
Since WordPress is the CMS of choice for a majority of real estate websites, in this review, we are going to walk you through how to integrate this standard feed into your WordPress real estate website.
Let's start off with some of the basics. All you need to have a website up and running are:
A domain name

Hosting

A WordPress plugin

Feed from the MLS
Now, let's talk about what RESO Web API is and why we should consider it over traditional technologies such as RETS.
What Is RESO Web API?
RESO Web API is a standard method to transfer listings data. MLSs collect property information on their servers, so what you need as a Realtor is a way to bring them to your site. Former technologies such as RETS provided the means to do this, but they were slow, complex, and hard to work around.
RESO Web API is taking advantage of the capabilities of modern application programming interface to bring the data in a single and more flexible format.
Check out the following animation to learn more about how it works:
Benefits of RESO Web API?
The Web API has the following advantages over its predecessors:
Better Hosting Options
The Web API allows the use of open data technologies. This in turn limits the need for extensive hosting.
Better Security
RESO Web API has been developed with security as one of the main considerations. Afterall, property listings data are valuable business assets for MLSs and Realtors.
Coding and Development
API stands for Application Programming Interface, and APIs are designed to allow developers from different backgrounds to be able to work together in one place. This means that you won't have to spend lots of time and money on finding specialists or limited resources.
Third-party Application
Another advantage of RESO Web API is the flexibility to integrate with third-party applications. Using RESO Web API, Realtors can easily connect a site to a mobile application or another platform; another source of saving time and money.
Consistency
With over 600 MLSs in the US and Canada, data consolidation and consistency is vital for MLSs. Real estate agents and brokers often wish to work across the borders of their states and MLSs and work nation wide. RESO Web API offers the data consistency for a smooth collaboration between MLSs.
Steps to Integrate RESO Web API Into Your WordPress Real Estate Site
Now that we have a good picture of RESO Web API and its advantages, let's integrate it into our WordPress site.
Here is a quick review of the items we need:
WordPress

WPL Plugin

Hosting

Domain name

Organic RESO Integration by Realtyna
Choose a Domain
A domain is your brand identity and is the name people search for or find on search engines. Make sure your domain name:
Showcases your name/brand,

Is easy to remember,

Is not long,

Does not include numbers or signs
For more on this, check out the following article:
The Importance of Domain Name for Your Real Estate Website
Choose Hosting
To host your listing data, you need a good hosting service provider. You can choose them based on the needs of your site and the amount of data you will host on it. Realtyna offers managed hosting for MLS/IDX websites. It is designed to meet the needs of RESO API-based platforms and sites according to the number of properties listed and more. As a result, it is strongly recommended to opt for our hosting. You can learn more here:
Install WordPress and WPL Plugin
Next up, we install WordPress and WPL. This will only take a few clicks. Check out the following video for a step-by-step guide:
Obtain RESO Web API Feed From Your MLS Provider
Before making the necessary configurations on your WordPress sites, you need to obtain the necessary feed credentials from your MLS provider. This comes in form of tokens and credentials. Note that you need to be an active member of the MLS to be able to receive the feed. If you are an active member of the MLS and choose Realtyna as your vendor, then Realtyna can act as a vendor and obtain the feed on your behalf. Please contact us for more information.
Set Up Organic RESO Web API
To integrate with the MLS server and display listings directly on your site, you need the MLS add-on. Please check out the following manual for a complete guide on the installation and set up of your RESO Web API:
MLS Addon Installation and Setup
You can see examples of real estate websites using Realtyna's Organic RESO integration below:
A Few Important Considerations
To use Realtyna's Organic MLS integration service, you need to be a member of the MLS. MLSs offer their data through a specific set of licensing procedures which can differ from one MLS to another. Check out the following article to learn more about vendors and MLS fees:
Is There a Fee for an MLS Feed?
Also, even though you are not obligated to use Realtyna's hosting services, you are highly recommended to. Realtyna's hosting services are managed and designed specifically for the technical requirements of RESO Web API.
Find out why Realtyna's hosting services are better options for MLS sites.
Realtyna's Organic MLS Integration
Realtyna offers MLS integration as below: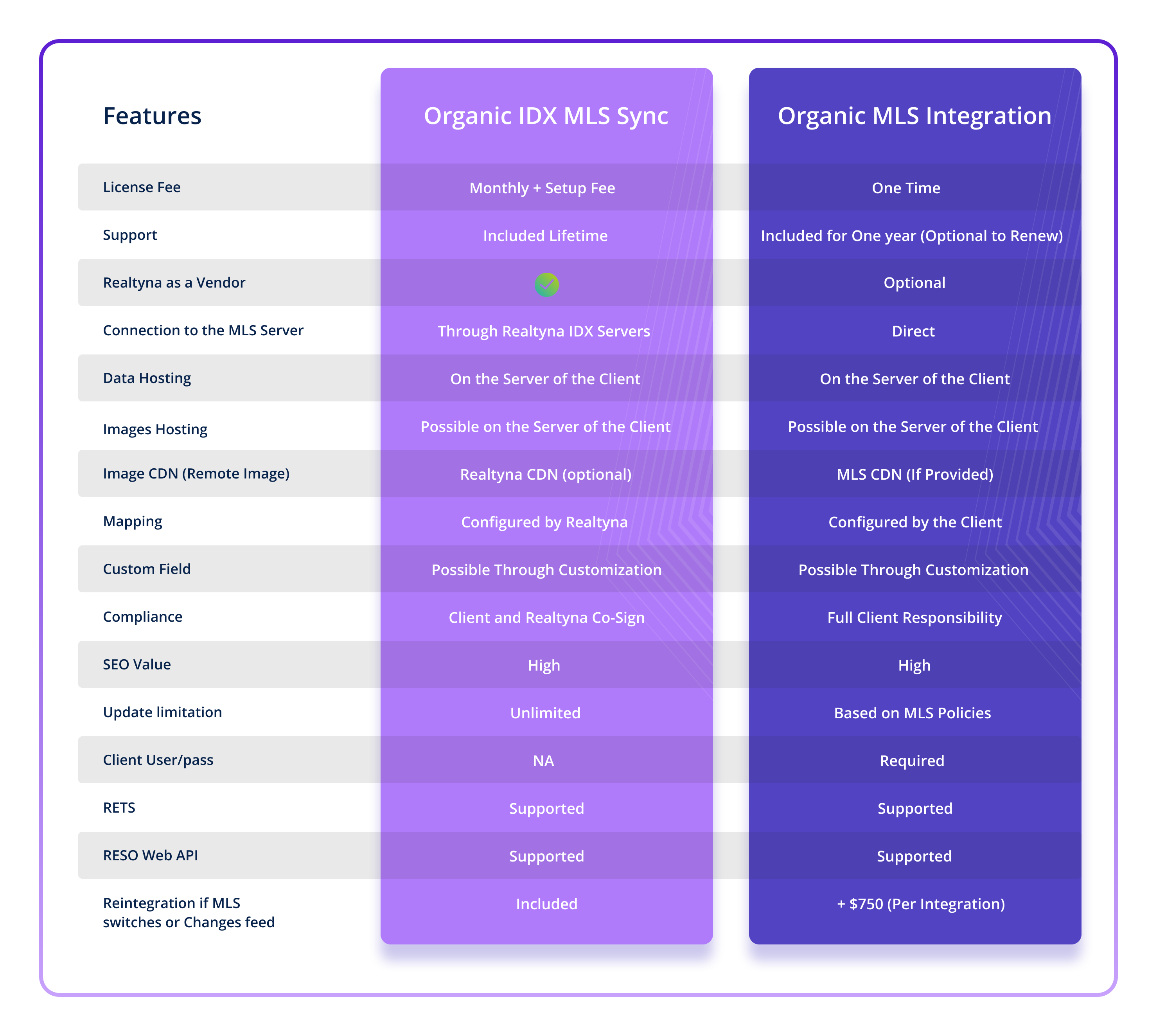 Contact one of our product advisors today to learn more about how you can leverage your lead generation through Realtyna's Organic integration.