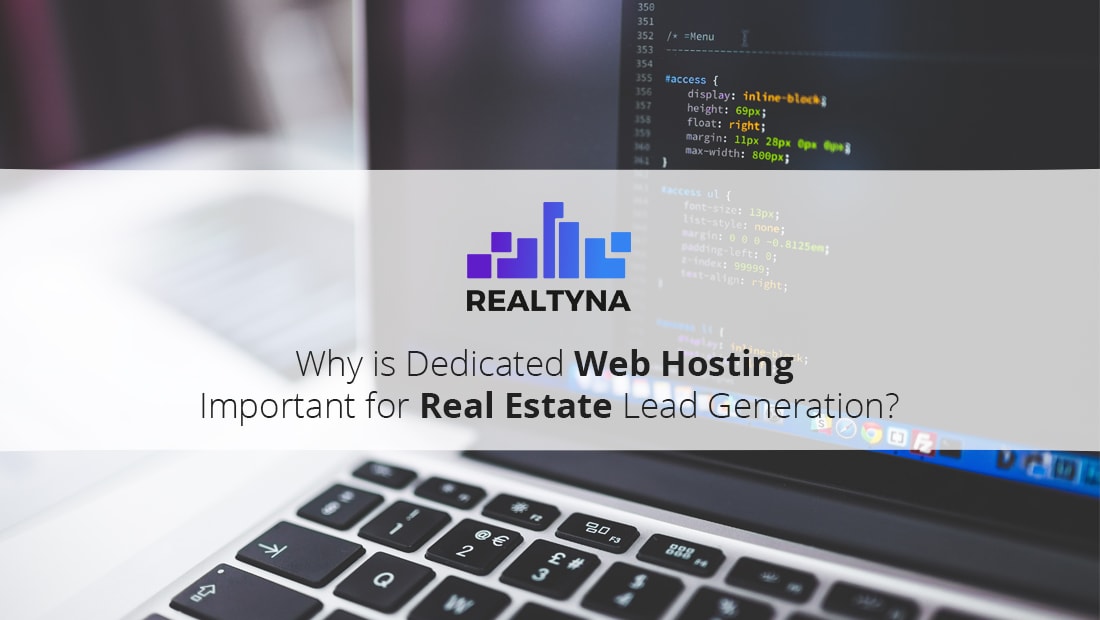 Why is Dedicated Web Hosting Important for Real Estate Lead Generation?

Posted at 11:46h
0 Comments
Web hosting can play a very important role in your lead generation process as a real estate agent by way of 2 important factors: performance and search engine optimization (SEO).
Without good hosting, you might continue to have a beautiful site, but you sacrifice speed, special features, and valued search engine rankings. These are all very important things to consider when building a lead generating machine- your real estate website.
Below we will delve into why exactly hosting performance and SEO are such big deals for your real estate website.
PERFORMANCE
There are a few key components that go into web hosting performance that significantly impact your lead generation. These components are: system requirements, speed, and optimization. When they all come together in the right way, they create a performance machine that will leave your leads with a pleasant website experience and coming back for more.
System Requirements: There are special requirements your hosting will need to be able to effectively manage the load of a real estate website with organic listings. The most important thing is to steer clear of shared hosting. Instead, lean toward real estate dedicated hosting, such as what

Realtyna offers its WPL Pro users

. With dedicated hosting such as this, you will not have to worry about the future functionality of your website. A website that works, gets leads.

Speed: A good, dedicated hosting option will also greatly affect the speed of your website in a positive way. And we all know that speed matters when keeping people browsing your site. Insufficient speed plays a huge role in poor bounce back rates.

Optimization: It is important to have a dedicated hosting plan, like

Realtyna's hosting

, that is sure to optimize all the photos on your site. Good photos are what typically sell a home (or at least generates the lead). Having a hosting plan that will help optimize those functions is very important.
LUKE'S TIP:
SEARCH ENGINE OPTIMIZATION
Search Engine Optimization, or SEO, plays the largest role in your online lead generation. With no-good SEO, you simply will not be seen. Good hosting will provide you at least 1 gateway to a better SEO ranking. This is thanks to the performance components listed above, and hosting your own data. For more information about SEO, read our exclusive acrticles.
Performance: Your performance not only affects the user friendliness of your website (and likelihood a lead will stay on your page longer) but it also affects the SEO. Search Engines, like Google, are trying to push quality content and quality websites for its users. The better your performance, which relates so much to hosting, the better your site should rank over those without.

Owning Your Hosting: Arguably the most important proponent to dedicated web hosting for real estate is owning your own data. When you host this data on servers you own, under your name and domain, you reap all of the SEO benefits. The thousands of listings that pull up individual pages will be accredited to your site, rather than a cheap IDX provider or developer using iFrames.
WHERE CAN I GET THIS KIND OF HOSTING?
Managed and dedicated hosting options exist out there on most major hosting platforms such as BlueHost. You will want to price shop, and find out which plan meets your needs the best. If you want to go a step further and seek out an option that is exclusively designed and optimized for MLS integration, your solution is Realtyna Web Hosting. It is designed with WPL users in mind, but anyone can reap the benefits of the powerful solution.
Start increasing your lead situation today and upgrade your hosting plan. Comments, concerns or questions? Leave them below!