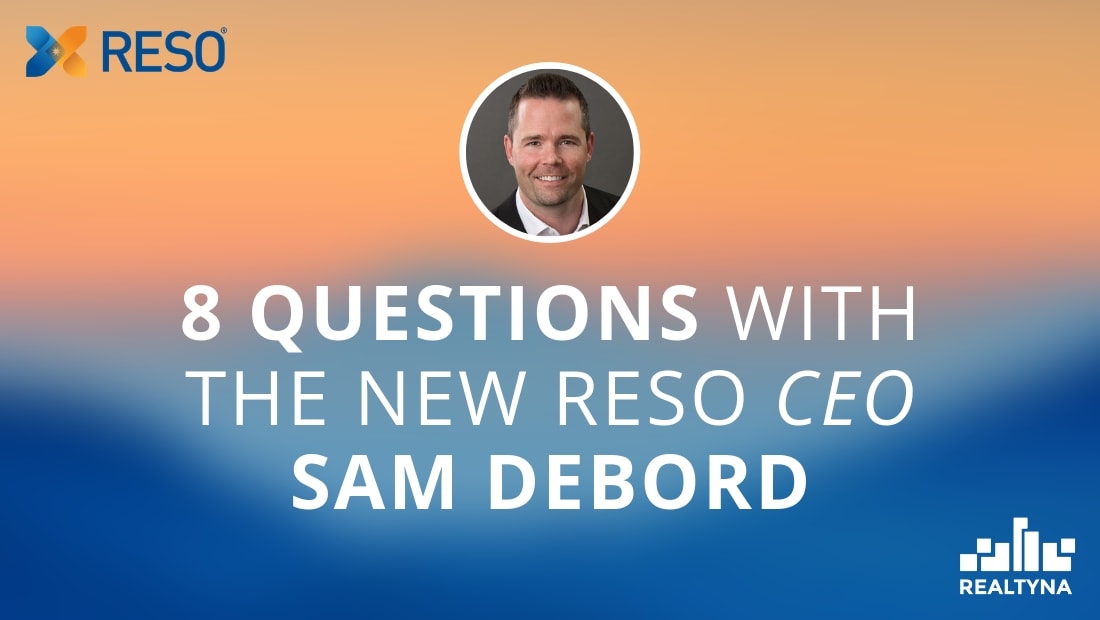 8 Questions With the New RESO CEO Sam DeBord
06 May 2019

Posted at 10:00h
0 Comments
On April 11, Sam DeBoard was announced as the new CEO of RESO. Sam is a long-time industry leader who previously served as the President's Liaison for MLS and Data Management at NAR. He also sits on the board of directors at NAR, Second Century Investments (NAR's venture capital fund) and CRMLS.
We posed 8 questions to Sam about his new position and how he sees his role. He got back to us by email.
Realtyna: Congratulations once again on being named CEO at RESO. How are you feeling about your new position?
Sam DeBord: It's exciting and rewarding to work with some of the best minds in the real estate industry who come together to foster innovation. RESO's standards, and the people who develop and implement them, are the rising tide that floats all boats in real estate. Every business can deliver more value to its customers–professionals and consumers–when real estate technology standards gain widespread adoption.
R: Do you have goals for your first 100 days? Or how are you setting goals for yourself?
SD: There are some outstanding, mature standards that we will continue growing in scope and adoption in the marketplace. Supporting our workgroups and spreading implementation of Data Dictionary standards, for example, is key to continuing the successes of standards in the marketplace.
We're continuing to assess our systems to improve our support structure for the development and implementation of mature standards, as well as the emerging standards. Our ability as an organization to support our subject matter experts and foster an environment for them to collaborate allows us to build out more access to standards like the Web API, our modernized method to transport real estate data between technology tools. We're highly focused on making that as easy as possible for technology companies who use traditional methods of replicating data as well as those using new applications like live queries in lightweight mobile apps and more.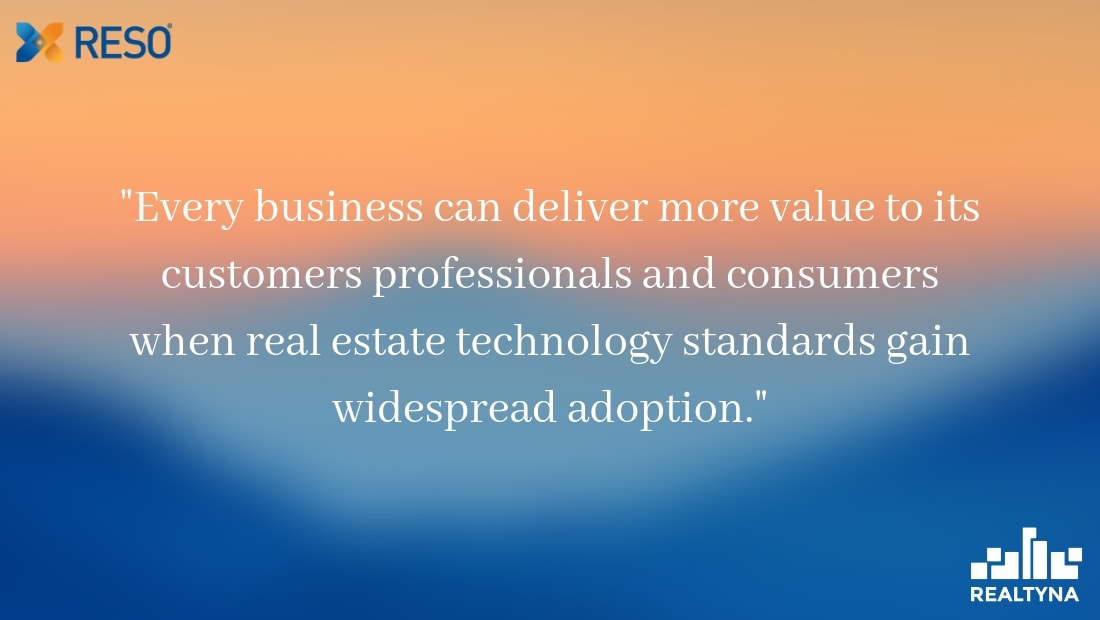 Broker needs have always been a RESO priority and growing broker engagement will be a primary goal. They're asking for better data and tools through the MLS, broker/agent tools that talk to one another, quality data in brokerage back office tools, and the certainty of data "payloads" or defined sets of data available across marketplaces. We'll continue to grow our standards to guide the industry toward more productive technology.
R: I've heard RESO categorized as the United Nations of real estate. Is this how you see its role? Or how would you describe RESO leadership in the industry?
SD: RESO is the place where technology and business minds take off their competitive hats and collaborate. We strengthen everyone's technology foundation by defining common standards that the entire industry can benefit from. Every technology company, MLS, brokerage, or other industry participant is welcome to join us and contribute to a stronger industry.
R: At the end of April, you'll attend the RESO Technology Summit, your first as CEO. What are you looking to get out of this conference?
SD: RESO conferences are unique in that our workgroups are actively involved in standards development as a core component of the event. We're looking forward to learning from a wide range of technology companies, and then hunkering down with our contributors and getting work done. The membership will have a chance to learn more about RESO's certification processes and each workgroup's standards development.
Of course, RESO events are always known for being a lot of fun as well, and we can thank our member sponsors for keeping our attendees well entertained at RESO events.
R: I want to talk about RETS and the Web API. What are your thoughts on the pace of the transition to the Web API? Will you be seeking to accelerate this transition in anyway?
SD: We're intently focused on making the Web API easy to use for all. We know that RETS is deprecated–a language like Latin that is no longer being expanded or improved upon as modern languages are. Simplifying the replication use case via the web API is a priority, and we'll see significant progress there in our demonstrations at our Spring Technology Summit. When our technology companies have the convenience of replication, the expanded capabilities of a modern REstful API, and a transport method their developers can understand and build upon immediately, the industry will be taking a huge step forward.
R: You've said in the past that technology has passed real estate by in many ways. What is holding the industry back and what can be done to accelerate the integration of new technologies?
SD: All real estate is local, and that's what makes it unique. Technology, though, is global, and the industry is coming to realize that the vast majority of what we do is very similar. It takes time to convince such an independent and decentralized industry to focus on common goals, but we're realizing that we can all benefit by creating common technology answers, and the acceleration of standards and technology innovation is upon us.
Standards don't have to come at a cost to local uniqueness or flavor. You can call the same room a "great room" in the West, a "bonus room" in the midwest, and a "FROG" in the Southeast (Finished Room Over Garage). As long as our technology has a common language like the data dictionary to understand these are synonyms for the same data points, local uniqueness remains while technology options flourish. The brand new technologies coming out of every corner of the country and the world can work for MLSs, brokers, agents, and consumers in any location.
R: Could you provide an update on IDX standardization and what it means for clients like ours?
SD: IDX is simply the listing data you'd see on the typical agent's website. We all know the general fields that a consumer would want to see–price, address, beds, baths, etc. A great website or app needs this data to provide a great customer experience.
When brokers' and agents technology companies know exactly what that data is going to look like, no matter what location they're serving customers in, the technology companies can focus on better products and faster innovation. Standardized payloads, like IDX which was defined in the most recent Data Dictionary update, provide that kind of clarity and efficiency across marketplaces. Brokers and agents have more choices.
As we continue to define standards for data payloads such as Virtual Office Website and Broker Back Office, we allow our technology companies to improve the products they serve us with. MLSs can still offer a wide range of data options to their members, while these defined standards provide immediate access to a known set of data that will immediately work in many tools.
R: Finally, there is a lot on RESO's plate currently–distributed ledger, green data, Internet tracking, unique property ID, etc. What are you most excited about?
SD: I'm most excited about the industry taking ownership of the need for standards. The success of Data Dictionary has opened up many eyes to how much better we can serve our customers. As we define unique property IDs, organizational IDs, even agent IDs across the country, our systems work better from MLS input to broker back office and agent/consumer collaboration apps. The coordinated efforts of RESO ensure these standards all work together and can be delivered via modern and consistent transport methods.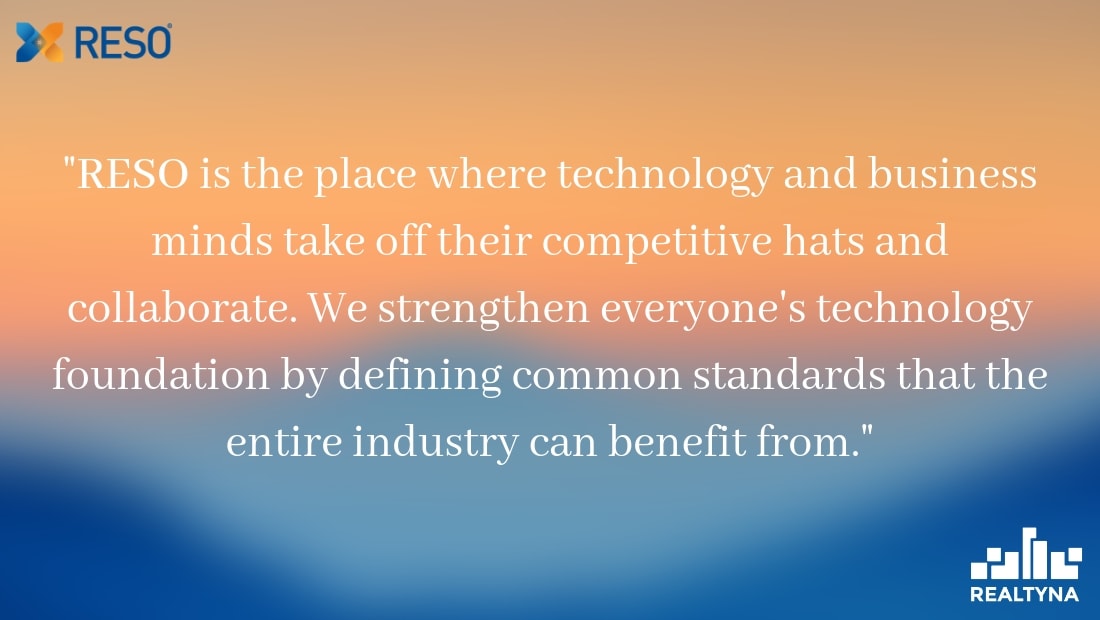 RESO's leaders and contributors have carried a heavy load to get us to where we are, and we are unbelievably grateful to them. The industry has now taken the need for standards to heart, and our opportunities to make real estate professionals more valuable to their customers keeps expanding. We're experiencing a massive technological revolution in real estate, and the most transformative players in the space have committed to RESO membership because they believe what we do makes us all better. It's an exciting time for us.
R: Sam, thank you so much for taking the time to answer our questions. Good luck in the coming months.
For more on the RESO Web API, check out How Does the RESO Web API Work? Also, check out our interview with Sam's predecessor in A Conversation With Outgoing RESO CEO Jeremy Crawford.
RESO is the industry standard-making body for real estate technology known for its Web API, Data Dictionary and RETS guidelines.
Realtyna is a RESO-certified real estate tech company with over 10 years of experience producing solutions for agents and brokers on the WordPress platform.