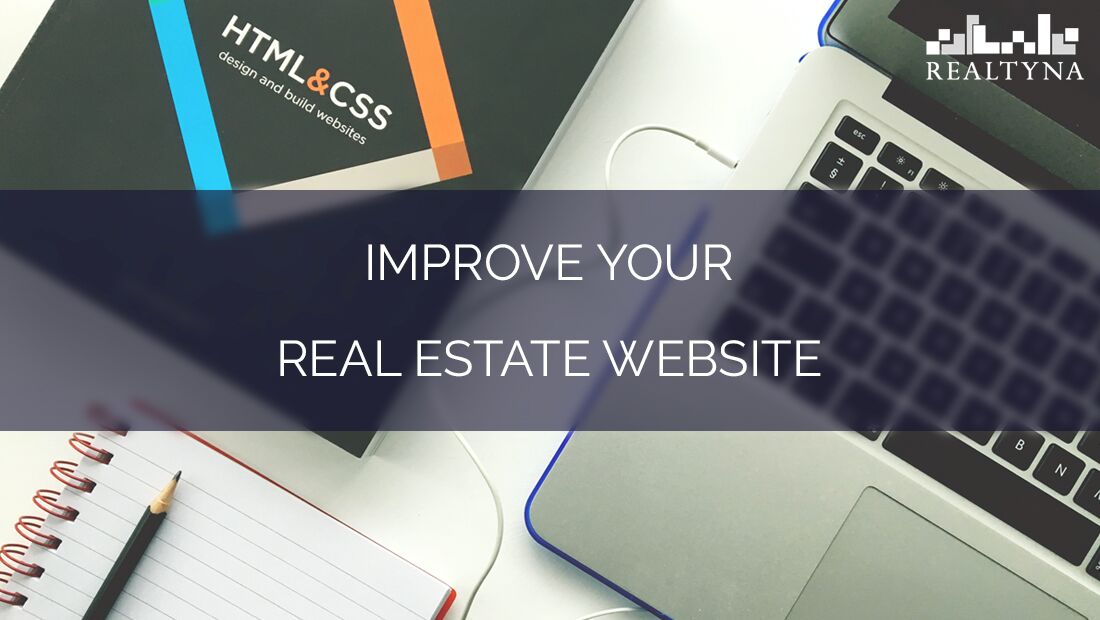 6 Tips To Improve Your Real Estate Website Today

Posted at 20:13h
0 Comments
Building a great real estate website takes time. It's a process of constant tinkering. You might not see a difference in a day. But if you focus on continual improvement over several months you will transform your site into a lead generating machine.
To help you get started, we've put together some ideas. Here are 6 tips to improve your real estate website today.
RECORD A VIDEO
Your website content is really important. It will help you attract new visitors and keep them on your site longer. Video is a great way to keep your leads engaged.
•Videos can be informative.
Here's an informative video from a Realtyna client. The video explains cash purchases and the process for sales in 10 days or less: https://www.youtube.com/watch?v=jWXTwrLuQzc
•Videos can be biographical.
Here's another Realtyna client. This video has family members and clients. They give testimonials to the agent's work ethic, personality, and drive: https://www.youtube.com/watch?v=tNskniNe7v4&t=53s
•Videos can be funny.
Don't forget that video can be humorous or silly. Here's a Realtyna client that provides a light take on home buying: https://www.youtube.com/watch?v=xUJ3UbuhKQM
These videos are not long. None of them are much more than 2.5 minutes. But they are a great introduction to the agents' websites. And they provide a personal touch.
EDUCATE YOUR VISITORS
The home buying process is complicated. Chances are a good proportion of your site visitors will be first time homebuyers.
Create some content about what they can expect and they will be more likely to turn to you when they are ready to buy.
•Step By Step Guide
You could create a page outlining step-by-step the home buying process. Make it in the form of squeeze page so the last step ends with your contact information and a call to action.
•Glossary of Terms
Real estate has a long list of insider vocabulary. Explain some of this on your site, and you'll make home buying more approachable.
•Answer a Question
I'm sure there are some questions you get from homebuyers over and over again. Provide answers on your site and you may attract new visitors that are asking the same thing.
•What Not To Do
You've explained what a homebuyer should do with your step-by-step guide. Now you should explain what they should not do. A page for common home buying mistakes will keep your leads informed. It also will make your site an authoritative source for real estate information.
COMMUNITY PAGES
One of the best parts about being a real estate professional is the connection with a community. Nobody knows your market like you. You know who is coming and who is going. You know the new stores being built and the schools. Take advantage of this knowledge on your website by building community pages. Create an individual page for each neighborhood or small town in your market and include relevant information about it.
This could be:
•Parks
•Markets
•Community Events
•Restaurants
•Interviews With Local Store Owners
•History
Community pages will provide more context for your property listings.
BEST OF LISTS
Everyone enjoys reading online lists. You are in the unique position to create them. You see homes everyday. You see the aspects that make them special. And I'm sure you have an internal list of your favorites. To improve your real estate website, try to make the following lists. Then try to make four more that you create yourself.
•Top ten porches for morning coffee
•Top five summer gardens
•Top seven doorways that pop from the street
•Top six kitchens for a gourmet meal
SHOWCASE A PROPERTY
Sometimes a property can be so beautiful that it deserves special treatment. You may have one already in your portfolio like this. Create a separate page for it. Tell your website visitors what makes it unique. Or show them with photo and video. Provide a story about the home or the area around it. Create a narrative. Sometimes statistics don't tell the whole story.
ABOUT ME
Don't forget to tell your leads about yourself. So many about me pages are a standardized summary of the agent's resume. But what does that really say? You should work to connect with your leads by making yours more personal. Try answering some of these questions:
•What is your favorite part of your job?
•Who inspires you?
•What are your goals?
Don't forget to include comments from others. Reviews and testimonials are a great way to make your about me page more meaningful.
For more tips to improve your real estate website, consider a blog: https://realtyna.com/blog/boosting-real-estate-business-blog/
We have a list of blog ideas here: https://realtyna.com/blog/what-should-i-write-about-on-my-real-estate-blog/