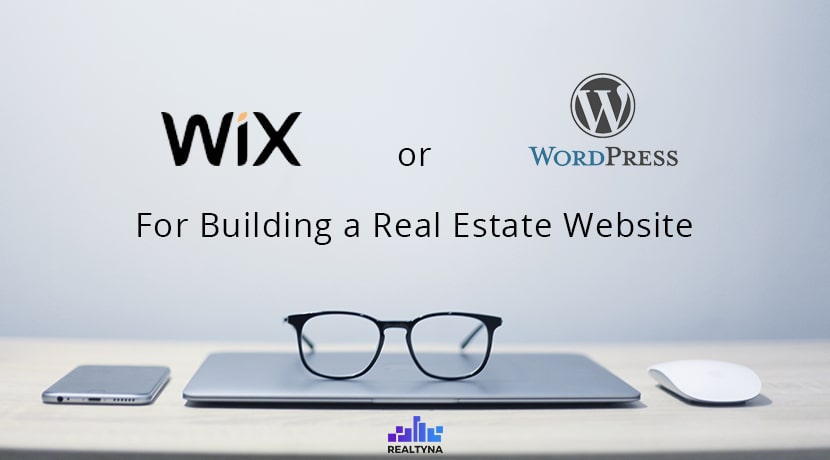 Wix or WordPress for Building a Real Estate Website?
10 Jun 2021

Posted at 11:00h
0 Comments
Owning a converting real estate website is now the most important element of an agent's business. Despite the growth of social media such as LinkedIn and Facebook, where Realtors can promote their services, agent websites still matter because:
They represent their brand just like an office does,

They are the main source of marketing and lead generation, especially given the fact that many are working remotely,

They are the best place for clients to see your portfolio and learn more about your experience and expertise.
To build a real estate website, you need a content management system or CMS that provides a range of features tailored to display listings and generate leads. This is simply because real estate professionals need a website to market their products and services (in this case, mainly listings) and generate leads. As a result, the best CMS is the one that will meet these minimum requirements.
In this review, we will compare two of the most popular website building tools, WordPress and Wix. Also, we will find out which one is more suitable for building a converting real estate website.
What Is Wix?
Wix is a website development platform based in the cloud. It offers a range of drag-and-drop features with AI to help users build a website.
It comes with a free domain if you don't want a special one. You can also opt for a customized domain and premium features at a cost.
Also, Wix users can now use IDX in the their websites, for more information visit How To Add IDX to Wix.
What is WordPress?
WordPress was created in 2003, and it is currently the most popular CMS in the market. Statistics in 2020 indicate that 61 percent of the CMS worldwide are dominated by WordPress. Also, it has been reported that 35 percent of the internet is currently powered by WordPress.
WordPress is a CMS that is based on PHP programming language and MySQL. It is the world's most popular website-building tool.
The aim of creating WordPress has been to provide a web designing system that requires nothing beyond a domain. Everything else is taken care of by this CMS.
You can store content and manage links with WordPress. Its most significant feature is the abundance of plugins. These can help your real estate website have multiple features. Thanks to WordPress and its open-source model, we can enjoy many functions. A real estate website depends on MLS data.
How to build a website in a few steps and how Wix or WordPress can be helpful?
To build a responsive and converting real estate website, you should follow the steps below:
1. Choose a Domain
The first step in building a website is to select a domain name. Wix offers a free domain including your selected domain name like this:
www.yourname.wix.com
You can choose your customized domain name and host or move to another host at a price.
For WordPress, there are more flexibilities when it comes to choosing a domain or host. Also, there are hundreds of options for you to choose from.
2. Set up Your Website Builder
If you are using WordPress, everything is easy and free. Install WordPress and create an account.
As for Wix, everything from here takes place on their own platform where you follow a wizard approach and build your website.
3. Select a theme
Both WordPress and Wix offer a good range of real estate themes. You can see examples in the following:
4. Customize Your Features
At this stage, it is time to manage the features of your real estate website. Things like the design of the homepage and making sure the elements you need are configured.
Both WordPress and Wix provide these functions. On the one hand, Wix has an AI-based platform that enables you to make necessary changes and configure your website using drag and drop.
On the other hand, WordPress is a bit more flexible yet complex when it comes to its admin panel. Nevertheless, the range of plugins makes life easier in WordPress, where there are thousands of plugins for every purpose.
For those who can work with the source code, WordPress is more flexible.
5. Receive MLS Listings (IDX/MLS)
Realtyna offers Organic MLS Integration for both WordPress and WIX.
For WordPress, you can use Realtyna's Organic MLS Integration for WPL. Learn more and request a demo here:
Organic MLS Integration for WPL
For WIX, Realtyna offers Organic MLS Integration with MLS Router™ API. You can access this feature here:
If you need more detailed information about how to build a website, then check out the following:
What is WPL?
WPL is a robust WordPress plugin with a lot of features for real estate websites. It is designed to meet all the requirements of a converting IDX website.
Main Features:
Map with Listing Pins

Basic and Advanced Listing Search – conveniently Customizable

Landing Page Creation

Agent Profiles and Agent Pages

Walk Score
Lead capturing features:
Agent Contact form

Requesting a visit form

Send to a friend

Social Media Share buttons
And more:
Unique and Customizable SEO Friendly URLs for listings

PDF Flyer

Print Features

Property Comparison

Favorite Listings
For more on WPL PRO, please continue here.
Conclusion
All in all, building a website for a real estate agent, broker or real estate company requires a set of specific features. These range from IDX features such as Organic MLS integration to Advanced Portal Search and lead generation.
A look at the following chart put this into perspective:
CMS
Open Source
Real Estate

themes

MLS/IDX

integration

Customizability

for real estate

Real estate

SEO

Wix

No

Available

Organic MLS integration with MLS Router

High

Enhanced with Organic MLS Integration

WordPress

Yes

Available

Official plugins available

e.g. WPL

High

High,

Only with Organic MLS integration
To learn more about how Realtyna can help you build a converting real estate website and connect to your MLS, contact us for a free consultation: