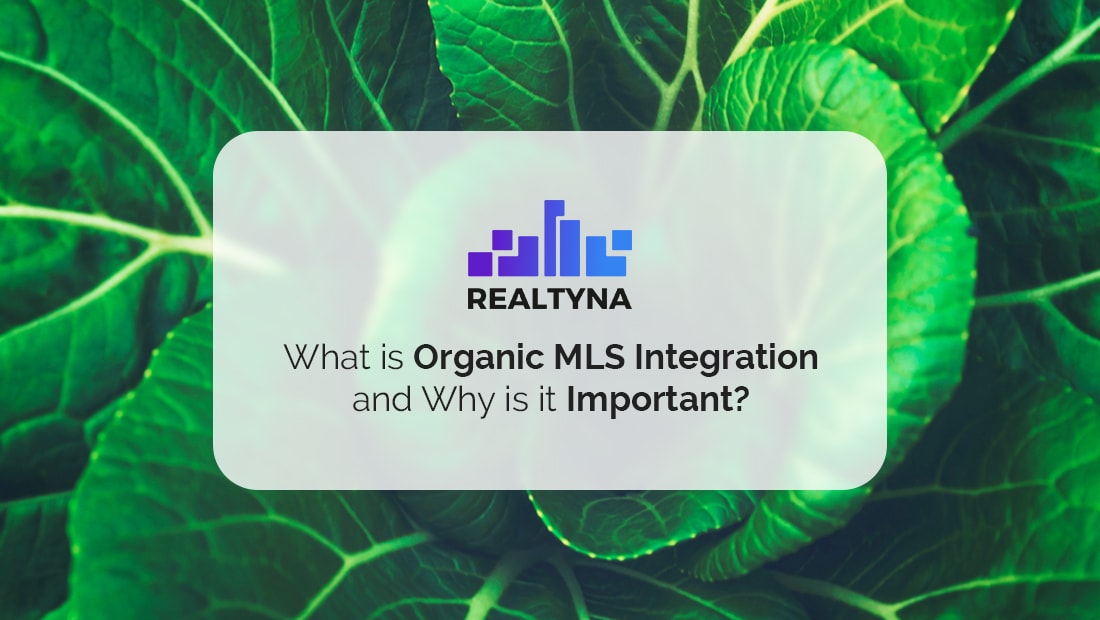 What is Organic MLS Integration and Why is it Important?
04 Jun 2018

Posted at 10:34h
0 Comments
It comes to no surprise that if a real estate agent has a website, they should also have their listings posted. It may sound simple, but a quick Google search would prove otherwise. You will find that there are many technicalities and options to consider to integrate listings to a website.
One of the best options you might come across is Organic MLS Integration. But what is all the talk about this method? Why is it so great?
If you do not find technical explanations helpful, this is your guide. Below I have outlined everything essential to know about Organic MLS Integration, so simple, even your grandma could understand.
WHAT IS ORGANIC MLS INTEGRATION?
Simply, Organic MLS Integration is a method to post property listings on your website. The way it works is by a "feed" that connects directly to your MLS. With this method, there are no "middle men" and updates are automatic and often. Unlike other methods, Organic MLS Integration is customizable and all listings are in a uniformed format which is explained in further detail below.
WHAT OPTIONS DO I HAVE?
The real estate industry is fragmented in the US, meaning, there is no central body that controls all the MLS. Because of this, there are a few standards used by MLS to aid this problem. Here I will briefly discuss the differences of these feed standards.
–IDX (FTP): This stands for File Transfer Protocol and is the older method of integrating active property listings to a website. Because of the aged technology, IDX FTP is a bit slower than the other organic alternatives, updating on average once every 12 hours. That being said, it still enjoys general benefits over non-organic options. You might consider FTP if your MLS has not updated to RETS or if the cost difference with your developer makes a significant impact in your business goals.
–RETS: This stands for Real Estate Transaction Standard and has been around since 1999. Gaining popularity, this is the current "gold standard" in real estate technology. Over 80% of MLS have moved to RETS technology. It works much in the same way as FTP in that active listings will be integrated to your website in a uniformed format. The benefit of RETS over other options is that it updates as fast as every hour.
–VOW: This stands for Virtual Office Website and is a bit different from FTP and RETS. With VOW integration, you will still feed listings directly from your MLS, but they will also include listings that are not active. Each MLS has different rules and protocol for VOW feeds, if they offer one, so you will have to check with your MLS for more details. Depending on your business model, this might be the right option for you if you want a more holistic approach in providing full market information.
LUKE'S TIP: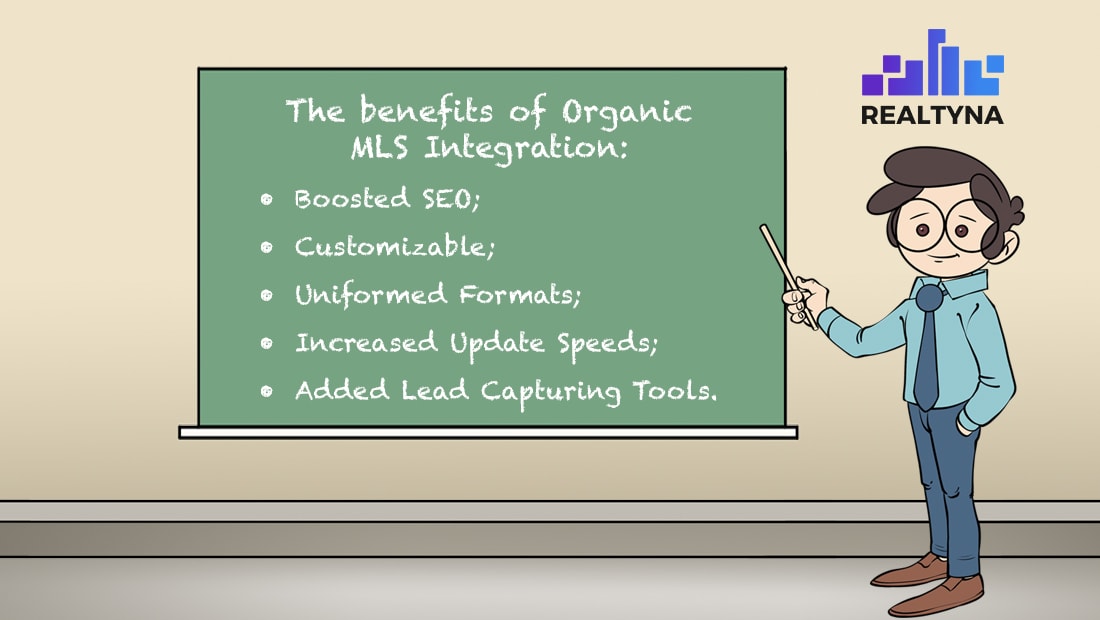 HOW DO I INSTALL?
Step 1: Assess your business model, budget and needs. After assessing, choose which type of feed is right for you.
Step 2: Contact your MLS and get access to the feed of your choice so your developers can connect to it.
Step 3: Set up hosting. This is a lot of data you will be working with and unless you already have servers that can handle it, you should consider looking into a hosting server. If you have no idea what I am talking about, chances are, you will need to do this. You can also work on this step simultaneously with step 4 since some developers might offer hosting packages.
Step 4: Find a developer to do all the technical stuff. This is not new technology and there is no shortage in developers and companies out there who want your business. Realtyna is a great place to start. They pride themselves in offering everything for real estate technology under one roof.
WHAT ARE THE COSTS?
Because of the process involved and the added benefits of Organic technology, you can expect it to cost you more than something like iFrames. Many companies will offer you low monthly plans with little features or high monthly plans with many features. With these monthly plans, you will never own the data completely, so it will only update as long as you keep your payment contract. On the flip side, there are a few companies, such as Realtyna, who offer one-time fees when possible. In this case, your up front cost will be much higher, but you will own the all of the data and it will continue to update as long as it is connected to the MLS, saving you a lot money in the long run.
** It is important to note that whatever developer or company you choose, you will be subject to fees from you MLS for access to the feeds. Typically this is paid and controlled by the client. Check with your MLS on their requirements.


WHY IS IT IMPORTANT?
–SEO Benefits: SEO stands for Search Engine Optimization and is the reason why websites rank on Google. A good SEO means a better chance to land on the 1st page of search results. Uniquely with Organic Integration, every single listing creates an searchable page for Google to read. If none of the other benefits convince you, let it be this one. The leads you will generate from ranking on Google will be incomparable to anything else.
–Customizable: Instead of integrating the entire MLS database, you have full control and ability to filter the kind of listings you want on your website. For example, you can filter by property type, location, price points and more.
–Uniformed Format: Unlike other methods, Organic listings are integrated in a uniformed format which helps improve your website loading/updating speeds, and overall design of your website.
–Update Speeds: As mentioned before, Organic Integration feeds are connected directly to your MLS which means you website will update as your MLS does, and only the updated information will change. Escaping a "middle man" is extremely convenient for your update speeds (and also boosts your SEO!) which will range from every hour-12 hours.
–Lead Capturing Tools: You will already see a huge increase in leads thanks to your improved SEO, but you will also have access to many great lead capturing features depending on your developer. With Realtyna, you will have access to features such as agent profiles, contact information, saved searches, membership abilities and more.
For a more detailed and technical explanation, please see How Organic MLS Integration Works. Have any questions and something you want to add? Leave a comment below!