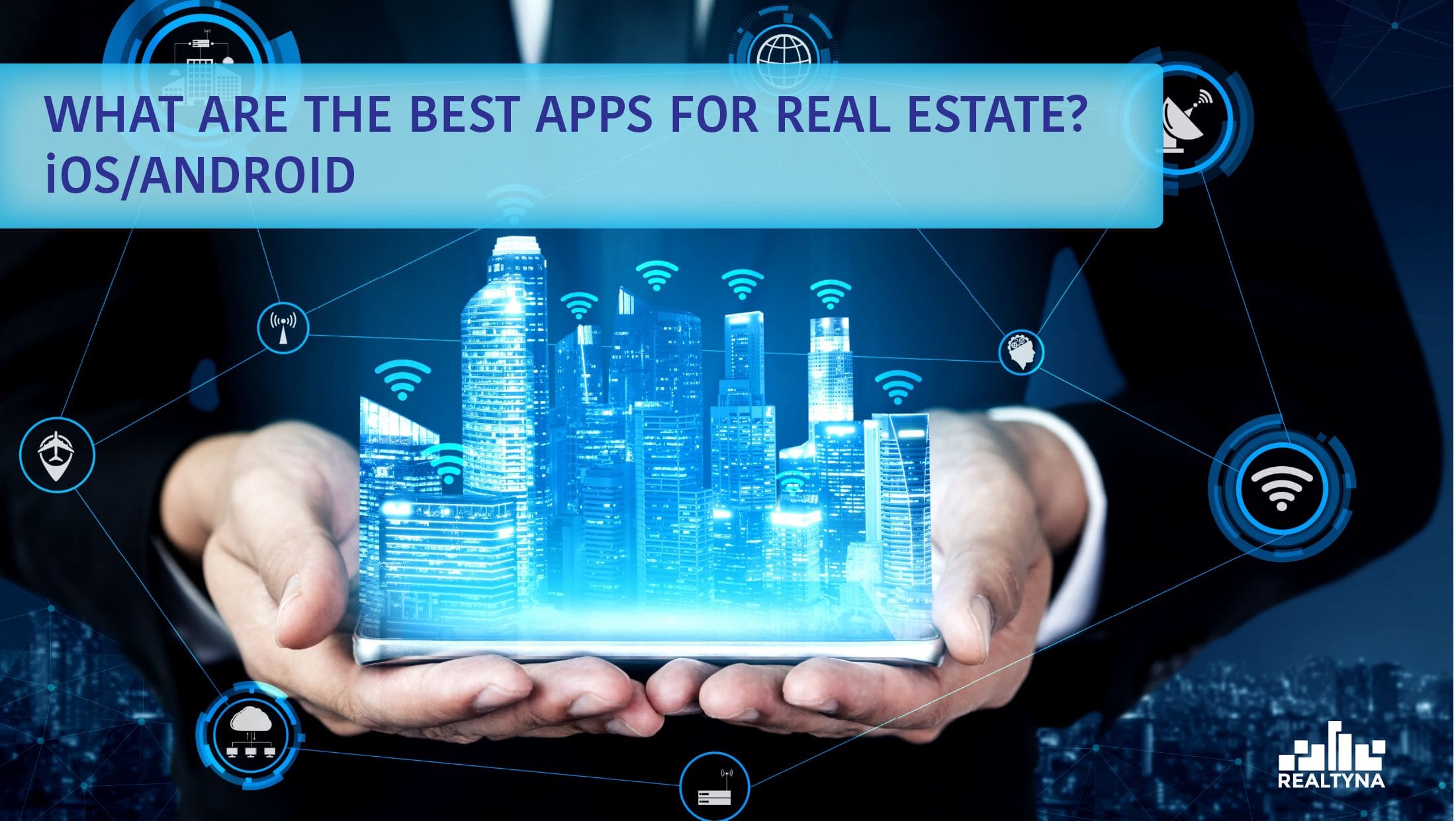 What Are the Best Apps for Real Estate? iOS/Android
19 Apr 2021

Posted at 11:00h
0 Comments
There aren't many industries that haven't been impacted by groundbreaking app growth. When today's prospective investors want to learn more about the real estate market, they go online first. Rather than calling a familiar agent, they can study the current deals and read web reviews. They expect immediate calculations when they go to look at a house. They will be pleased to have reviews with an app.
Some accept the framework from the sidelines, while others find a home right in the middle of it like the many applications that can make a real estate agent's life easier. This is not only for agents. Often, buyers, sellers, brokers, homeowners as well as investors can benefit from it — basically everyone interested in real estate.
Technology, a Trend Setter for Real Estate
In today's real estate world, technology sets the pace. The days of newspaper advertising being significant are long gone. As a Realtor, you're out of the loop if you can't handle the current tech resources effectively. For prospective clients to contact you, you must develop the ideal website, get involved on social media, and use SEO techniques. A contemporary real estate agent is spot on.
But don't worry; you've got this. There is an app for each task you are supposed to complete. Let's take a look at the top apps for 2021.
The Best Real Estate Apps 2021: iOS/Android
Realtyna's iOS/Android Apps
As mentioned earlier, today's real estate industry is dominated by technology with prospective buyers looking for houses online using their phones or other smart devices. Realtyna offers a mobile app to real estate professionals who want to dominate the industry and create a powerful brand image. These apps can directly be connected to the brand's WordPress websites, social media platforms to display your listings. Users can download this app from the App Store or Google Play.
Your app logo provides strong branding Realtyna's iOS/Android app provides your logo on your client's home screen. Your brand name also will be featured on Apple's iTunes app store and on Google Play.

Publish your own splash-screen and introduction on the loading page of the app.

Detect and allow smartphone users to download the app from relevant stores.

Sync/connect to your website automatically by simply downloading the app.
LoopNet
LoopNet is a good real estate app for investors. This software is like Zillow but with commercial properties. If you want a commercial or a multi-unit home, you will find details about it on this app. LoopNet is primarily for private property investors.
Plugging into the local area also produces a variety of outcomes for residential and industrial multi-unit office spaces.
Dotloop
Various real estate experts, including real estate agents and brokers, use this transaction management application. Users can develop, update, and sign real estate contracts digitally using the Dotloop real estate software. Users will see a progress bar for each transaction they are working on within the app. Users may use this function to keep track of where a particular deal is at any given time.
Dotloop's storage space is another fantastic aspect. The real estate software is planned to store documents for up to seven years, making it ideal for someone who wants assistance keeping coordinated. If you want to read more about the software, Dotloop has a free trial edition that you can use before paying for the program.
Dotloop is an app that can be downloaded for Android and iOS.
Houzz
Are you getting ready to sell or remodel your home? Houzz will make the construction process much easier for you. This real estate software, which was launched in 2009, is a ground-breaking way to design a house, giving potential buyers and sellers online access to more than nine million interior design images, home decor, decorating ideas, and home experts. Making it even sweeter, Houzz recently added a real estate agents tab to their directory, allowing agents to build a free profile and list themselves.
In terms of real estate applications, something to remember for Houzz is: 15 percent of "Houzzers" intend to purchase a house in the next two years, and 10 percent plan to create a custom home in that time period. The app is available for iOS.
Real estate applications range considerably from each other, thus, Realtors can expect different things from different apps. Yet getting an app for your real estate business seems to be one of the best ways to put your brand on the map.
For more tips and tricks to better your real estate brand, read How RealtyFeed Connects The Dots In The Real Estate Industry and How to Integrate TRESTLE MLS/IDX with WordPress.