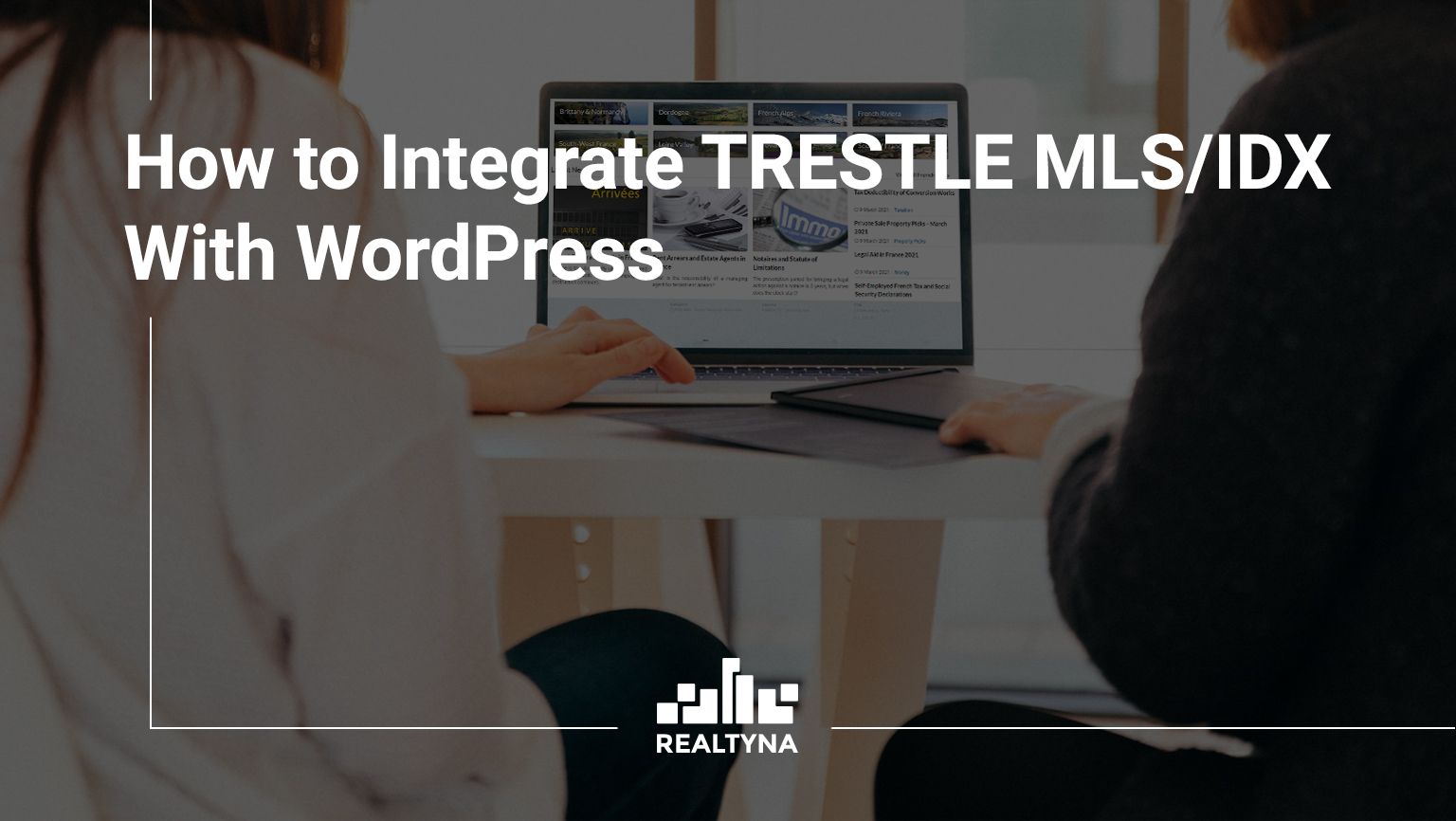 How to Integrate TRESTLE MLS/IDX with WordPress
30 Mar 2021

Posted at 11:00h
0 Comments
Throughout the world, among the businesses that are flourishing are real estate directories. This is becoming more widespread in countries like the USA and Canada, where the MLS rules all real estate transactions. Most often, real estate websites directly use the MLS or, in some cases, through IDX.
With the rise of listing syndication, companies like Airbnb and niche sites that assist Realtors sell properties in particular fields like ski resorts, mountain hideaways, and coastal towns, MLS and IDX use has become the new normal.
One downside about this is that most of these sites charge hefty fees or take a considerable cut of profits from the real estate agents when the listing is created. Nevertheless, the best way for a Realtor to take advantage of this is to use MLS and IDX to build their website even without any programming experience. This helps them manage their listings and connections while avoiding the high fees with third-party providers. What's more, CoreLogic's Trestle makes it even easier with its data management and productivity tool.
What Is MLS/IDX Integration?
Imagine if you had to manually copy and paste all your real estate listings from your MLS to your website one by one. This is not the best time investment practice. And should you have a WordPress-powered website, there is a better approach, which is through IDX. IDX is an acronym for Internet Data Exchange. It is an MLS system regulation. According to the NAR, the online information of agents' listings can be exchanged by agents who participate in local listings. IDX is used on websites and contains policies, laws, and software related to showing a website listing for real estate. It's somewhat like a directory of MLS listings that can be used in several respects and is frequently updated.

How to Integrate MLS/IDX With WordPress
To create an IDX real estate website, you will be required to pay thousands of dollars to recruit a developer. However, there is another way through which you can build your IDX real estate website without too much hassle. We will explain that in detail. But before that, you'll need the following things to kickstart your real estate website:
An MLS/IDX WordPress plugin

A domain name

A real estate website template

And a web hosting account
MLS/IDX Integration Guide: Step-by Step Guide
Without any prior programming experience, follow our detailed guide to MLS/IDX integration on your WordPress site.
1. Get Started with Your Real Estate Website
Firstly, for your website, you need to select the best forum. WordPress is the most common website creator globally and is used by tens of thousands of websites for real estate.
We're talking about WordPress.org (software) when we refer to WordPress, not WordPress.com (hosting service). Sometimes, because of the label, beginners misunderstand these two.
We suggest that you use self-hosted WordPress.org since it gives you access to all of the WordPress features. You'll need to create a domain name to get started with WordPress and get a WordPress hosting account.
2. Select the WordPress Theme for Your Website
The great thing about WordPress is that thousands of pre-made models often referred to as WordPress themes, can be downloaded. However, a website for real estate has different needs than a typical website for the industry.
Fortunately, you can use lots of beautiful WordPress themes to create a website for real estate. See our professional choice of the best WordPress trends in real estate.⠀
Things to consider when choosing a real estate website theme:
Go for a simple design.

Bear in mind that the theme demos use a ton of photos that don't come pre-installed. You'll have to substitute your own for them.

Ensure that the themes can work on all devices and screen sizes.

For your IDX plugin, search for IDX/MLS integration and compatible themes.
Search for theme reviews and ratings.
Go ahead and install the real estate theme you've chosen for your website.
3. Choose a WordPress Plugin for IDX
On the market, there are loads of WordPress IDX plugins. The plugin that fits your MLS provider would need to be carefully selected. Using Realtyna's Organic IDX Integration is recommended.
The add-on would introduce a new menu item called 'IDX' to your WordPress admin bar upon activation. Clicking on it would direct you to the settings tab for the plugin.
Insert your activation key. You will find this detail on the plugin's website or the email you get during the registration of the plug-in.
The plugin provides different ways to integrate MLS material into your website after activation. If you are using the plugin demo, you can have access to sample MLS listings. Users who've paid will be able to use the plugin's website to choose their MLS provider. You should go ahead and begin adding MLS content after adding your MLS provider. The best way to do this is to use widgets from IDX.
You can see several IDX widgets that you may apply to the website by clicking "Appearance" on the Widgets tab. This includes widgets for IDX listings, IDX Search, IDX area, and IDX single listing.
You can add content to your WordPress pages or posts. You need to create a new page, and in the Visual Editor, you'll see the IDX listings icon. A Realtor can generate content from their MLS listings by clicking on the "Add New" button on the IDX Pages tab.
A Realtor can generate content from their MLS listings by clicking on the "Add New" button on the IDX Pages tab.
IDX Pages function much like normal WordPress pages, but for the fact that they will show the MLS listings. You may use the IDX Data Filters feature at the bottom of the screen to choose what you'd want to display on the page.
In the beginning, the listings might not look aesthetically appealing, not to worry. Concentrate on adding the listings that you want to see. After setting up your MLS listings, you can contact your theme's support team to help you integrate it with custom CSS.
4. Promote Your Real Estate Website
You have many choices for developing optimized content for search engines using your IDX plugin and your WordPress real estate theme.
Suppose you choose to target a particular area, region, or housing community, for example. Then, you can build special pages for their listings. You may further customize the website by inserting useful details about that specific region.
How Does CoreLogic's Trestle Work on a Real Estate WordPress Website?
Trestle is a new MLS listings management and productivity solution based on RESO standards.
Many real estate professionals do not know how to integrate Trestle into WordPress websites because they don't know how it works. However, this article will help you understand how Trestle works and how you can add it to your real estate website.
First and foremost, it is important to note that Trestle does not provide IDX links, WordPress plugins, Website integrations, or applications to consume and integrate data. Trestle is only a tool for Real Estate agents to manage their MLS listings. To do this, you will need to establish a Trestle data feed connection. Once you have the connection, you will need to use a RETS or WebAPI client to obtain the data and then build a solution to use the data.
There are several third-party solutions such as the ones Realtyna provides that you can use to display the data for you.
Here's what you get with Trestle;
Data feed manager

Data customization

Account manager

Streamlined connections
Become a Resource
Offering exclusive and informative business tools for free on your real estate website is one of the easiest strategies to boost visitors and improve retention. Put more emphasis on building high-quality content. No matter what your marketing strategy is for your real estate company, make sure to focus on bringing value to your ideal client. Part of it could be to incorporate IDX into your real estate WordPress site so that you can post listings of assets while making sure that they are searchable, simple to access on mobile devices, and have a design theme that fits your website. Expect more leads, commissions, and solid conversions if you do this.
Did you find this article useful? Leave a comment and share with us some of the tools you use on your WordPress site that has changed the game for you!