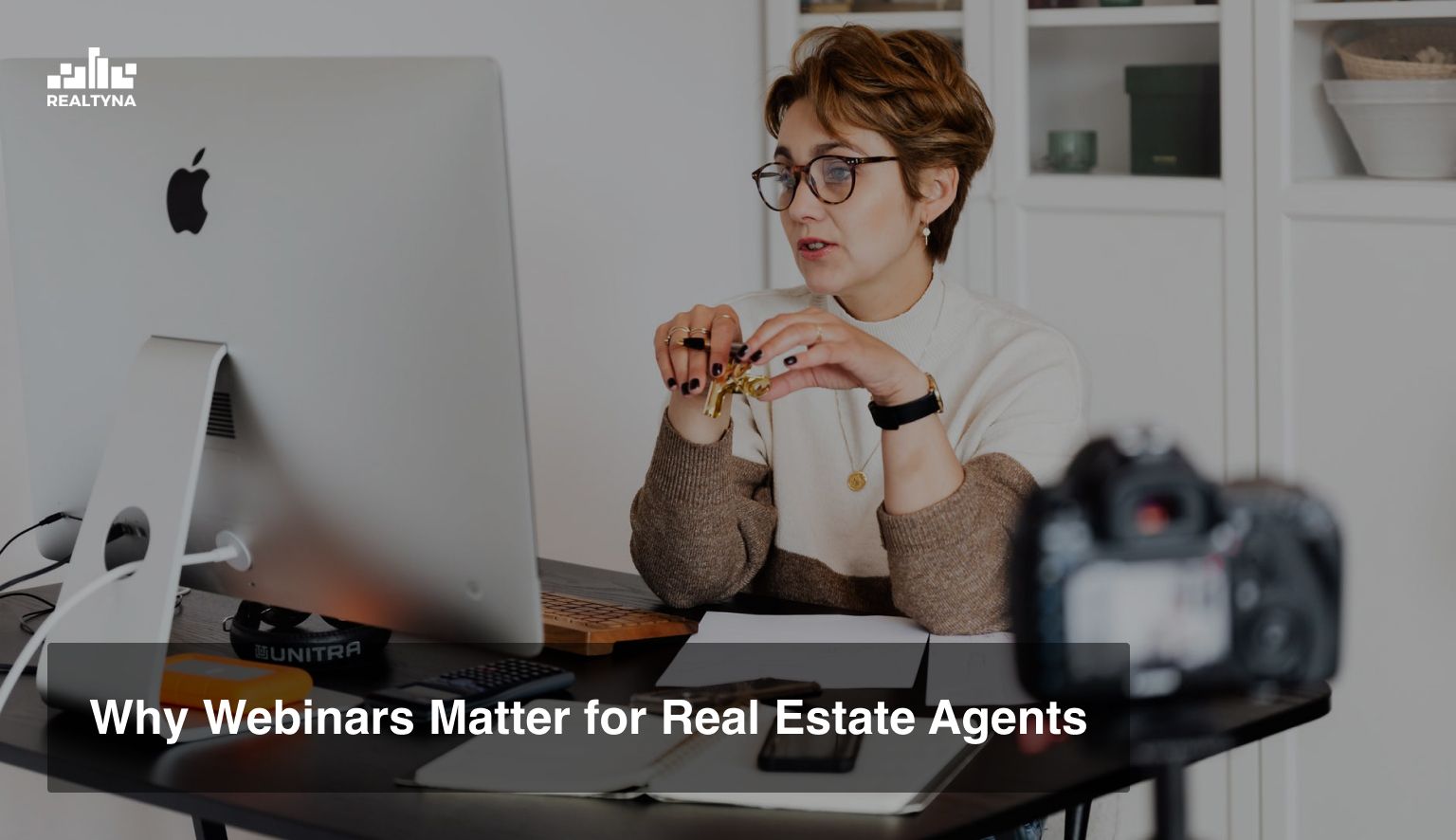 Why Webinars Matter for Real Estate Agents
04 Aug 2021

Posted at 11:00h
0 Comments
Why do webinars matter for real estate agents and professionals? Or what benefits do they have from different webinars?
Several years ago, we had been using different types of places to have conferences or public speeches. Time has passed and so has the development of new strategies. Today we use webinars to have conversations on different topics. The same applies to the real estate industry.
Today we are going to outline the importance of webinars for real estate professionals.
Top 4 Reasons Why Webinars Matter
Virtual Education
The first reason why it matters is virtual education. What's better than getting an education whether remote or not? Getting knowledge is way easier than it was before. You can easily attend the webinars, or if you don't have time, you can listen to the recordings. In any case, with the help of webinars, you are getting virtual education.
Exchange Knowledge
Any course, lecture, or lesson should require the exchange of knowledge. It also applies to webinars where you can emphasize something from another perspective and exchange your knowledge with the host and more. Yes, we do love showing our knowledge and webinars are something that allow us to do so.
Different Subjects
Real estate webinars are held on different subjects. As it is a huge industry, there are many themes that can be discussed on webinars. If you are a real estate agent and want to widen your knowledge, then webinars on different topics are the best option for you to attend.
More Productivity – More Success
We always stress how productivity brings success, especially in the real estate industry. Here, more productivity means attending important meetings, webinars or launching ones. By doing so, you are gaining not only knowledge, but also more communication with professionals like you.
Top 4 Benefits of Webinars for Real Estate Agents
Q&A Section
While attending webinars, you may have several questions. Here, the best option is the question and answer (Q&A) section, where you have the opportunity to ask questions whenever you wish. The host of the webinar always checks this section, and no matter what, always answers the asked questions.
Recording System
Almost all webinars are being recorded, which allows real estate professionals to watch them later. Quite simply, real estate agents have a very busy routine, and for them, it is very difficult to attend all the interesting webinars that are available. So, watching recordings is a very important and useful option for them.
Outlined Problems
Webinars for real estate agents are not only informative, but also they always outline the problems real estate agents are facing from different perspectives. Suggestions on outlined problems are very important for real estate professionals as they are always trying to have the answers to all their questions.
Launch your Own
Are you a real estate agent? Are you attending the webinars related to this huge industry? Are you already becoming a professional? Do you have something new to spread the word about? Then what are you waiting for? You can launch your own!
Last Several Words
Attending or launching webinars definitely brings success. Want to know more about it? Check our article on habits that help us to be successful – real estate agent edition.
Webinars also help us to know all the challenges and news happening in the real estate industry. To know more about it, check out our article on how do you know when there is a change in the real estate market?