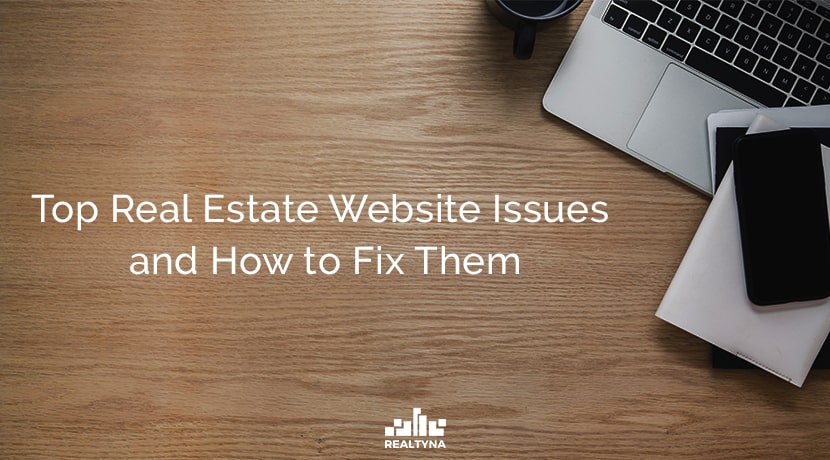 Top Real Estate Website Issues and How to Fix Them
Creating a real estate website nowadays can be easy, if you have the right set of tools. A specialized platform for real estate with IDX features helps pave the path toward a converting website.
But once we have our website up and running, we might face some issues down the road. These issues can affect our marketing and lead generation. Some of these hurdles are very technical and can take some time to cope with on your own. Technical SEO issues can be outsourced, so the website admin can focus on the actual business of generating and converting leads to clients. For more information about SEO service, please visit our SEO packages.
Most common issues however, can be taken care of on your own without the need to be tech savvy. Here are five common issues with real estate estate websites and how to fix them:
1. My Website Is Very Slow
This is a common problem for most websites and there might be a handful of causes for it. Here is a list of common cause of a slow website:
Issue
Solution

A low quality hosting service

Cheap or free hosting service providers often use low
quality equipment and features or their services are shared.

Too many images and/or large sized images

Optimize your image to the web size through Photoshop or an

image compressor

Too many features on the home page (such as videos that are not optimized)

Try to reduce the number of videos (or link them from Youtube) and other unnecessary elements from homepage.

Too many third party ads

Try to avoid accepting Ads from other sources, especially Google Adsense on your homepage.

Too many unnecessary calls to the database (or many plugins and extra codes)

This is more common for CMS-based websites. Try to remove free and extra plugins.
There are so many free and premium tools to analyze this, but the most reliable one is Google Page Speed tool. Find out what the underlying cause is and refer to the table above for solutions.
2. I Have Problems With Displaying Listings
This is an issue that can sabotage the core functionality of a real estate website. Viewing listings can be the main reason most folks visit your website. If you can't display listings conveniently, this could be one of the underlying reasons:
Issue
Solution

You are using iFrames

iFrames is an outdated and unreliable technology. Try switching to more modern IDX options such as

RETS

and

RESO Web API

.

Listings won't update

This is probably because there is a conflict in the data in your MLS or IDX provider. Contact your provider and seek assistance.

Listings take a while to load

This could be another provider's issue. Slow loading of data can be a hosting problem too. If you host your data locally, contact your hosting service provider and consult with them. Otherwise, you should contact your IDX provider.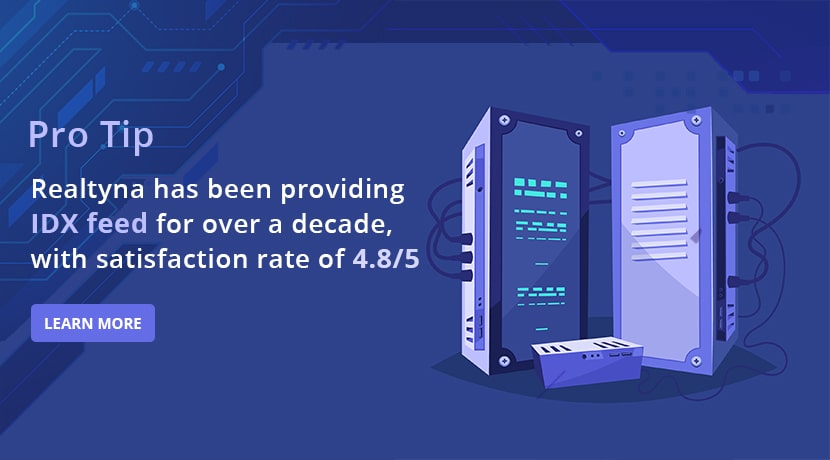 3. People Cannot Find Me on Google
This one here is basically what SEO activities are made to deal with. You find out that no matter what is searched, your website is not on the top list of Google results, or even if it is, not on the first page.
Let's check out what could be behind this:
Issue
Solution

You don't have an active blog

Writing content regularly will help bring leads to your website. Click

here

for more ideas.

You are not targeting keywords

Research keywords related to your business locally and try to develop content in that area. For more,

please read this article

.

Your website is slow

Refer to the section number

1

in this article

Your website is not mobile responsive

Make sure your website is mobile responsive. You can check this via :

Your tags and categories are not optimized

Consult with an SEO specialist to optimize your tags and categories based on your marketing focus or opt for an

SEO service

from Realtyna.

You don't have an active social media presence

Try to be more active on social media, especially Facebook, Instagram and

ActiveRain

.

You simply don't have anything on your website that is in demand

Offer services, real estate products (listings, packages and etc) and content (video, articles, etc) that is highly demanded in your market
4. People Won't Stay on My Website
This is what SEO experts call a high bounce rate. In other words, a considerable amount of visitors come to your website but they leave your website immediately (or bounce). Here are a few reasons why:
| | |
| --- | --- |
| Issue | Solution |
| Your website is slow | Viewers on the internet have a very short attention span and will leave your website if it is slow. Refer to section 1 of this article to solve the problem. |
| You don't have proper internal linking | You often link to people outside of your website. Try to limit external links. Also, make sure your content and pages are linked efficiently and there are always call-to-action for people when they are done reading. |
| Your website is dull and too promotional | Provide interesting and informative content so people remain interested in staying or coming back. |
You can always check the bounce rate of your content and pages through Google Analytics.
5. I Have So Many Irrelevant Visitors to My Website (low Quality Leads)
Real estate businesses deal with a large amount of deals who are looking for a property or a service. If you don't optimize your lead generation approaches, you will end up with so many people calling you for services you don't offer or properties you don't work with. This is usually because:
| | |
| --- | --- |
| Issue | Solution |
| Faulty promotion | You should advertise to a more specified audience. |
| Keywords mistargeted | Reassign your target audience and research keywords and phrases that are popular for them, not the public (you can consider local SEO activities). |
| Your audience is too general | Reassign your target audience and research keywords and phrases that are popular for them not the public (you can consider local SEO activities). |
| Content is not niche specified | Study your target audience and develop content targeted to them. |
To learn more about how to target and optimize your keywords, please check out the following article:
What is Next?
Identifying these issues and resolving them will have a positive impact on your lead generation and conversion. You can always try Realtyna to build a real estate website and avoid most of the issues discussed in this article. Here are a few reasons why:
With Realtyna, you own your product, and your license is lifetime. That means lifetime updates and great support.

We are a licensed provider of RESO products and IDX feed has been our business for more than a decade.

Our WPL plugin is designed to be highly customizable and SEO-friendly, and most of the solutions above have already been implemented in the development and updates.
Please check out how WPL page to learn more about this solid real estate website designer and try a demo: