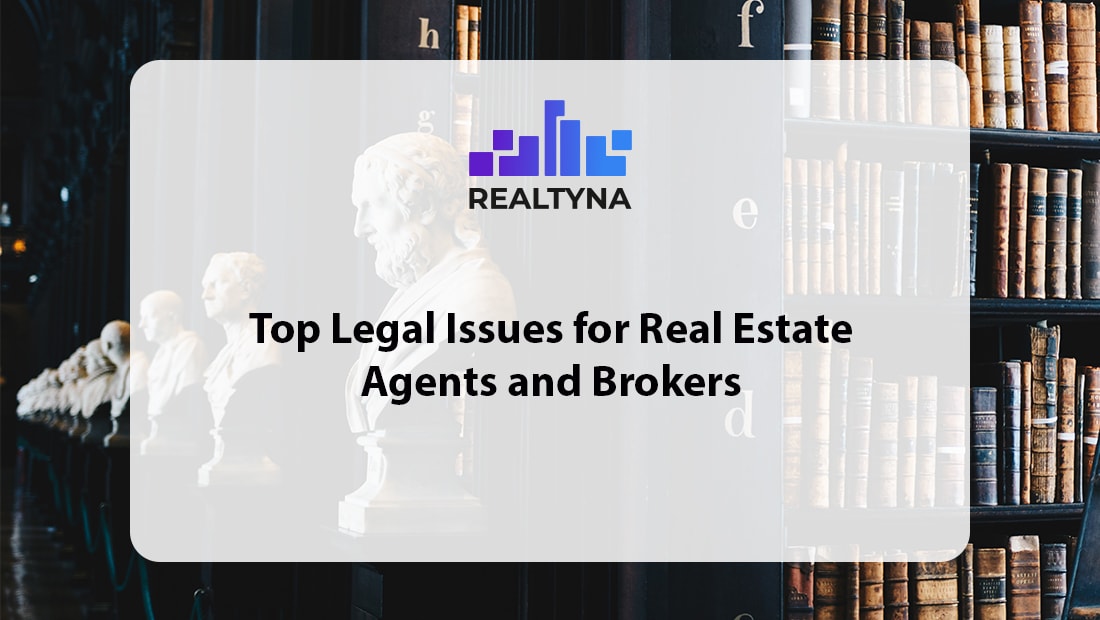 Top Legal Issues for Real Estate Agents and Brokers
11 Oct 2019

Posted at 10:00h
0 Comments
Given the amount of money at stake in real estate, legal issues become a fact of life for every realtor and agent. These pitfalls are often caused by a lack of awareness and knowledge of claims and legislations.
With proper education and research, real estate professionals can avoid most legal predicaments but still, agents should always be ready for impact.
Here's a list of the top ten legal issues a real estate agent faces in their work:
MISREPRESENTATION
This is by far the most common legal headache for real estate professionals. Misrepresentations usually involve features of a property being misstated or exaggerated.
For instance, a real estate agent or broker states that the structure of a building is new or the property is free from pests while none of them is correct in reality.
These misrepresentations of properties may happen by honest mistakes or with foul intentions. One way or another, the agent or the broker is liable.
To avoid this, you should make sure your information on the property is accurate. In case the word is coming from a third party, indicate the reference in the disclosure.
FIDUCIARY LIABILITIES
When something goes wrong with the transactions, one of the parties may seek legal advice. As a result, the other party becomes liable to fiduciary duties.
NAR recommends full disclosure by real estate agencies but state laws are often vague.
Educate yourself on this and promote the use of disclosure forms in your business.
FAIR HOUSING ACT
According to this rule, if you do not want to sell to a specific ethnicity or social class, you should forget about doing business. This is not a common case but when it happens, it costs real estate agents their business.
It gets more complicated because some states have more restrictions (especially to protect LGBTQ communities.)
Avoid including things like "No children" in your print and online ads. Make sure everything is documented so everyone gets the same level of treatment.
ANTITRUST
This is a law designed to protect competition in the real estate market. It is basically to avoid cases where brokers form groups or coalitions and set commission rates or fix prices in order to impact competitors.
Your office conduct should not in anyway invoke allegations that you do not wish to do business with a competitor. Your interactions with sellers should not indicate you are undermining competitors.
RESPA
RESPA or real estate settlement procedures act has been there for a while. NAR has decided recently to modernize it.
It covers the area of kickbacks in the real estate business. To break it down, it prohibits all forms of payments for referrals. Only referral fees between two brokers are allowed.
To avoid liability, make sure you indicate any ownership of the third parties you refer your clients to and educate yourself and staff on how to avoid referral payments.

FALSE AND MISLEADING ADVERTISEMENT
Advertising online and offline is the key to survival for agents and realtors.
Ads with false information have always been a thing in marketing and that is why NAR has strict regulations on this.
These not only affect your print advertising but also recently focuses on online ads. It goes as far as monitoring email marketing and bulletins.
Make sure as a licensed realtor you do advertise truthful information.
ENVIRONMENTAL ISSUES AND HAZARDS
Real estate agents should pay attention to environmental issues of the property they are working on. Things like contaminated water, dangerous chemicals, and asbestos may end up in court.
Recommending buyers to run inspections and disclosing any issues clearly may help you prevent litigation.
AMERICANS WITH DISABILITIES ACT
Americans with Disabilities Act is a 1990 civil law that protects the disabled against discrimination.
It may affect agents and brokers in their provision of service to the disabled. For instance, you office is not featured with accessibility features such as ramps or curb breaks.
It may also affect your employees and contractors with disabilities.
The best way to avoid any claims in this category is by improving your knowledge of requirements before working with folks with disabilities.
For more information on this Act, please visit the ADA's portal.
Bottom Line
Given the ever-changing nature of real estate business, continuing education on legal issues is the best approach towards dealing with legal hurdles.
The bottom line is, as long as you have transparency in your transactions and everything is fully disclosed, you should be in the safe spot.
For more information about the real estate business, please read the following: Real Estate Climate and 27 Real Estate Statistics You Should Know and Understand