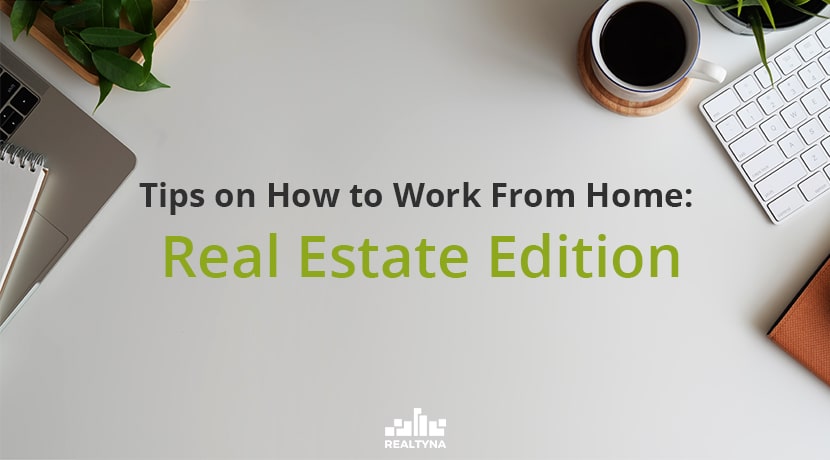 Tips on How to Work From Home: Real Estate Edition
As COVID-19 craziness buzzes around us, it is easy to feel lost and exhausted. Add to that social distancing and working from home, it's no wonder people are so overwhelmed. Given the uncertainty, we'd like to share some of our experiences working remotely to help you transition smoothly wherever possible.
We want to offer creative ways you can make your teleworking process easier ad even enjoyable. It's easy to feel like you're alone during this uncertain time, but don't forget, we're all in this together.
Let's start from the most obvious part—creating your home office.
Home Office
As a notion, working from home sounds pretty exciting—no traffic, full comfort. But what people don't realize is that it can be harder to focus and productivity can drop tremendously. Why? Because no one controls you. There is no boss to scold you if you're checking Instagram or Twitter during your work hours. You're your own boss and scolding yourself is harder than you imagine.
Working from home presents a set of unique challenges that require unique solutions. From our personal experience, we can testify that having a separate workspace tremendously affects productivity. Less distractions means more work done. What does the home office require? A small space with a chair and desk, preferably away from a living room and bedroom since these rooms tend to be more distracting. Natural lighting is a plus but not a requirement. Feel free to use artificial lighting if it helps you to concentrate and be more productive. To learn more about how to start your own home office, check out our blog.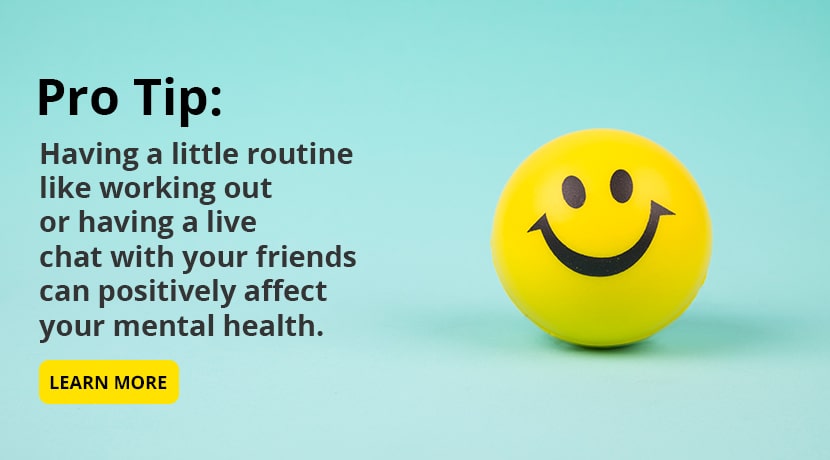 Mental Health
Working from home may not seem like work at all. It definitely has its fair share of pros and cons. However, it's still work, and it's maybe even more difficult than your usual office job. What most people don't pay attention to is feeling good in your workplace. Even if you're teleworking, it's still important to indulge in things that make us feel good. Like dressing up or wearing makeup. This way you'll not only feel confident but also ready for a full day of work. As research states, dressing up and following usual routine tricks your brain to think that it's a normal working day thus improving your productivity. So, we suggest saying no pajamas and no working from your bed.
Having a little routine, like working out or having a live chat with your friends can also positively affect your mental health. Social distancing can be tough, and the lack of team bonding may be a big issue. So, use the privilege of living in the digital age. Have Skype calls with your friends and colleagues on a daily basis to counter the lack of human interaction.
Getting Stuck in Uncreativity Limbo
It's really easy to get distracted and antsy while working from home. It's ok to get away from your desk and do something. The best way to channel your relentless energy is to do something physical that will leave you with a sense of productivity.
We also recommend writing down all your tasks whether on notebook, whiteboard or digital notes. Crossing out each task will give you the sense of the accomplishment. This will be a visual representation of the work that you did. As research shows, organizing your tasks this way improves your productivity and positively affects your creativity.
P.S Interested in how Covid19 affects the real estate market? Check out our blog.