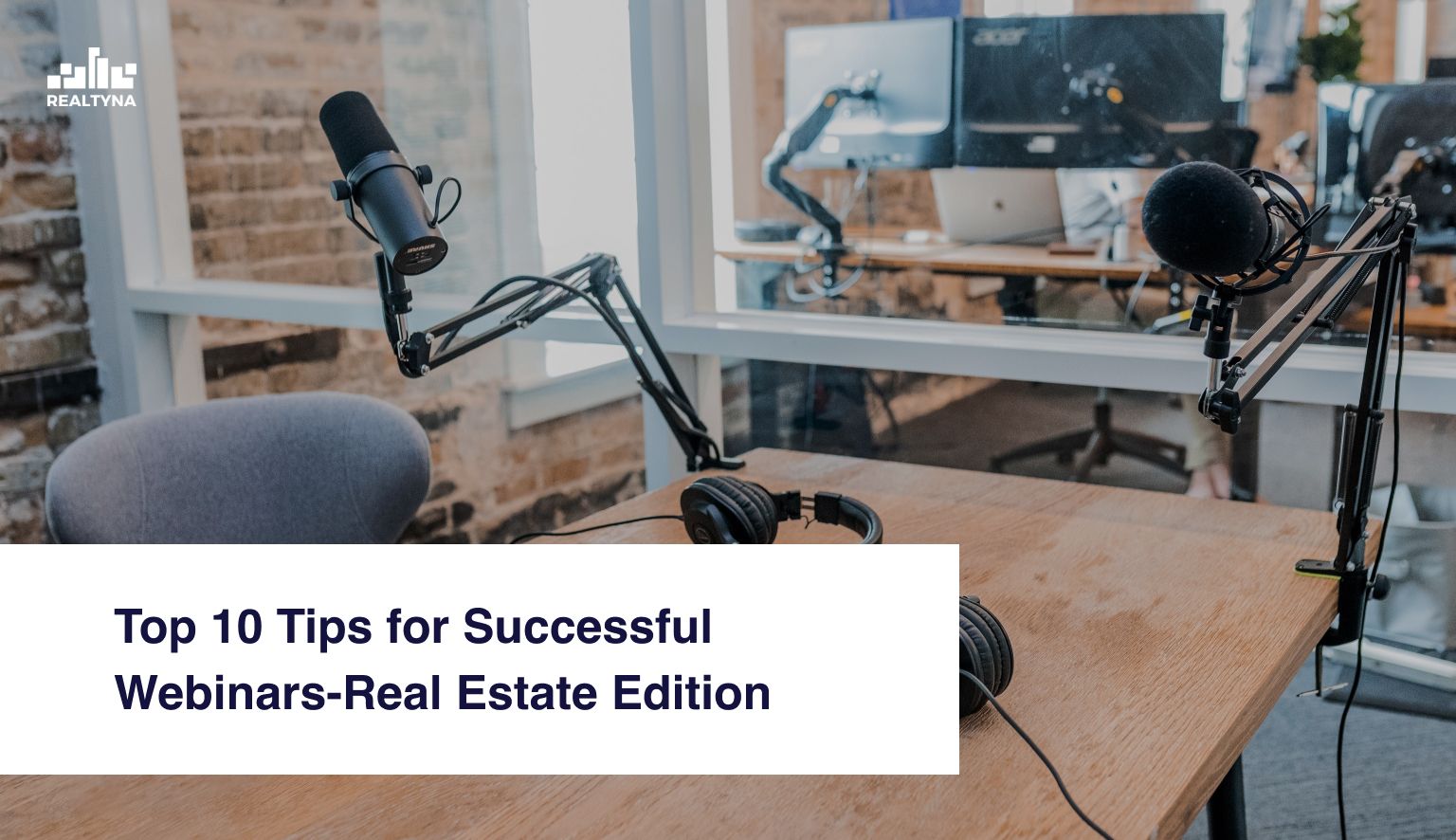 Top 10 Tips for Successful Webinars – Real Estate Edition
06 Aug 2021

Posted at 11:00h
0 Comments
Real estate webinars have become more and more popular than ever. It is not surprising that successful webinars are not easy to launch. It requires a lot of knowledge in the real estate industry and some explanation skills as well.
Today we are going to speak about the top 10 tips for successful real estate webinars. If you follow these tips and tricks, you will see how your webinars will be successful. Are you interested in 5 useful tips for the webinar host?
Let's start!
5 Useful Tips for the Webinar Host
Choose the Right Topic
Real estate is a huge subject in general to speak about. While choosing the right topic for your webinar, it's important to find the theme that best applies to the questions that real estate agents are asking. Theme will help you to gain more attendees and success for your webinar.
Practice Before the Webinar
No matter how professional you are or how many times you have hosted the webinars, you need to practice before the webinar starts. You may practice answering the questions that will be asked by attendees. You may practice the introduction of the webinar and more.
Sounds Matter
As we live in a digitalized world and everything is connected to the internet, you may already know how sound is important, especially when you are working from home and attending meetings, webinars or calls remotely.
Hold the Audience's Attention
If you are hosting a webinar, many people can register for it and many can attend. But the number of listeners is not that important. If they are not engaging while you ask for questions, if they don't have any questions to ask or anything to clarify, it simply means that they are not listening.
Background
Backgrounds are also very important while speaking about the webinar host. If you are introducing your company, it is a good idea to choose a background that includes the logo of your company. If not, you must choose some kind of background in the working sphere. If you don't have one, the internet and Zoom platform allows you to find the background that fits you the best.
Top 5 Tips for Successful Webinars
Target the Right Audience
Before launching something, it is important to market your upcoming webinar. Choosing the right audience for your webinars is the key tool here.You should define for whom your webinar is designed, including their sphere of influence, age range and more. After targeting the right audience, your webinar will be successful, as there will be attendees, who are really interested in your webinars.
Pick the Right Time
We have already mentioned how targeting the right audience matters for real estate webinars is important. But how is the right audience going to help to better plan a webinar? After choosing the best audience for your webinar, you will have a clearer idea of how to choose the right time for it. The most important aspect here is the result, or quite simply, how many people will attend your webinar. If you pick the right audience and pick the right time to launch, you will see the success of your webinar.
Choose the Right Branding
If you are in the real estate industry, then you already know how important branding is. The same applies to webinars where branding matters a lot. After launching your webinar, it is important to have one good designed image for it. It will help you to interest people in your webinars. While doing follow-ups with your attendees, the right branding will bring you more success.
Impressive Title
If you want to have a successful webinar related to the real estate industry, then you should definitely pay attention to the title. The name or title of your webinar matters. It should be very impressive. Think about what your attendees want from your webinar, and you will definitely have a good idea of the right title.
Decide Webinar Format
When you already have the general idea on what you are going to speak about during your webinar, then the only thing left is to choose the right webinar format for you. While choosing one, try to test some of the formats in order to know exactly what you are looking for. Some of the webinar formats include:
Interview Webinar
Q&A Webinar
One Presenter
Two Presenters Format
Tutorial Format
Last Several Words
We have highlighted the top 10 tips for launching a successful webinar. But what about education or reading books? Are you interested in the main books that every real estate agent should read? Check our article on 8 books that every real estate agent should read.
Habits do matter, and if you want to be successful, you should pay close attention to your habits. For more information, check out my article on habits that help us to be successful — real estate agent edition.
Knowing all the news and trends in the real estate industry will help you to choose the right theme for real estate webinars. For more, check my blog on how do you know when there is a change in the real estate market?
Want to know one of the best webinars out there?
Check cyber readiness fundamentals for real estate.