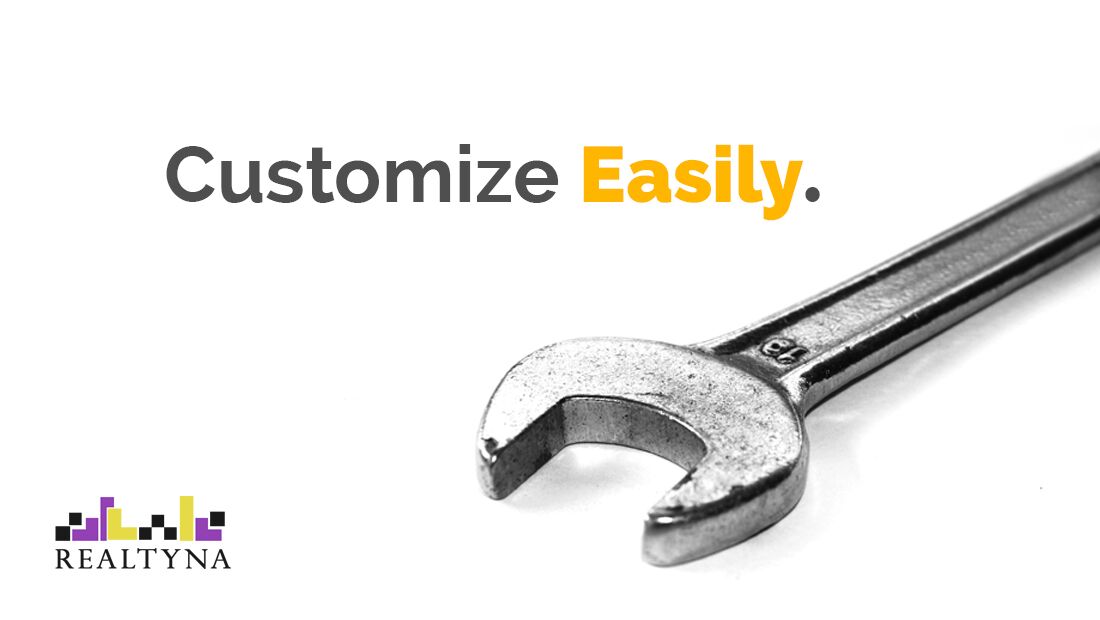 11 Ways You can Easily Customize Your Site With Realtyna's WordPress Real Estate Theme

Posted at 15:39h
0 Comments
In this blog post you will read 11 Ways You can Easily Customize Your Site With Realtyna's WordPress Real Estate Theme
Realtyna's WordPress real estate theme is a powerful tool to sell real estate online.
But not all real estate professionals have the selling same strategy. Your approach depends on your business model, and your website should reflect this.
Here are 11 ways you can easily customize your site with Realtyna's WordPress real estate theme:
Change the Photo Carousel
The main home page feature on Realtyna's WordPress real estate theme is a photo carousel that cycles randomly through property listings on your site. You can customize this to show a static image or only a few specific properties that you choose. You also can change the photo sizes in the carousel or replace the photos entirely with a large property map: https://support.realtyna.com/index.php?/Knowledgebase/Article/View/681/
These options allow you to choose how to best welcome your guests to your site.
Add New Property Listing Fields
Realtyna's WordPress real estate theme gives you dozens of appliances and home features (such as pool, garage, home heating, etc.) to choose from when you create new listings. But sometimes this isn't enough.
For example, if you are selling homes in an urban area, you may want to let your leads know how far the property is from downtown. Or maybe you want to let them know that the property comes with a parking space in a shared garage. You can do it by creating a new property-listing field for these features. Once created, you will be able to add them easily to any additional properties simply by clicking the checkbox.
Create New Tags
The tags feature in Realtyna's WordPress real estate theme allows you to display a banner across your property thumbnails saying, "featured property", "open house", etc. But this is totally customizable, allowing you to change the text and create new tags: https://support.realtyna.com/index.php?/Default/Knowledgebase/Article/View/786/0/how-to-add-and-manage-tags
Personalize the Search Bar
The property search bar is one of the most commonly used features on any real estate website. With Realtyna, this search bar is flexible. You can add and remove features as needed providing a detailed search or a more streamlined look.
For each feature, you also have the ability to choose how it displays. You can choose from text, a dropdown, checkbox, or an on/off slider.
Add Agents
If you are a broker, or you work on an agent team, you can add your colleagues easily to your website. This will create a default Agent Page with a photo and contact information for each agent. If you want an agent's contact info to appear next to each property he or she lists, you can do it with MLS Agent Mapping Add-on: https://realtyna.com/mls-agent-mapping/
Toggle Layout
Realtyna has built in a number of popular layouts to allow you to quickly modify the orientation of your site to your needs. On the property listing results page you can choose from a grid view, list view, or map view. On the property details page, it's your choice to make the property gallery or the property details the prominent feature at the top of the page.
Upload Your Own Property Map Pin
With Realtyna's WordPress real estate theme, you can customize your own property map pin with your business logo or another image. This is a cool feature allowing you set your IDX search apart from competitors.
Main Fonts and Colors
Realtyna offers custom colors and fonts to help you build a consistent style across your site. Simply choose the font, color, and size from your theme settings.
Header/Footer Options
Realtyna's header and footer options will allow you to change the orientation of your navigation panel, move your logo, add social media icons, add a search bar and more. And if you want to develop a custom header, you can upload it directly to Realtyna's WordPress real estate theme.
Homepage widgets
Realtyna's WordPress real estate theme uses a number of widgets to add features to your site, including: favorites, featured agents, useful links, and search. These widgets can be added, removed or edited. In addition, your IDX display can appear on any page using shortcake.
CSS
For any other style changes we've built a custom CSS editor into the theme back-end, allowing you to modify your site on the fly.
Of course with Realtyna's WordPress real estate theme you have all the other tools available to you on the WordPress platform, so you can add a blog, add new pages, and more to make your site yours.
You can find step-by-step guides for implementing these customizations in our Knowledged base: https://support.realtyna.com/index.php?/Knowledgebase/List
Or contact us about a free consultation about your website.