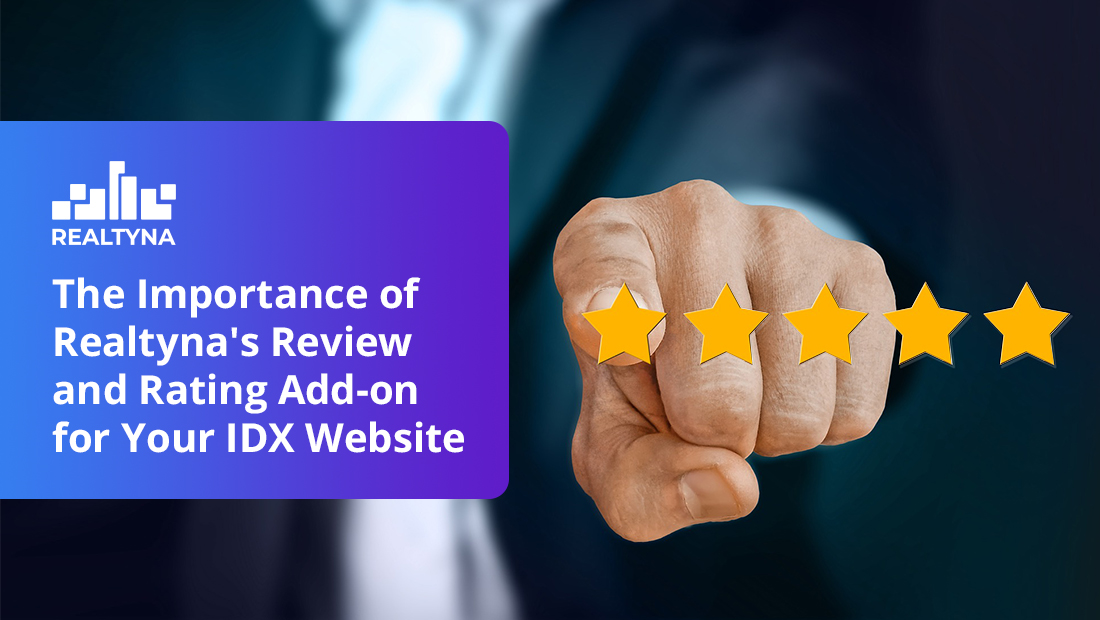 The Importance of Realtyna's Review and Rating Add-on for Your IDX Website
19 Feb 2020

Posted at 11:00h
0 Comments
Clients want to know what kind of product is best for them. They may check a company's product or see their commercial, but for many clients, testimonials are the most important.
Client reviews are especially valuable for the real estate market. As a real estate agent, it's very important to collect ratings and reviews about your business and post them on your website.
In the blog, we will show you how Realtyna's Review and Rating Add-on can help you do this.
Why Do You Need Ratings and Reviews on Your IDX Website?
Make Your Business More Trusted
It's very simple. Customers purchase when they trust the product and company. By including reviews and ratings on your website, you're building this trust. It works because of social proof.
Find Out What Works
From the reviews on your own website, you are able to monitor what works and what does not in your business. By checking different analytics, you will always try to know your clients opinions and observe user experience. Reviews help you know the challenges and strengths of your business.
Integrate Ratings and Reviews in Your Business
The most successful agents implement ratings and reviews into their business and use them as part of their success. How can you do this? You might show testimonials during a presentation about your company. Or you can use them while writing content on your website and social media.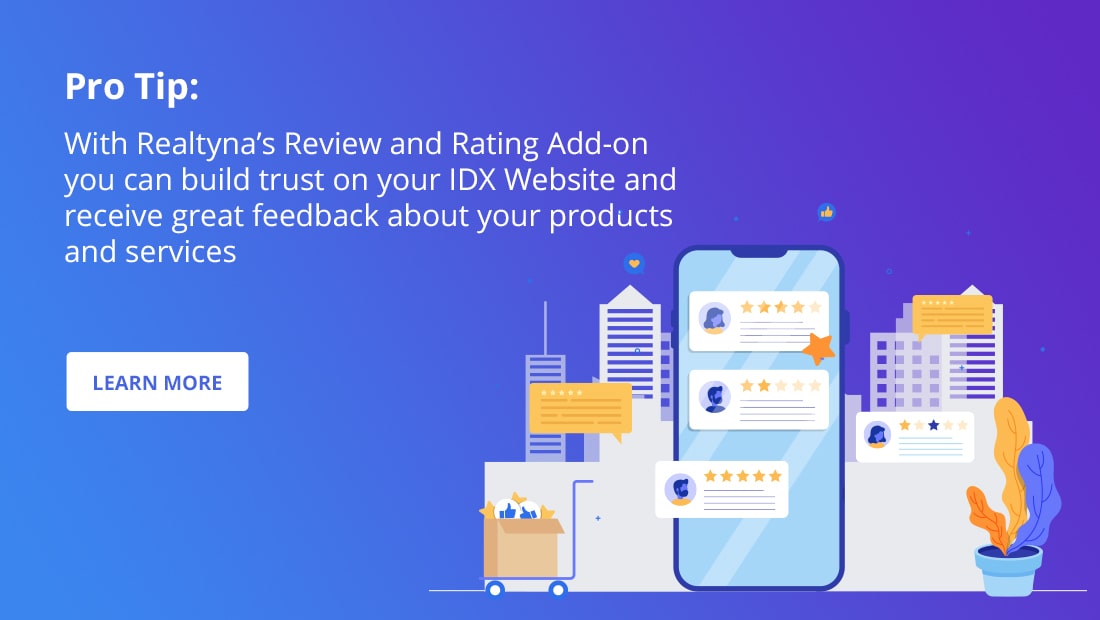 Realtyna's Review and Rating Add-on for Your IDX Website
We explained the importance of ratings and reviews for your business. The thing is, that you should always try to use them in more accurate ways. Realtyna's Review and Rating Add-on gives you the opportunity to manage and approve the reviews and ratings on your website. Here are some of the features:
Realtyna's Review and Rating Add-on are entity-based. This means you can enable the review & rating function for different entities such as properties, agents, etc.
The add-on has very convenient rating options. The admin of the website can define the rating parameter for different cases. As you know, the properties differ in the real estate market, so the rating criteria should too.
Did someone write irrelevant content on your website? Sometimes users may have inadequate behavior for some reason. With Realtyna's Review and Rating Add-on, you can manage it. Website admins can see the reviews and unpublish them if needed. Moreover, you can include a list of prohibited words in your add-on and automate some management.
Finally, you can show your clients that you really care about their reviews and pay attention to them. With the liking option, you will be able to return the feedback.
We hope this article helped explain the Review and Ratings Add-on and showed how it can improve your business. For more information, you can check out the blog: Why Do You Need Reviews for Your Real Estate IDX Website.
If you have feedback or questions, leave us a comment below.