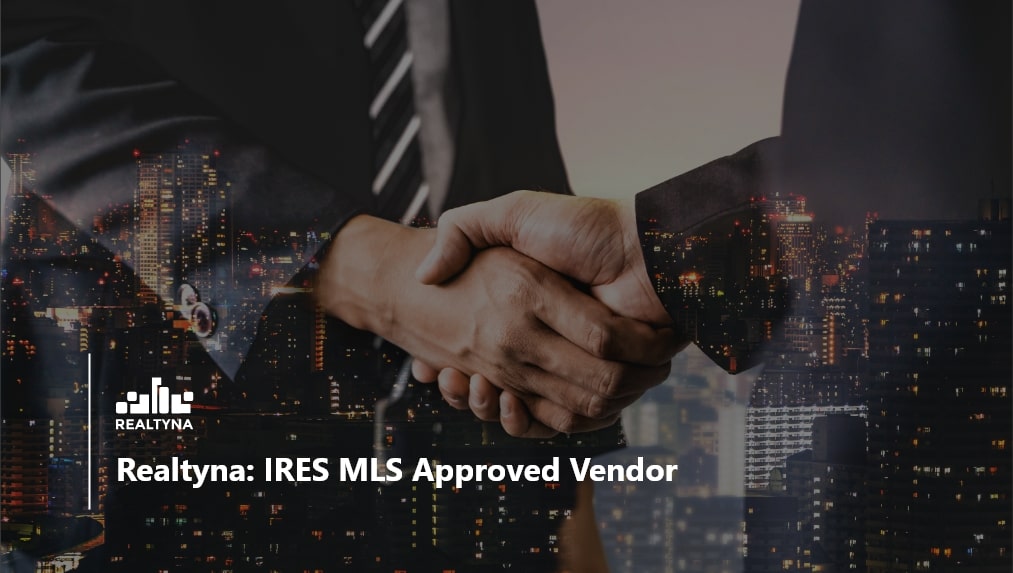 Realtyna: IRES MLS Approved Vendor
27 Apr 2021

Posted at 11:00h
0 Comments
So, you're considering doing your real estate website? You'll have to figure out how to get listings for it! The most critical "content" a real estate website needs to have is an accurate and current display of what is up for sale and a way to search homes. This is possible with IDX software.
The expression "internet data exchange" (IDX) refers to the policies, standards, and software that govern how real estate listing data is displayed on websites. IDX allows users of multiple listing services (MLS) to embed real estate listings from the MLS platform onto their websites, mainly for agents and brokers.
IRES MLS Approved IDX Developers/Vendors
In recent years, brokers and agents have incorporated the inherent potential of IDX and have changed their approach to improving websites using IDX-supported services. There are several ways to view IDX content on individual websites, from FTP to RETS and "truly embedding" IDX content into pages to iframe-based implementations. Yet, not all IDX developers and vendors are approved to provide these services. IRES MLS recently added Realtyna to its list of approved IDX developers/vendors for its members.
Realtyna is a fast-growing IDX developer that is committed to bringing the visions of users to life. It offers users a low-cost, scalable, and flexible online/mobile solution for your WordPress real estate business. They are experts at designing and improving custom real estate websites. MLS subscribers can use an IDX software product on their website or have a vendor like Realtyna build a website for their clients to search the MLSs. Get support from experts if possible. No matter your needs, be it CRM, WordPress, mobile apps, or a full-custom implementation, there's a team of experienced Realtyna experts for you. Below is a list of solutions that Realtyna provides for all real estate professionals that IRES MLS members can use.
Real Estate Themes
Realtyna has a stunning array of real estate themes that Realtors can choose from. Realtyna themes are updated regularly to fit the demand of users. Unlike other real estate themes, Realtyna's themes are IDX compatible, with easy-to-use templates, and they are easily connected to your IDX feed. They are designed with page builders, such as Elementor, WP Bakery, and Divi Builder, to make it simple to create an IDX website with drag and drop functionality.
MLS Integration For WPL
Realtors want easy-to-use search functions to keep homebuyers on their website long enough to look through MLS listings when searching homes. The Organic MLS RETS Integration links your website to the MLS server and draws listings directly to your website.
These listings are organic, meaning they reside on your service and capture maximum SEO value.
Demographic Tools
With Realtyna's various add-on packages, users can take advantage of preset features like School Info Add-on, Market Report Add-on, Yelp Integration, Neighborhood Add-on, and Complex Add-on.
Homebuyers place a lot of importance on neighborhoods that have quality schools. It is more so for families with children. There is a clear link between the value of a home and the quality of schools in the area. And that is why a real estate website must provide fast and accurate information about local schools so that the clients can gather the most information from your website in one sitting.
The Yelp Integration feature enables you to instantly pull locations of interest from Yelp and display them on individual property sites. The add-on filters nearby locations and lists them. Through this, you will have Yelp ratings, restaurants, and establishments are under each listing.
The importance of location in real estate cannot be overstated. Real estate practitioners tend to focus in specific neighborhoods, regions, or populations. This add-on allows you to showcase your experience and area of activity on your website. You can do the following with the WPL Neighborhood Add-on features:
Create a neighborhood/community hierarchy
Show a map of the neighborhood
Create individual pages for each region, including videos, images, features, and descriptions, etc
Lead Generation Tools
It takes more than just getting people to visit your website to generate leads. It is all about gathering information about them to improve contact and convert frequent visitors into regular customers. Some of Realtyna's lead capture tools include real estate CRM, Advanced Portal Search, Membership Add-on, and a lot more.
A good CRM software is needed for every successful real estate website. Realtyna's easy-to-use CRM system is a one-stop-shop that allows you to keep track of your leads' interests and respond to their needs/wishes. As a result, you'll be able to make even more enticing suggestions to prospective homebuyers.
The property search is without a doubt an essential lead generation feature on your website. Realtyna offers one of the best real estate search features for real estate professionals to assist their clients with the home search, including a versatile map search feature in WPL Pro.
The Advanced Portal Search (APS) Add-on elevates the website to new heights. Search engine optimization is not just about functionality, but encompassing all to keep your website users on your pages longer.
Social Media Tools
Networking increases the conversion rate of real estate practitioners. Realtors can maintain connections with Realtyna's social media tools as their leads browse the various social media sites.
Conclusion
As the real estate industry continues to shift towards digitization, it is vital for real estate professionals to quickly adapt to the trends to remain on top of the game in such a digital age. This list of IDX technology for agents and brokers should hopefully provide you with the solution you need for your real estate business!