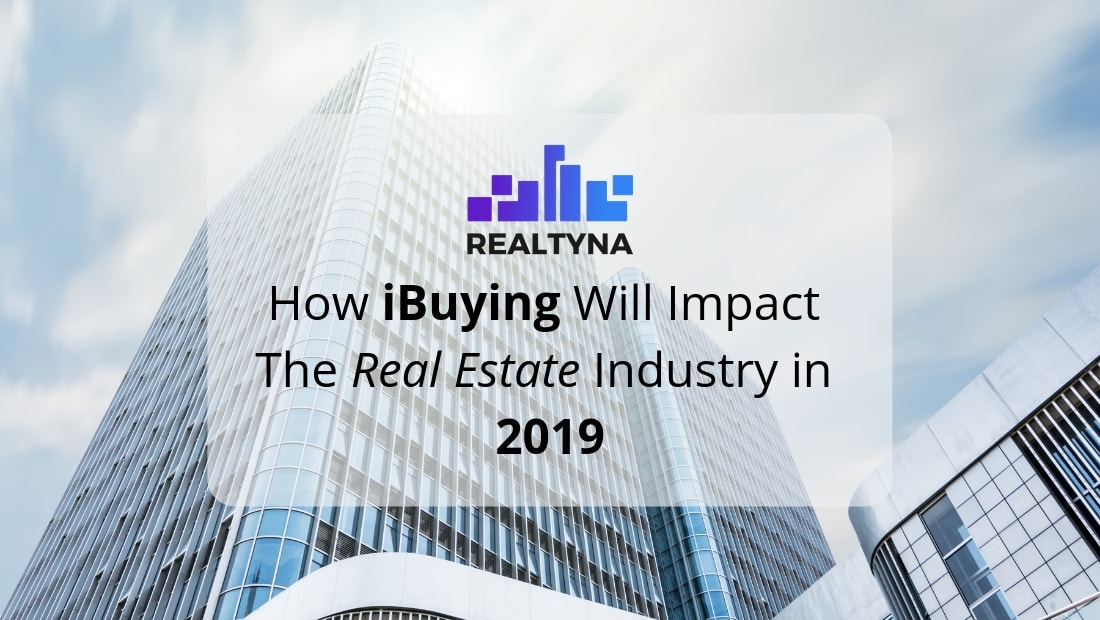 How iBuying Will Impact the Real Estate Industry in 2019
14 Mar 2019

Posted at 10:00h
0 Comments
By Jennifer Karami of Redfin
Despite a softening market, technology will continue to radically transform the real estate industry in 2019 and beyond. This year, as home buyers continue to scrap for top dollar offers, a new trend has emerged into the national spotlight. Armed with advantages in reliability, speed, and ease, iBuyer programs will storm new markets. Whether it be in areas like Bellingham, WA , or larger markets like Los Angeles, 2019 will be the year that iBuyers are put to the test.
There is a subset of sellers who are willing to sell their house under market value in exchange for fast cash. In order to understand them, we must understand how iBuyers work, their valuation model and pricing structure, and why sellers choose iBuying.
What is an iBuyer?
An iBuyer is a type of real estate company that evaluates a home's worth and makes an instant offer online. These instant offers allow sellers to close in under two weeks. After completing the process and accepting an offer, iBuyers will make any necessary repairs or renovations and then resell the home for a profit.
How Does an iBuyer Calculate a Home's Worth?
An Automated Valuation Model (AVM) is a computer program used by home appraisers to estimate a home's value. AVMs use statistical linear and multiple regressions to predict the home's worth based on market data. AVM takes into consideration age, historical data, transaction records, property features, and similar data points to calculate an offer for the home.

How Much Do iBuyers Pay?
Depending on the circumstances, sellers can expect to receive an offer that is 75-100% of their home's market value. For example, if they have a $1M home and the iBuyer gives them 85% of value and charges a 7% fee, they'd end up with 16% less than selling on the open market (including the added 6% fees for agent commissions).
What is the iBuying Process?
To initiate the iBuying process, the seller typically goes online and answers some questions about the condition of the home. For example, the RedfinNow iBuyer program asks:
How many bedrooms and bathrooms does your home have?

Have you made any improvements on your home?

Does your home have any amenities such as a pool, solar panels, gated community?

How soon do you want to sell?
After finishing the initial inquiry, iBuyers will then complete a home inspection to investigate serious issues like structural damage, mold, asbestos, oil leaks, etc. Usually, though they may impact the final valuation of the home, these problems won't have any bearing on their ability to participate in an iBuyer program. Following the inspection, the seller will receive an offer to reject or accept. If accepted, the property sale can close in as few as seven days.
As mentioned above, iBuyers handle the process of preparing the house for the market. In order to resell it for maximum profit, they pour time and resources into remodeling, repairing, listing, showing, negotiating offers, and waiting for the house to sell. If the seller doesn't have the ability to take these responsibilities on, iBuyer might be the best option.
Why Do Sellers Choose iBuyers?
iBuying is an ideal solution for people who want to sell a home quickly for cash. There are many reasons someone would want to sell a home fast, including:
Relocation: If they're moving to a new city and need to be on the job ASAP, they may not have time to wait around for their home to sell. iBuying gives them flexibility to choose when to move.
New home: If the purchase of their dream home requires the sale of their current home, they may need access to the equity tied up in their current home.
Ease of service: With iBuyers, there's no prepping the house for market, herding kids and pets out the door during open houses, or worrying over whether a potential buyer will back out of the sale.
Repairs: Doing home repairs can be expensive and time-consuming. If they don't have cash to pay for repairs and renovations out of pocket, iBuyers will deduct this from their offer price.
Rental properties: For investors with a vacant rental that is costing them money every day it's empty, a quick sale to an iBuyer can be very attractive.
Family circumstances: Maybe they're going through a divorce and want to split the assets and move on. Or, they've inherited a home they don't want to live in or manage. iBuying offers the convenience of a quick cash offer.
With today's technology, there are more options than ever for buying and selling real estate. iBuyer programs use data to calculate a quick cash offer on a home, allowing more speed, flexibility, and choice than a traditional sale. With the housing market cooling, we'll likely see more iBuyers popping up in 2019. While decidedly different than the traditional real estate agent model of selling homes, iBuyer is nonetheless an interesting business model, and worth considering for anyone who needs to sell a home fast for cash.
Jennifer Karami is a writer at Redfin, a modern real estate brokerage that uses technology to help people buy and sell homes. With a 1% listing fee and full-service agents, Redfin is redefining real estate in the consumer's favor.