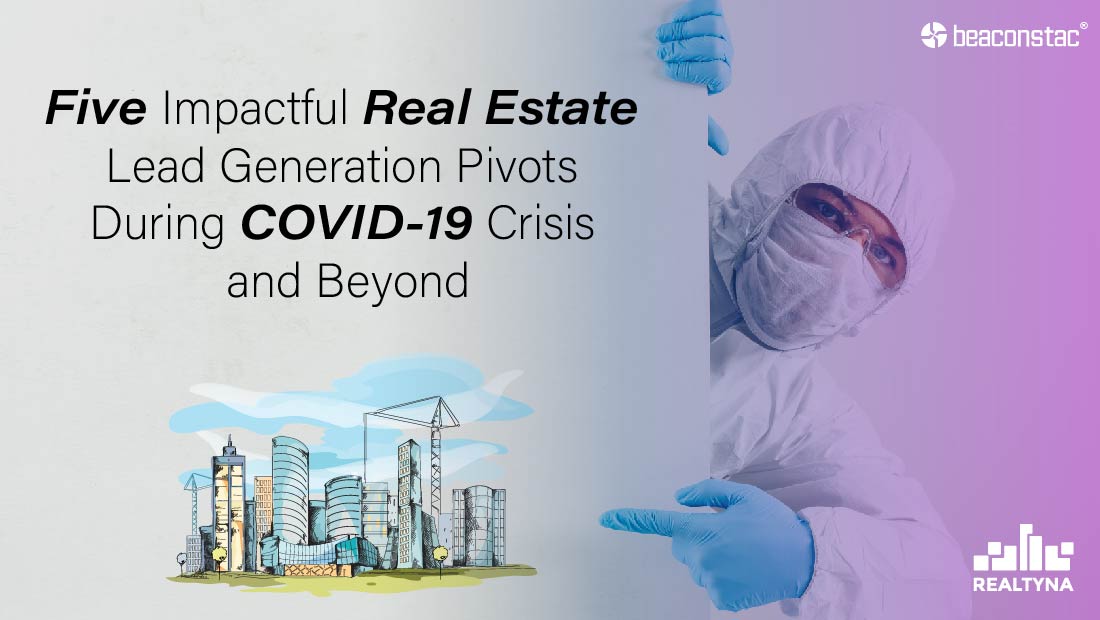 Five Impactful Real Estate Lead Generation Pivots During COVID-19 Crisis and Beyond
09 Jul 2020

Posted at 11:00h
0 Comments
We're past the stage to wait for things to get back to normal. As the realization that the lockdown might last for a few more weeks (if not months) sinks in, businesses all over the world are busy firefighting to keep afloat.
Things are no different for the real estate industry; from strengthening their SEO efforts to going virtual, realtors and brokers are willing to try it all out. They are finding new ways to connect with their potential customers not only to sail through this time as smoothly as possible but also fundamentally to strengthen their businesses so that they can handle rough tides in the times to come.
Here are five ways realtors can use this time to build a stronger virtual presence to keep leads warm and engaged using newer and relatively unexplored tactics in the real estate industry:
Talk to Buyers in New Ways and Voices
Ongoing lockdown restrictions have forced most of us to spend the majority of our time in our home, and by that extension, online. Thus, educating homebuyers about the latest real estate trends through a webinar, or thought leadership articles could prove to be useful. You can share tips and tricks with them to get the best deal while buying their dream house, and this will go a long way in building a trustworthy relationship and creating an inflow of quality leads.
Realtors must not short change the importance of direct and electronic mailing to their potential customers. You can start sending periodic newsletters or resource guides to them through email, alongside catalogs and brochures to promote your brand. This will also help you track the effectiveness of your message, as you will have a wide variety of analytical tools to measure how much engagement and interest your emails have generated. Real estate agencies and agents should consider this option as a more reliable way of building your brand's retention value and eliciting long-term customer loyalty.
Furthermore, realtors can also fuse the traditional and modern when introducing direct or electronic mail in their business strategy. For instance, this can be done via dynamic and customized QR codes. You can add QR codes in all your communication and promotion collaterals to redirect audiences to popular property locations, picture galleries, success stories, or more resources. You can quickly generate a QR code online and customize it to reflect the visual identity of your business. Beaconstac is a provider of QR services.
Content Is, and Always Will Be, the King
In addition to articles, resources, and webinars, you must cater to the fastest growing medium as well: video. Even though the importance of video content has been talked about for quite some time now, realtors often struggle with finding the time to create quality audio-visual content for their audience. The current scenario has provided realtors with an ample amount of time to find the right platform to reach their audience and learn how to produce compelling promotional videos.
Begin with taking a short course on the basics of video production, many of which are easily available for free. Then, begin experimenting with short videos and editing them. Once you get the hang of it, ideate what kind of videos you want to produce and what they will convey. Prepare a script, shoot the video, and edit them. The more you do it, the better results you will get.
If you don't want to take upon learning video making, you can also consider starting a real estate podcast. This will be easier to set up and learn as compared to videos, and it will also expand your reach significantly. However, remember the medium or platform is of secondary importance, and the quality of your content will decide how effectively you can engage potential buyers.
Host a Virtual Open House Tour
While connecting with your audience through webinars and other forms of written and video content may seem more practical, hosting a virtual open house using tools is a great way to help them narrow down their choices and get to know exactly what they're looking for. There are several user-friendly tools such as Matterport, Nodalview, or Prompto.com available to help you host a virtual house tour. You can also create a 3D property catalog of the locality to make sure your homebuyers don't feel restricted to fewer options, ultimately driving them to start their search all over again.
Realtors should embrace the advances made by technologies and use new-age tools to further their businesses, and there is no better time to embrace change than now. It has been reported that an increasing number of realtors are choosing to employ the use of artificial intelligence and machine learning to study their customer base and market their properties. If these are new terms for you, worry not. Start small and get yourself acquainted with other tools first. Virtual house tours are one of the best bets currently because not only are they easier to stage, but they are also customer-friendly. They can be conducted within the safety of social distancing, and bring a unique sophistication to the exercise, which sometimes is lost in the live tours of the properties.
Strengthen Your SEO
If you've been ignoring the dreaded 'S' word, now's the time to fix things. Remember, a majority of the homebuyer searches begin online. With plenty of time in their hand, as they sit at home, it only makes sense to devote some quality time to give your online visibility the edge it's demanding. This will not only result in greater traffic during the pandemic, it will also help you sustain the momentum when things start getting back to normal.
Search engine optimization (SEO) can be improved by introducing relevant keywords in your digital content. Many small real estate agencies and agents ignore this critical source of leads, and if you're one of them, you can't afford to do that anymore. If you've already gotten the basics sorted, try to advance your SEO capabilities and formulate a plan to increase your traffic.
And going back to the above point, another way of improving Google rankings is by introducing videos on your webpage. It has been seen that more people go for search results that contain a video than those without. Videos of properties in your catalog can do considerably well for a business in improving its search ranking. Moreover, videos in themselves are an excellent way to impart information that may otherwise sound dry and bland in text format.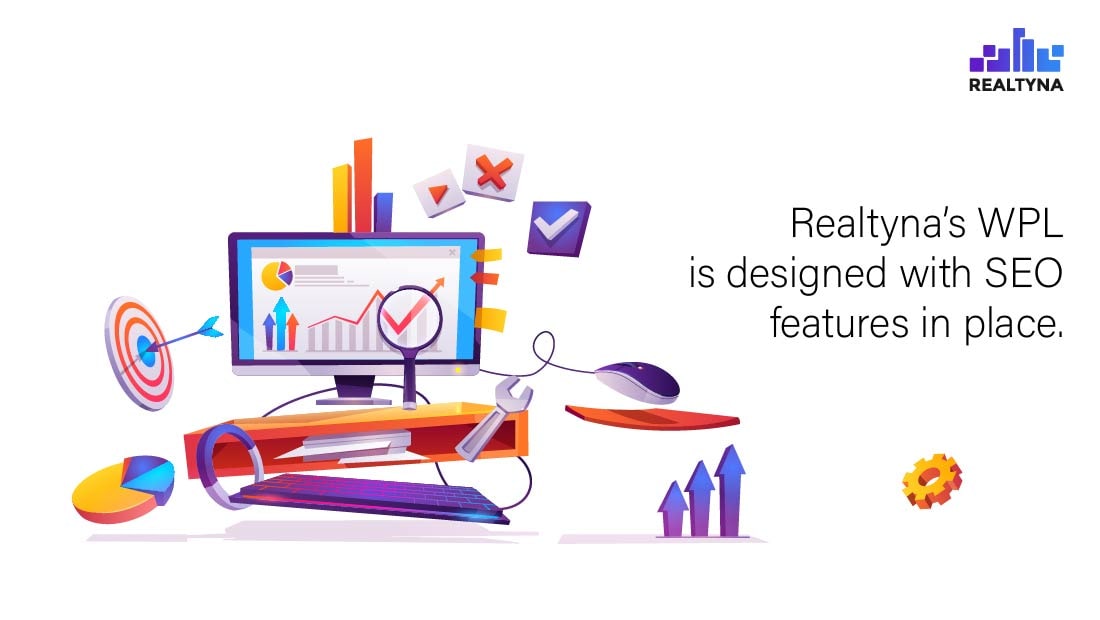 Leverage Social Media Outlets to Generate Leads
We've already talked about the huge spike in time duration spent by people online. Without a surprise, a majority of this time is being spent on multiple social media platforms. According to a study by Statista, 43 percent of users in the United States said they're more likely to spend time on Instagram while they were confined to their homes. These numbers for Facebook and YouTube were 62.3 percent and 63.7 percent, respectively.
Social media can be used to make a great overture to lure potential customers to your business website. Real estate businesses need not browbeat customers/followers with hard selling at this point. Remember, the message must suit the medium. You must remember when using social media that most of the active sorts using these channels are young people, and they are skeptical of any deals that sound too good to be true.
Businesses can't do better than speaking in gen Z language. Whether it's on Instagram or Twitter or Facebook, the younger generations respond to posts that do not try to extort a commitment from them. The best way to resonate with them is to engage them in an informal conversation and make them take an interest in your page rather than the property. Such an effect can be created by introducing posts related to market trends, business profiles, comparative property rates, and general news about the property market being published in the mainstream media. The idea here should be to appear as a sincere stakeholder in the real estate domain and not merely as a profiteer.
One of the ways of communicating this is via social media influencers, who can bring much-needed visibility to your business and help make it a little more memorable. This is not a cue for companies to hire a star for a bomb. Social media influencers usually have small to massive online following in niche industries and domains. However, the one common thing is the allegiance and loyalty of their fans, no matter the following. Instagram is one of the better channels where the use of influencers does seem to work to a considerable extent.
Final Thoughts
With the COVID-19 crisis deepening, businesses around the world have started to accept this as the 'new normal' and formulate their strategies to rise wiser and stronger once we're past this. There's no doubt that many new trends will be emerging during, and post, the lockdown restrictions. In the end, companies focusing solely on their customers' well-being will emerge as the winner. Taking this time to focus on mediums that haven't been leveraged to warm and nurture leads until now will surely prove to be effective for businesses in the real estate industry.
Author Bio: Tanishq Agarwal is a marketing analyst at MobStac. Extremely inquisitive about the contemporary developments in marketing tech, he aspires to bring the most pragmatic ones to the forefront.