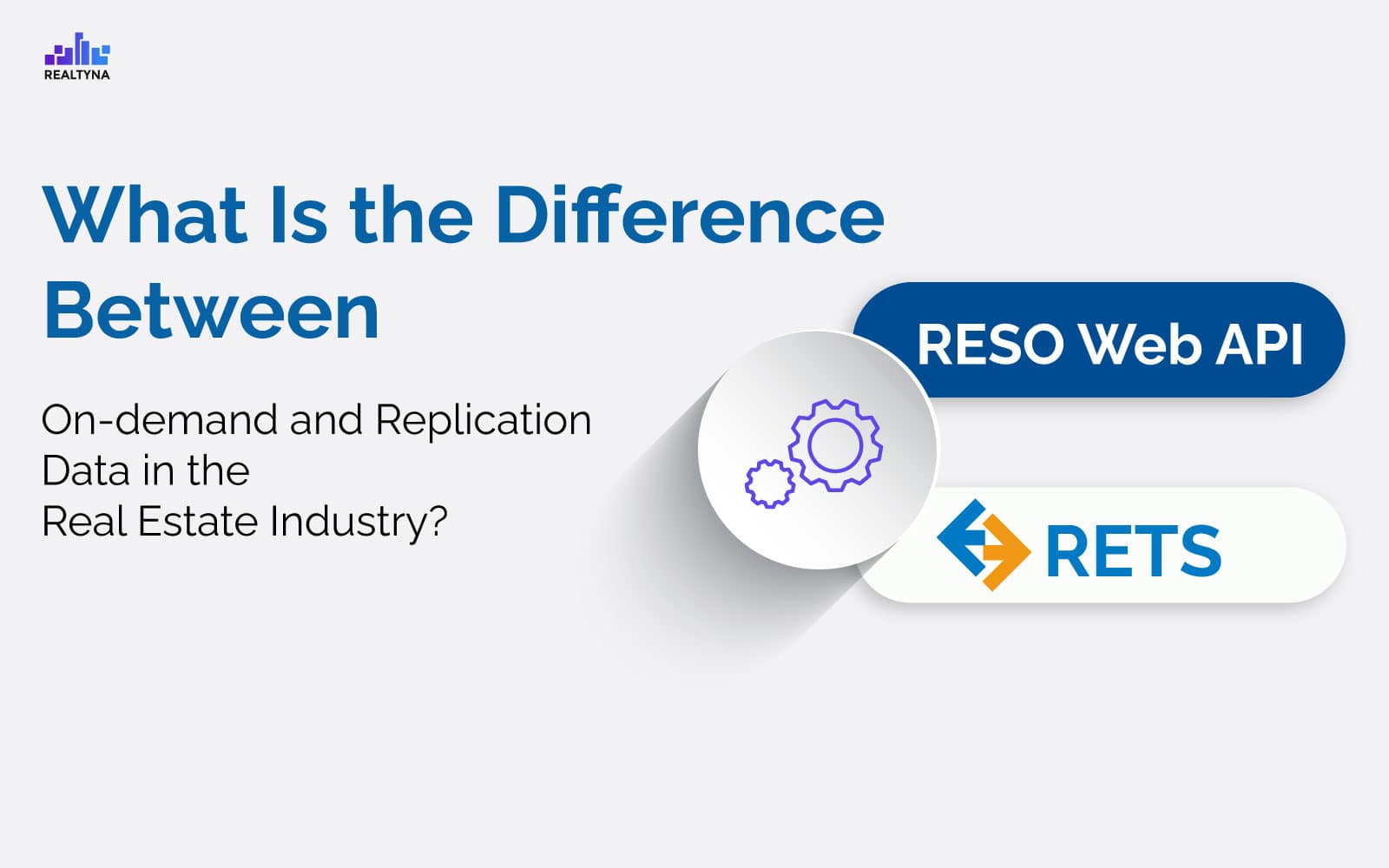 What Is the Difference Between On-demand and Replication Data in the Real Estate Industry?
10 Nov 2022

Posted at 11:00h
0 Comments
In the early days of data transferring on internet devices, the focus was more on getting data from the source, storing it on your device, and consuming it as you go. This was because the internet speed and bandwidth was very low, and people needed to ensure that data would be available later.
Nowadays, users are looking out for more. They want access to more data than their devices can handle and for it to be updated in real-time. We see this with on-demand streaming services like Youtube and Netflix, where these companies constantly make significant changes to satisfy the user's demand for better and updated data.
The same goes for real estate data. Property listings have been stored locally for years but can now be accessed on the go. But as Youtube kept the download button available, we should know that both on-demand and replication data are valuable. Now, let's see what implications this has for the real estate industry.
Replication Data vs. On-demand Data in Real Estate
Real estate agents and brokers consume data in many different ways. Property listings, demographic data, and school information are all examples of valuable business data for Realtors. In today's market, data consumers can get the data in two ways:
This is when a data source, say CRDC provides public data in a single file. Developers can then integrate this data into your systems.
APIs, however, are more convenient in terms of technology and development. The source of data can constantly send you the data through an API. An example is the RESO Web API, the latest data transfer standard for MLS listings.
Replication works in a way that the data is provided to you once and stored locally on your servers. Some of the pros and cons are:
You have control over data fields.

Increased maintenance costs

Increase development cost and time

Outdated data
On-demand data is readily available and can be used on the go. Here are some of the pros and cons:
Data comes straight from the source

Updated more regularly

Less development and maintenance costs

Limits on query

Less control over data
Now, let's learn more about RESO Web API and how it offers data.
What Is RESO Web API?
RESO (Real Estate Standard Organization) announced the data transport standard for real estate called RESO Web API in 2017. It is a simple way for developers from a wide range of technical backgrounds to work with real estate data, especially listings. You can see more information about it in this video:
There are a couple of advantages to RESO Web API as opposed to its predecessor, RETS:
RETS:
DMQL Syntax

Usually requires 3rd party libraries for new developers

Replication

Only in real estate tech
RESO Web API:
Only in real estate tech

Easier for most developers to get started

On-Demand and Replication

Widely used everywhere
Source : https://www.bridgeinteractive.com/
What Is the Difference Between RESO Data Dictionary and RESO Web API?
The data dictionary is a set of conventions for naming data, while the API refers to data transportation. In other words, data the dictionary is a way to name and distinguish data, which can be transported through the layer of the API.
You can learn more about the data dictionary here:
Realtyna's Offer for Agents and Brokers
Realtyna offers Organic RESO API Integration to all agents and brokers who are members of the MLS. You can choose Realtyna as your vendor or get the feed directly from the MLS. In both cases, our solutions helps to set up a converting real estate website and integrate listings directly from the MLS. Check out the following video to see how it works:
Realtyna's Offer for MLSs and Associations
Realtyna helps MLSs and Associations set up their RESO Web API servers. Our team has over a decade of experience with such data, and we easily serve apps and sites using our IDX servers or our new technology, RealtyFeed. You can learn more about this in the following link:
Rising Use-case for RESO Web API: Headless Real Estate CMS!
Are You Thinking of Creating an MLS?
If you are looking into creating your own MLS, we have put together a complete guide on the steps and the tools you need. Check out the following article for step by step guide on how to create a Multiple Listing Service:
How to Create a Multiple Listing Service (MLS)