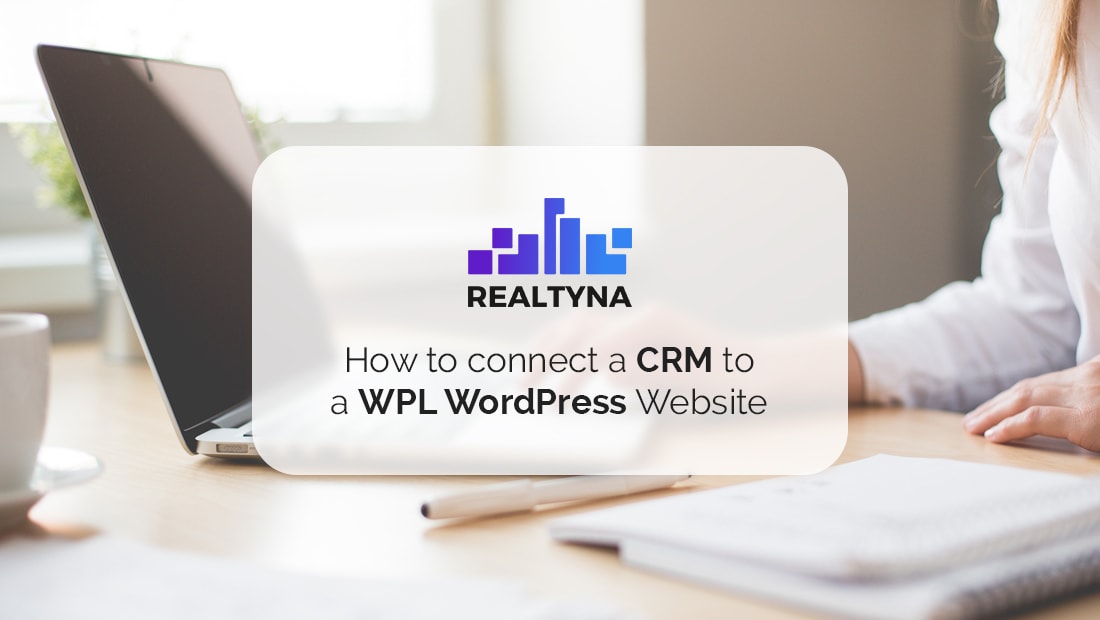 How to Connect a CRM to a WPL WordPress Website
02 Jul 2018

Posted at 11:01h
0 Comments
Something you learn early on in your career in real estate is the need for organization. In the beginning, you are focused on generating your first leads and getting the ball rolling. Staying organized and keeping up with your first few leads is easy, but that changes rather quickly. Suddenly, you have hundreds of clients and leads you are trying to manage in a notebook.
After reaching that point of madness, it is essential you look into options for solving this organizational problem. A CRM connected to your WPL website is the answer. Below is a quick outline on CRM to answer all your questions.
WHAT IS THE CRM ADD-ON?
Realtyna's CRM add-on is a Customer Relationship Management tool that helps your keep track of, organize and manage your responsibilities. Designed specifically for real estate, this add-on will give you the necessary features to help you retain and convert leads as well as manage any agents working under/with you.
This add-on can be a benefit to anyone in the industry from 1 single agent to a broker that manages hundreds of agents. If you feel you could benefit from digitizing your customer management system, this product is for you.
HOW CAN I GET IT?
Getting the CRM add-on is easy! Below I will list the necessary steps to connect CRM to your site. Feel free to skip to the step you
Step 1: Create a free WordPress account, get hosting, and install WPL Pro.
Step 2: Integrate your listings with Organic MLS integration.
Step 3: Purchase and install any other add-ons that may benefit you through our shop. (Membership and Advanced Portal Search Add-ons make great pairs to CRM!)
Step 4: Reach out to Realtyna about your CRM options, or purchase directly through our shop.
Step 5: Wait for installation.
Step 6: Enjoy the sweet relief of being organized.
LUKE'S TIP: VIDEO
FEATURES OF THIS ADD-ON

You can:
Create forms to manage your contacts and requests.

Adjust the privacy and access levels of all agents. For example, they can forbid some agents from creating, "Requests", they can edit the agents, "Reminders", and they can give an agent access to see "Other Events".

Easily navigate all functions with the user friendly interface.

Monitor the activity of registered users through the login history, list of visited and saved searches (

Advanced Portal Search

required).

Utilize Event Management and Reminder Systems.

Browse history of viewed listings by your leads.

Create advanced search filters for finding contacts, requests, etc.

Sell real estate CRM features through Membership Add-on.

Have support for unlimited agents and contacts (with the unlimited package)
WHAT ARE THE BENEFITS?
There are 2 main benefits to the CRM add-on.
1-Converts Leads: With this add-on, you have the opportunity to view history and interaction patterns of your leads, as well as gain access to important contact information (through the membership and APS add-ons). Because this add-on gives you the tools to organize your contact with leads, you will be able to better serve them and never miss a chance with a convert.
2-Efficiency: Digitizing your management systems will save you a lot of time, money and effort. All in one place you can manage your agents as well as clients. With the reminders and events features, you will never miss a deadline or forget about an important meeting. Plus, you can easily access this information from any device.
Have any questions, thoughts or a testimonial on how CRM has helped you? Leave a comment below!