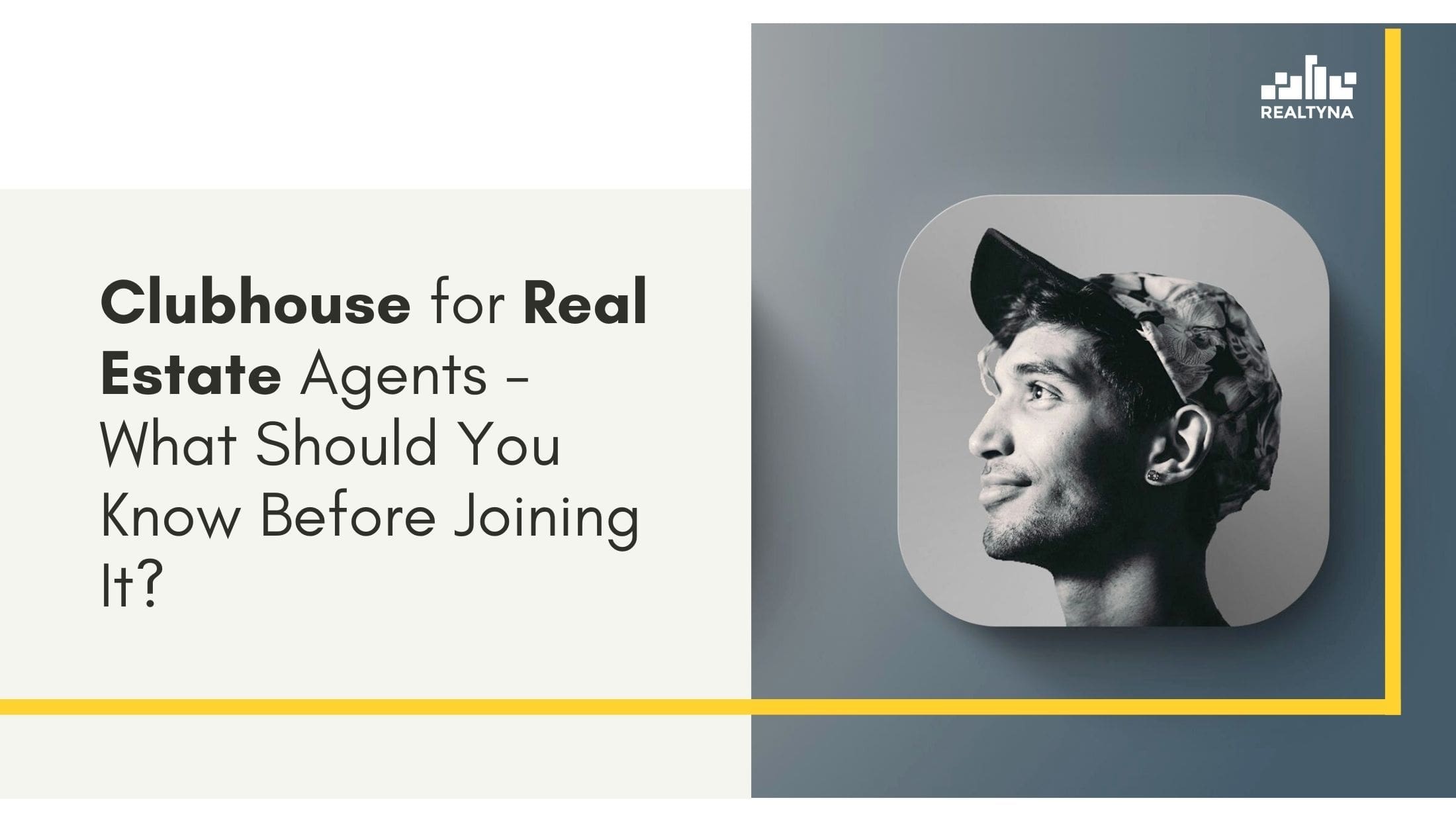 Clubhouse for Real Estate Agents- What Should You Know Before Joining It?
10 Mar 2021

Posted at 11:00h
0 Comments
There is no denying that visual content is a crucial part of the modern social media experience. If you ever wondered how social media would look without visual content to stimulate your interest, well, Clubhouse is a platform you should definitely check out.
Cloaked in secrecy and screaming of exclusivity, Clubhouse makes history as the first social media platform that rejects the necessity of visual communication or visual content.
Clubhouse encompasses the concept of "We don't have to see the faces of the people we have personal or business communication with." So, how does Clubhouse function? And is there a future for real estate agents?
Let's find out.
How Does Clubhouse Work?
Clubhouse was launched in 2020, and it soon gained massive attention from the general public. Clubhouse is described as the audio-based, invite-only app. Right now, it's available only for iOS users, but creators promise that soon enough, it will be available across all platforms.
The invite-only description already suggests there is no direct registration form that we're so used to. You can sign up only when you get an invitation.
The number of invitations are limited as well. Once you get an invitation, you are also given one invitation opportunity. Once you start actively using Clubhouse you will get more invitations.
You can book a username, so it won't be already used by someone else, while you're waiting for the invitation.
What Does Clubhouse Look Like?
Well, it certainly doesn't look like your usual feed. What makes Clubhouse so distinctive from other social media is the type of communication. Instead of the usual feed, there are rooms that you can join based on your interests. You can modify interests once you get an invitation, so the Clubhouse algorithm will know what rooms to suggest to you.
Other than joining rooms, you can also create one. There three type of privacy settings for the rooms:
Public- Everyone can join it.

Social- People who are connected or following you can join this conversation.

Private- The room creator should add members.
You can also search people or rooms through the search bar function where you can filter results based on different factors.


What Does Communication Look Like in Clubhouse Rooms?
Once you're all set up and you've already joined the rooms you're interested in, it's time to take a look at the communication process. With a first glance at the calendar section, you'll see all upcoming rooms and conversations that are scheduled for today and in the future. You can start a conversation by raising a hand, meaning that you'll be put in the queue, and once your turn comes, you will be the one at the center of attention and every other member of the chat room will listen to you.
Other than that, you can also start a room of your own, choose a privacy setting and start a conversation.
Let's Talk About Business Perspectives
Now that you know how Clubhouse operates, let's talk about business perspectives for real estate professionals.
Clubhouse is a new platform, so what we're going to discuss in this section might change according to the path the app is going to take.
Right now, Clubhouse is a perfect platform for referral lead generation. Clubhouse is great for networking and subsequently getting referrals from fellow real estate agents. Despite Clubhouse being a new platform, there are a lot of real estate professionals and influencers you can follow and interact with. Joining relevant chat rooms and participating in conversations increases your visibility.
As it seems, direct communication isn't possible on Clubhouse. Instead, people check profiles, where influencers indicate other social media platforms, for example Instagram, where people can contact them directly. Therefore, Clubhouse serves another purpose as well— redirecting people who are interested in you to other relevant channels.
Real estate professionals who have already joined Clubhouse platform are already seeing good results from Clubhouse networking. As they mention, it's easy to get many followers and interaction, since it's a new platform. You're like a pioneer, exploring possibilities of a new social media platform.

What Are Some Issues?
Of course, Clubhouse is not an ideal platform. There are some issues you need to be familiar with. Like every other social media platform, Clubhouse already caused controversy regarding its privacy issues.
Recent news about Clubhouse highlights the issue many users have with this platform—conversations can be published outside of the app. Even though the whole premise of Clubhouse is to get more visibility and start new conversations, some find this issue troubling. Many experts advise treating Clubhouse as a semi-public platform. As SIO director Alex Stamos told Bloomberg: "Clubhouse cannot provide any privacy promises for conversations held anywhere around the world,"
Are you planning on joining Clubhouse? Leave us a comment and share your experience with us.
P.S Want to know more about Instagram Reels? Check out our blog, Reels for Real Estate Agents.