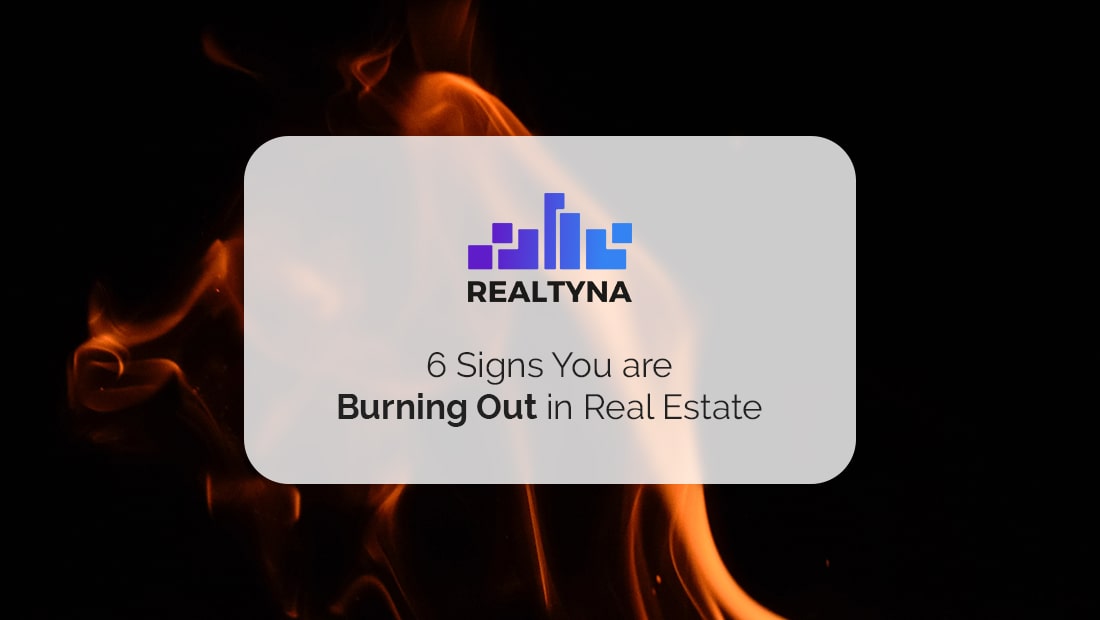 6 Signs You are Burning Out in Real Estate

Posted at 09:22h
0 Comments
Real estate is a fast paced, unpredictable industry. For many people, it can be an exciting, great place to work, while others might dread the ups and downs. But with such a volatile career, even the best of us are at risk of burning out.
Burn out is natural and to be expected without taking the proper precautions. You are at a higher risk of burn out if you are in a high energy field that deals with people. Examples are- education, nursing, customer service and real estate. These fields do not have time for personal factors, and are often high in stress and catering to clients. This can easily drain you of energy and motivation.
What is good about burn out is that it does not have to be permanent. If you know the signs, and acknowledge you are going down that road, you can take the steps to ease the situation and take back control in your career (which we will address in our next exclusive blog!).
SIGN 1: YOU ARE READING THIS ARTICLE
Chances are, you are feeling some kind of burn out or unhappiness if this article intrigued you. But that is ok. Stress and burn out in real estate in completely normal, and wanting confirmation that what you are feeling is correct is nothing out of the ordinary. This one article (or the many others like it) will not solve all your problems or answer all your questions. However, it might help you navigate the triggers of your stress and whether or not work is one of them.
SIGN 2: CUTTING CORNERS/MAKING EXCUSES
You might find yourself not having the energy to give it your all. You might be cutting corners, inefficient, or making excuses for things you used to enjoy or do with enthusiasm. Having a lazy day every now and then is by no means a sign of the dreaded burn out, but if this is something you notice yourself doing everyday, your time is probably ticking.
SIGN 3: YOU JUST WANT A PAYCHECK
The money involved in real estate can be great. It is often a big motivation for the people who decide to enter the industry. If this becomes your only motivation for work though, you are probably on the brinks of burning out. Money is not a bad thing, however, when you begin to only care about your paycheck and not the excitement of real estate, you can easily create a toxic atmosphere for yourself and your clients.
SIGN 4: UNEXPLAINABLE INCREASE IN ANXIETY AND STRESS
Stress comes with being an agent. There will always be stressful days in any industry, but especially common in real estate. The problem begins when you notice a negative change in the levels of stress and anxiety you feel. It is also a sign of burn out when tasks that were normally easy to you, now give you a sense of anxiety or stress. When normal days result in an anxiety attack, you might want to consider if you are burnt out, or if there is another triggering factor.
SIGN 5: THE OPPORTUNITIES TURN INTO OBLIGATIONS
One of the biggest signs of burn out is when everything becomes an obligation or a job. Instead of being inspired and having the mindset that you are making a difference in someone's life, you are simply going with the flow and doing what you have to do. Tasks that you found exciting and fun in the beginning are now just something to check off your list so you can go home.
SIGN 6: YOU ARE SECRETLY HOPING TO NOT FIND A CLIENT
Money is a motivator. It is a problem when it is the only motivation, but an even bigger problem when not even money will motivate you. This sign might be subconscious, and many might even deny they are feeling this way, however, it is definitely there. If a lead contacts you, and you secretly hope they choose another agent to work with because you would rather just not, we have a problem. Similarly, if you feel a sense of disappointment that you did score a client and now have to actually work, you are probably suffering from burn out.
Now, these signs are probably obvious to you. The thing about burn out is, none of us want it. Most of us hope that the stress, anxiety and unhappiness come from somewhere other than our careers. We look for any possible explanation to the dread we feel when going to work. The last thing we want to do is accept defeat in our jobs and have to search for something else. Unfortunately, burn out exists, and most working professionals will have to face it at some point.
The good news is, when you know the signs and accept your situation, you can take the steps to resolve it. Stay tuned for our next blog to learn how.