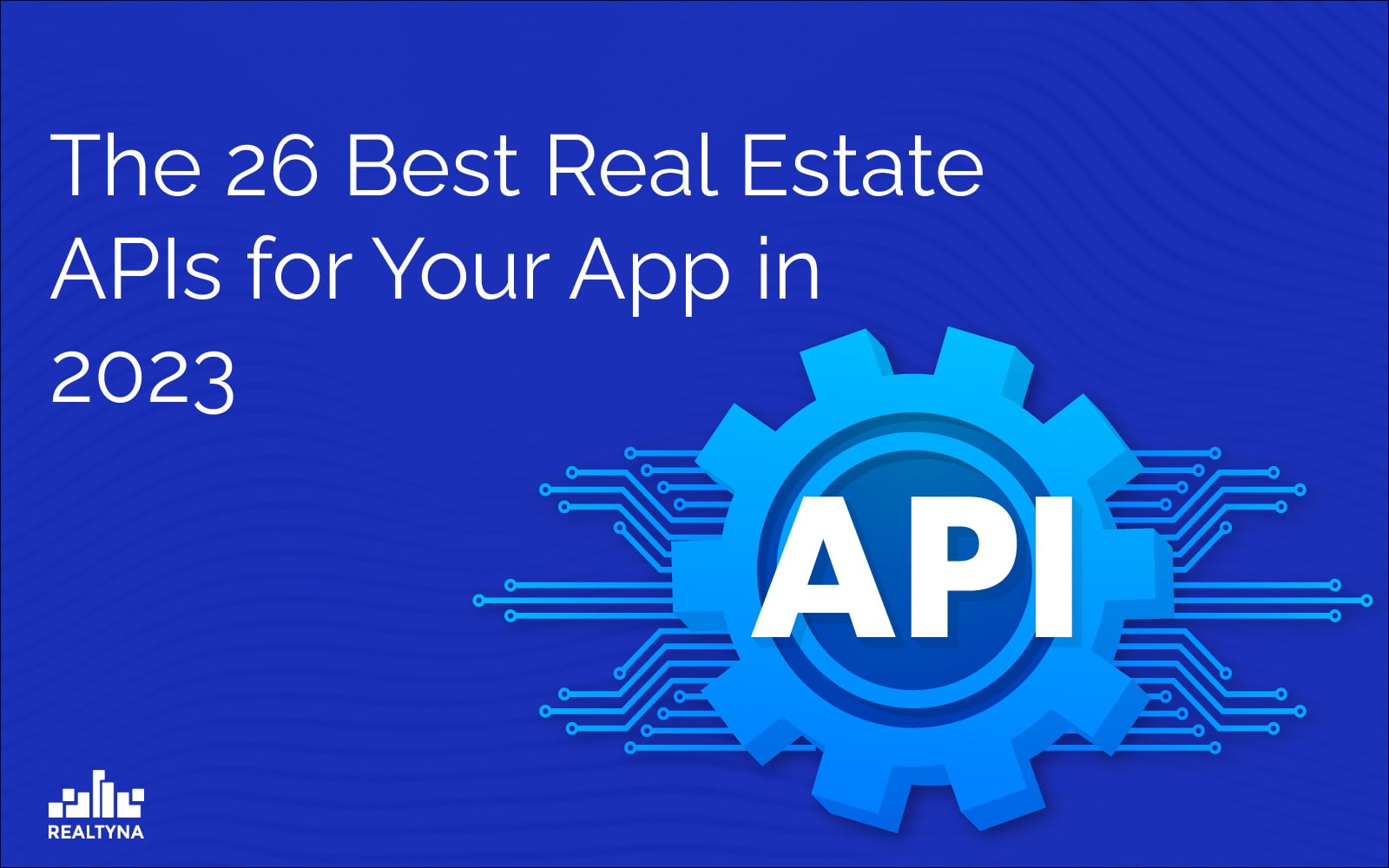 The 26 Best Real Estate APIs for Your App in 2023
04 Mar 2023

Posted at 12:06h
0 Comments
Real estate apps are better with data.
Home buyers want information to be confident in their offers.
And home sellers need knowledge to set the best prices.
Real estate APIs help real estate apps and websites win customers by providing the data they need.
What Are Real Estate APIs?
Real estate APIs provide fast and reliable real estate data from various sources to power real estate websites and apps.
The data can include:
Real estate listings

Nearby shops and restaurants

Transportation information

Neighborhood boundaries

Local schools
Most data available online about a property or the surrounding community is now provided via API.
Is There an API for Real Estate Listings?
MLS Router™ is a comprehensive API for real estate listings from MLSs across the U.S. and Canada that allows developers to incorporate up-to-date property data for apps on any platform.
How Can Real Estate APIs Help My Business?
Real estate companies are constantly providing more and more data.
APIs and real estate websites can empower your clients with knowledge and help you generate new business.
26 Best Real Estate APIs for Your App in 2023
Real estate APIs help developers and real estate professionals get the data they need to build a robust platform. We've collected some of the best from around the web.
Do you have a favorite real estate API? Let us know in the comments.
1. MLS Router™ API
MLS Router™ API provides nationwide access to property listings in the U.S. and Canada via MLS data feed. RESO certified and MLS compliance capable, MLS Router™ is a comprehensive data service that includes:
Listings data

Open Street Map

CRM Data IO

CDN Service

Market Statistics

Demographics Data

Neighborhood Data

Open Houses
MLS Router™ supports real estate app development with headless architecture.
2. Yelp Fusion API
Yelp Fusion API allows you to pull data about places of interest and show them on a real estate property map or individual listing pages. Yelp Fusion provides attributes for millions of businesses around the world. Available data include:
Business Name

Location and Contact

Price Information

Customer Reviews

Website

Photos
Yelp Fusion provides up-to-date access as new reviews and photos are added.
3. Walk Score API
Walk Score API grades locations by walkability and provides this information in a data feed for apps and portals. By providing the distance to local amenities, public transportation options, and bike infrastructure, Walk Score API can give robust context to a real estate listing or rental.
Walk Score API location information includes latitude, longitude, and address, and returns the corresponding data in JSON or XML.
4. GreatSchools API
GreatSchools API provides comprehensive data on K-12 schools throughout the U.S. The GreatSchools ratings include grades for college readiness, test scores, equity, and student progress. Other data included in the data feed are:
School Name

Location

Grade Level

Reviews

Public or Private

Contact
By providing the address of a property or home, users gain access to a vast dataset of nearby schools.
5. Realtor Property Resource API
Realtor Property Resource is a comprehensive database of property, school, demographic, neighborhood, and tax data provided exclusively to real estate agents by the National Association of Realtors. Offered exclusively to NAR members, RPR helps agents stay informed about the real estate market, identify trends and share data with clients.
Marketed as the nation's largest property database, RPR includes property listings from hundreds of MLSs across the U.S. with open houses, virtual tours, and valuation data.
6. Census Economic Indicators API
The Census Bureau's Economic Indicators API allows users to pull monthly and quarterly data for various measures of U.S. economic activity including several directly related to real estate. Collected from nationwide surveys, the data include new residential construction, vacancies, home sales, and other statistics that give context to local markets.
Like other government data providers, Census offers access to its Economic Indicators API free of charge.
7. Census American Community Survey API
If you're not able to find the data you need from the Economic Indicators API, you can check the American Community Survey API, a vast dataset of demographic, household, and social statistics for communities around the nation. The ACS data includes household characteristics such as Internet usage, heating fuel, and homeowner or renter status. It also includes the year built, year householder moved in and estimated homeowner costs.
The ACS data is updated annually and contains some of the richest profiles of community life in the U.S.
8. Foursquare Places API
The Foursquare Place API enriches maps and locations with data on more than 100 million points of interest around the world. Each Foursquare place includes information such as:
Name

Address

Hours

Website and Social

Crowd level

Price

Photos

Reviews

Tips
Powered by consumer check-ins, the Places API data updates continually with new insights.
9. Risk Factor API
Risk Factor API provides an assessment of environmental risk for more than 24 million properties around the U.S. Itr takes into account climate models to rate a property's exposure to flooding, fire, and heat in current and future conditions.
The Risk Factor API includes data on:
Estimated flooding

Likelihood of wildfire

Estimated extreme heat days

Cost of damages

Cooling costs
Risk Factor helps real estate owners, investors, and agents understand environmental risk and preserve value.
10. RealEstateAPI.com
RealEstateAPI.com provides a variety of real estate data and tools including, property search, autocomplete, property details, property comps, and property boundaries. The APIs include over 150 million properties nationwide with parcel, building, owner, tax, and mortgage data. Users can gain insights and develop applications with real estate data that can help grow their businesses.
11. Climate Check API
Climate Check API allows users to pull data on heat, precipitation, drought, flooding, and fire hazards based on address. The data includes the number of extreme heat days, annual risk of burning events, number of high wind, wet or snowy events, water supply stress, and coastal, surface, and other flooding. The ratings are relative to other addresses in the U.S. and incorporate the change in risk through the year 2050.
12. Google Maps API
The Google Maps API powers real estate portals on websites across the web. Google Maps allows users to add map layers on their site and customize them with listings and other data. With information on millions of businesses and places, as well as imagery and photos, Google Maps remains one of the most important data sources for real estate professionals.
13. INRIX Drive Time API
The INRIX Drive Time API helps users measure commutes by estimating travel times in minutes rather than miles. Drive Time data uses typical traffic patterns to provide driving estimates by time of the day and day of the week. The Drive Time API can be used to generate listing map searches based on how long it takes to arrive at a particular location.
14. WattBuy API
The WattBuy API provides estimates of a home's annual expected electric usage. Electric usage can be queried by zip code, which returns usage for an average home in that area, specific address, which provides estimates for that specific property, or general home parameters, which generates new estimates from the model. The API returns:
Carbon Footprint

Utility rate

Expected bill

Electric solar estimate

Local fuel mix for power generation
15. Transit API
Transit API is a real-time database of transportation options for cities around the U.S. The API provides locations, departure times, and trip planning for trains, buses, bikes, and other transportation. Real estate professionals can use Transit API to find stops near a particular location or estimate travel times.
16. HowLoud API
The HowLoud API helps users estimate noise levels at a particular location. The API provides Soundscores for addresses across the U.S. to quantify estimated exposure to noise from traffic, emergency services, nightlife, and other sources. API users can also retrieve a heatmap, which provides a visual representation of noise in a given community.
17. Precisely Neighborhoods API
The Precisely Neighborhoods API allows users to attach neighborhood information to properties or locations worldwide. Provided a latitude and longitude, the API returns the neighborhood name and type, such as municipality, township, or neighborhood.
18. Zyla Cost of Living API
The Zyla Cost of Living API provides the cost of living estimates and average price data for more than 8,000 cities around the world. Price information includes goods and services such as:
Food

Clothing

Healthcare

Education

Rent

Other housing costs
The API also includes data on average salaries. And it can improve real estate listings by helping users understand how far their income will go in a particular community.
19. Boundaries iO API
Boundaries iO is a dataset of postal code, administrative, place, and neighborhood boundaries for the U.S., U.K., Canada, and Germany. The API allows users to combine boundaries for custom use cases. The responses are provided in GeoJson by default and allow for integration with websites, maps, GIS systems, and other applications.
20. Weather API
Weather API provides real-time and historical weather data as well as air quality information based on location. API responses include:
Wind speed and direction

Pressure and humidity

Temperature

Cloud cover

Emissions and particulate readings
Historical data include readings from January 2010 to present and help add weather trends to real estate listings.
21. PVWatts API
PVWatts is an API developed by the National Renewable Energy Lab to help estimate the solar potential of a given property. The API takes in a location and potential photovoltaic system information and returns estimates of monthly solar radiation and annual energy production.
22. Trailforks API
The Trailforks API can improve real estate listings with information on thousands of hiking, biking, equestrian and other trails and recreation locations around the U.S. The API data includes:
Trail type

Activity type

Difficulty

Trail features

Trail status

Trail conditions

Points of interest
23. PubRec API
PubRec provides public information about millions of real estate properties nationwide. The API includes more than 110 data points for each property, including property ID and characteristics, assessment and tax information, owner and sale data. The API takes in an address and responds with data in JSON format.
24. U.S.A. Sales Tax by Zipcode API
The U.S.A. Sales Tax by Zipcode API does exactly what it says it does; it provides sales tax information by zip code across the U.S. Real estate professionals can use the API to provide more information to buyers about how far their income will go in a particular location. The user provides a zip code and the API responds with state, county, city, and other tax rates.
25. Mortgage Monthly Payment Calculator API
Mortgage Monthly Payment Calculator is a simple mortgage calculator API that helps users estimate the monthly cost of buying a home. The API takes in the purchase price of a home, downpayment, interest rates, and other factors, and it returns an estimated monthly payment. Mortgage Monthly Payment Calculator API has applications across the real estate industry.
26. Plant Hardiness Zone API
The Plant Hardiness Zone API takes in a zip code and returns the U.S. Department of Agriculture plant hardiness zone. Hardiness zones provide a rough guide to help landscapers and gardeners select plants that can survive conditions in a particular part of the country and can add helpful information to real estate listings with outdoor space.
Nearby Doctor can provide more information about real estate listings by showing how close they are to medical services.
Bonus WPL API
For users of Realtyna's WPL platform, we offer the WPL API, which allows you to access WPL data via API on any platform. WPL API users send queries to access WPL data outside of the WPL plugin, allowing for custom development and the creation of new apps. WPL API processes include user registration, login, retrieve listing types, load properties, and filter.
FAQ
A lot of users have questions about real estate APIs. We provide answers to some of the most common below. We will update this section, so check back for more answers.
What Is an API in Real Estate?
An API in real estate allows users to access real estate data and other information, such as property listings, nearby shops and restaurants, transportation options and neighborhood characteristics, to supplement property listings or build out a real estate application.
Does the MLS Have an API
No. The MLS does not have a single API for all property listings across the nation. Users seeking real estate data in multiple communities can use MLS Router™ API to commingle listings from different MLSs in the U.S. and Canada.
Final Thoughts
Real estate APIs provide powerful data that can inform buyers and improve property listings. The more relevant data you provide, the more clients can count on your platform for up-to-date listings and robust context.
Questions or feedback? Contact us for more information on how MLS Router™ can work with your business.