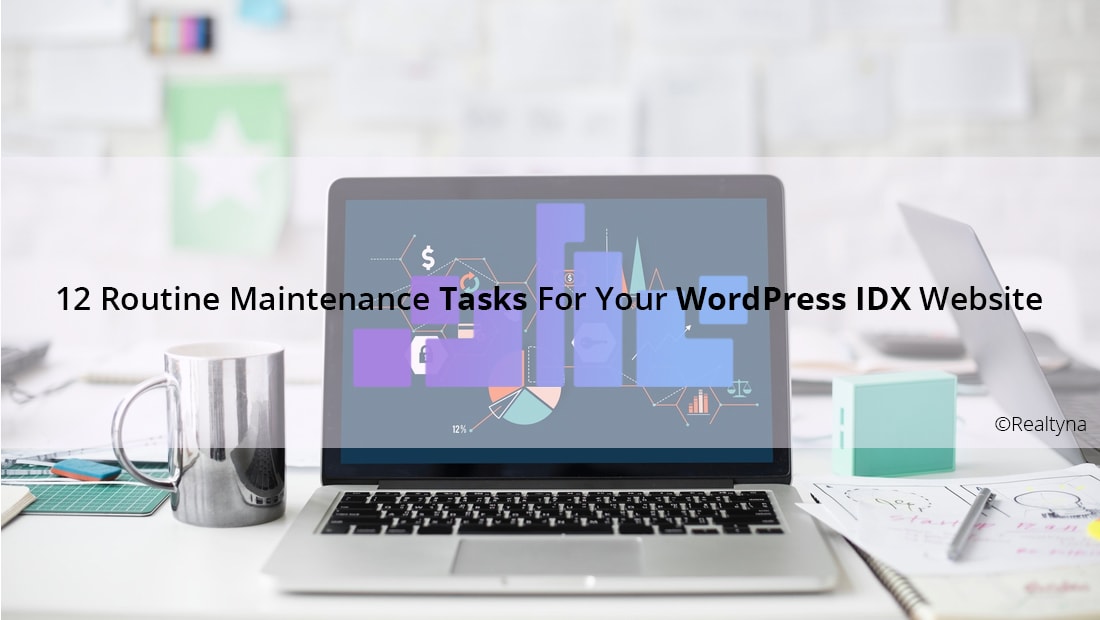 12 Routine Maintenance Tasks For Your WordPress IDX Website

Posted at 10:38h
0 Comments
Routine website maintenance is standard practice for any business that generates revenue online. But because real estate agents are stretched so thin, these essential tasks are often neglected.
To help you keep your site running smoothly we've compiled a list of 12 routine maintenance tasks for your WordPress IDX website. Completing these tasks on a regular basis will help you maximize your lead generation and grow your general web presence.
How Often Should I Conduct Routine Maintenance On My WordPress IDX Website?
Your maintenance schedule should be a function of the traffic your site receives. If you are generating hundreds of leads a day and rely on your website for the bulk of your income, you should complete these tasks at least once a month. If your website is informational only, and the loss from a potential outage is less, a three to six month schedule is probably fine.
Routine Maintenance Tasks For Your WordPress IDX Website
Check logs for security breaches

Scan for malware

Backup your site

Update WordPress as well as your plugin and themes

Test front-end website features

Test IDX feed

Run general performance check

Review SEO

Update staff and contact info

Update your portfolio

Delete unwanted drafts

Delete spam comments
Check logs for security breaches
You may not know it, but your site tracks virtually all the activity that occurs on it. This information is stored on logs accessible through cPanel. You should review these logs for irregularities, especially concerning logins or FTP access. By including this in your routine maintenance you can more quickly spot and address security issues.
Scan for malware
If your site gets infected with malware—even for a short period of time—it can have a drastic negative outcome on your business and brand. Therefore, we recommend making a malware scan part of your routine maintenance checklist. There are more than a dozen malware scanners for WordPress. These will check your site for malicious code and vulnerabilities, allowing you to stay clear of troublemakers.
LUKE'S TIP:
Backup your site
Taking regular backups will provide insurance against a hack or another issue that causes information loss on your WordPress IDX website. You can launch a full backup from your cPanel > Files > Backup. The process will save all the information on your website into a file that you can download to your local computer. If you ever need to restore a previous version you can re-install this file.
Update WordPress as well as your plugin and themes
We all have excuses for not updating the software on our computers and phones.
"I can't do it right now."
"I'll do it tomorrow."
Don't let this be you with your WordPress IDX website. Considering that your livelihood depends on your site, you should run a software update as soon as you see it is available. This can be done directly from your WordPress back-end under Dashboard > Updates.
Test website features
Take some time and go through the features on your WordPress IDX website one by one. Complete any forms you have and make sure you are receiving all proper notifications for website activity. Nothing is more frustrating for a lead than getting no response to a web inquiry.
Test IDX feed
It is also important to test your IDX feed on a regular basis. Run some searches on your front end. Then, log into your MLS system and run the same searches. If your IDX feed is updating correctly you should see the same results. If you find it is not updating correctly, you should contact your MLS or IDX vendor to diagnose the problem.
Run general performance check
To get a sense of how your site is operating, you can run a performance check. One of the most popular is Google PageSpeed Insights. It's important to run these checks often because the performance of your WordPress IDX website affects how your leads interact with it.
Review SEO
SEO determines how visible your WordPress IDX site is on the web, so it is important to monitor how your site is doing in this regard. Run a Google search using some of your key search times and see how your site ranks. For more analysis, check out Google Keyword Planner.
Update staff and contact info
Leads that want to contact you should be able to do so quickly and efficiently. So make sure your staff and contact lists are updated at all times.
Update your portfolio
It's easy to overlook your portfolio as you move from one project to the next. But very few website features confirm your abilities like your portfolio. Make updating your portfolio part of your website maintenance routine and you'll see the benefit in the form of more leads.
Delete unwanted drafts
Over weeks and months of work, you will start projects, blogs, and listings that you'll never finish. Anything you know you won't go back to in the future, you should delete. This will help keep your website back-end organized and prevent accidental posts.
Delete spam comments
Any site that allows comments and reviews will receive some portion of spam. It's good to clean these out on a regular basis so they don't crowd out what matters.
You now have everything you need to maintain a strong WordPress IDX Website.
For more, check out:
13 Steps to Build An IDX Real Estate Website With WordPress
9 Real Estate SEO Tips to Generate More Leads From Your IDX Website Today
9 SEO Friendly WordPress Real Estate Themes You Can Use Today