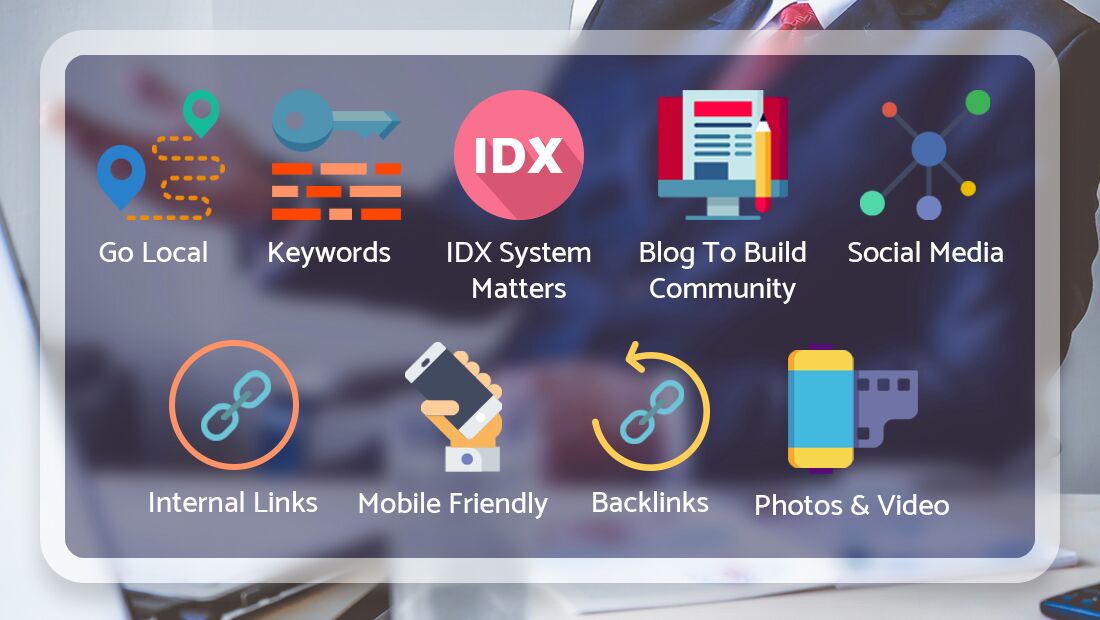 9 Real Estate SEO Tips to Generate More Leads From Your IDX Website Today

Posted at 15:18h
5 Comments
Real Estate SEO is its own sort of art form. With some thoughtfulness and attention to detail you can boost the number of visitors to your site and generate more sales leads.
Here are 9 real estate SEO tips you can use today.
Go Local
It's important for real estate agents to keep their sites as specific as possible.
The fact of the matter is that real estate SEO is competitive. Type in "New York area homes for sale" right now. What do you see? All portals, right?
Initially, there is not much you are going to be able to do outrank large companies for this type of search term. Instead you should think as narrow as possible.
"farm and land Ulster County NY"
"Hudson Valley river view homes"
These are better search terms. But you can get even more granular. Consider communities or neighborhoods. No one knows the details of your market like you. This is a huge advantage you have over the portals and large real estate companies. You can tell your clients what small town or what neighborhood is best for dog owners, or for young families, or for a couple that wants easy access to weekend getaways.
"Hudson Valley homes with hiking access"
"children friendly neighborhoods in Poughkepsie NY"
These are the types of search terms you should to target to create a niche for your website. Create a list of all of them that fit your business and keep it as a guide as you build your real estate SEO.
Keywords
Now that you have some search terms in mind, you want to show search engines you are an authority on the subject. To do this, you need to use keywords that allow your website to appear for related web searches.
Remember your list of search terms? You should create a page on your website with keyword for each item on this list.
When creating these pages, your keywords should appear in a few essential places:
1) Url
2) Title
3) Body
4) Description
5) Photos
Let's take Hudson Valley Homes With hiking access as an example. Your page should be as follows:
URL: https://yourwebsitename.com/hudson-valley-homes-with-hiking-access
Title: The Best Hudson Valley Homes With Hiking Access
Body: A key to real estate SEO is sprinkling the desired keyword in the body of the page, so it reappears occasionally as the user or search engine reads.
Description: Just like the page title, your keyword should be included in the page description.
Photos: Any photos you use on your page should have a related title (i.e. hudson_valley_homes_with_hiking_access.jpg)
IDX System Matters
Once you've created your pages with keywords, you need to include relevant content for your customers. It's important to pause here and talk about IDX technology because it has an impact on real estate SEO. There are generally two types of IDX systems available for real estate agents:
•IDX Framing
•Organic
We go into the details of these technologies here: https://realtyna.com/blog/what-is-idx-framing/
and here: https://realtyna.com/blog/framed-idx-alternatives/
and here: https://realtyna.com/blog/best-wordpress-idx-for-seo/
The important thing to know is that in terms of SEO, organic is far superior to IDX framing. With organic MLS systems, your property listings will reside on your website servers, allowing them to be indexed or "read" by search engines.
IDX framing systems use a visual design trick to display listings on your site that actually reside elsewhere. This design trick, known as a "frame," is not recognized by search engines and saps your SEO.
Blog to Build Community
Another way to improve your search engine visibility is to produce original content on a blog. Think about the questions your clients ask. Do you get some more than others?
It's probably a sign that the answers to those questions are not readily available online. Provide this information on your blog and you'll start attracting users asking the same thing.
Blogging also can help you build a sense of community for your site. Consider allowing reader contributions and photos to keep your visitors engaged and coming back to your site.
We have more tips on real estate blogging here:
https://realtyna.com/blog/boosting-real-estate-business-blog/
Social Media
Coordinate your website and blog with Facebook, Pinterest, Twitter, etc. This will help you drive more traffic to your site. Also, search engines will associate the information on your blog with your social media activity, improving your rankings.
Internal Links
Every page you add to your site should include links to other pages on your site. This will help your website users find more information and keep them browsing longer. It also will allow for more indexing of your site and improve your search engine visibility. For example, if you create a new page and link to an old blog post, when a search engine indexes this page, it will find the old blog post again and associate it with any relevant keywords.
Mobile friendly
More and more home searches are on mobile and tablet, which means your website should be mobile responsive. Mobile responsive means your website will automatically rescale based on viewing device. This will improve your SEO by improving your site's usability. Users aren't going to click through many links if your site is clumsy on mobile devices. A responsive site also will improve your page load times and make it easier for your users to share your site on social media.
Backlinks
You should use backlinks to create a paper trail to your site around the web. This will help you attract users even from sites that are not yours. The best way to do this is to have great content and a great blog. This will get your users talking about your site and linking to it. But there are some things you can do yourself to create more backlinks. If you read a blog you like, leave a comment and link back to related content on your site.
Photos & Video
Photos and videos are some of the most popular content on the web. This is where real estate websites have a natural SEO advantage. Browsing home photos is fun, even for those not currently looking to buy a home. Ideally, you want your users to find your site through a search engine then get stuck there. If they click through a few on your site, search engines will improve your rankings for the related search terms.
There are so many ways to generate content on your real estate site. We have no doubt you'll find cool and interesting ideas to attract new visitors to your site and improve your real estate SEO.
Or contact us today for a free real estate SEO consultation: https://realtyna.com/real-estate-seo-enhancement/