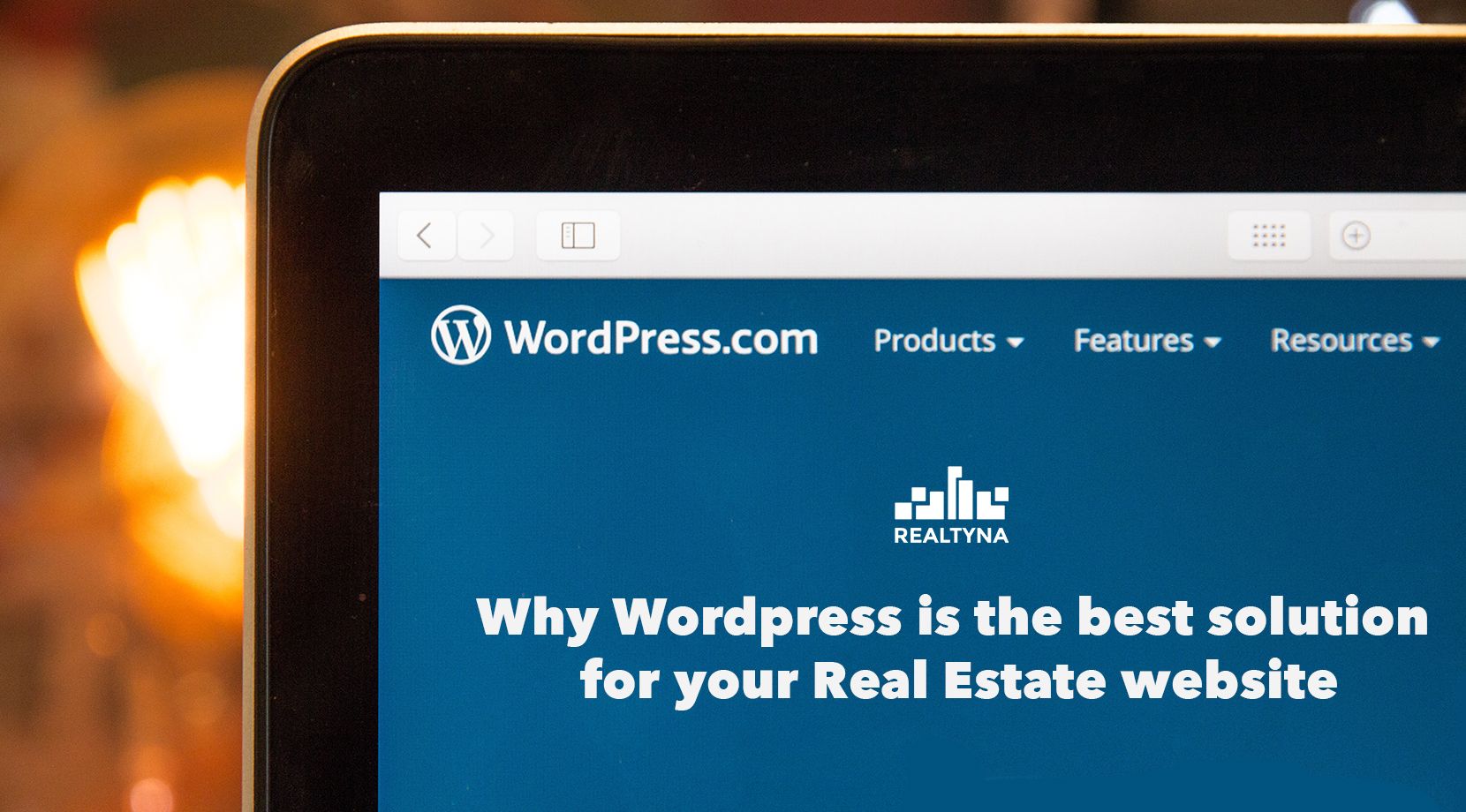 Why WordPress Is the Best Solution for Your Real Estate Website
16 Apr 2021

Posted at 11:00h
0 Comments
Just about every company, regardless of whether it is mainly online or not, has a website. Small businesses might use social media to contact clients, while larger organizations use websites for their business. Online companies have the additional advantage of having access to a digital marketplace around the clock.
If you are in the real estate industry, your focus is undoubtedly on achieving set goals, being trustworthy, and buying. We can assure you that websites not only assist you in achieving these goals, but they work in your best interest, and you can obtain these results.
Choosing a website design and maintaining its content is not easy. It is one of the main reasons many websites today use already built content management systems (CMS). They make updating pages a lot easier and less time-consuming with zero technical support involvement.
There is an unquestionable rise in the popularity of WordPress with the software now having at least 60% of the CMS market share. WordPress is simple, easy to set up, easy to handle, and it can be done without any prior programming experience.
There are dozens of pre-made themes to use when setting up your website. Also, you will have access to over 50,000 free WordPress plugins, which provide extra functionality and can be used to reach your international clients through multilingual web pages.
If you're still not sure that WordPress is the perfect platform for running your real estate company online, we've assembled a list of reasons why you should consider it.
Reasons Why You Should Choose WordPress For Your Real Estate Website
1. WordPress Has the Largest User-Base and the Most Popular Community
WordPress, which started as an offshoot of another CMS and was first published on May 27, 2003, by Matt Mullenweg, is now the most popular CMS on the Internet. About 14.7 percent of Alexa Internet's top 1 million websites use it, and 22 percent of all new websites have been managed on WordPress since August 2011.
Beta 3.0 had been downloaded over 65 million times as of December 2011, while version 3.3 has been downloaded over 9 million times. Overall, WordPress is used to fuel almost 15 percent of all websites on the Internet.
The success of WordPress is beneficial to an agent as a website owner for three key reasons:
It is open-source, implying that many developers can significantly improve its consistency.

As more site owners use it, the software gets more reviews, bugs and glitches are fixed faster.

The demand for plugin developers is great and lucrative. It allows developers to design top-quality themes and plugins. WordPress has over 17,000 plugins and 1,500 free themes developed by several thousand developers since August 2011. Excellence is promoted through the high competitiveness among developers.
2. WordPress Offers Several Features for Fairly Moderate Prices
Since WordPress is open-source, the core WP system is free. It is a perfect starting point that allows an agent to reduce the total price tag on any custom design or incorporation. UsuallyRealtors would need to pay for site design quality, data integration, content management software, personalized features, customer management tools, syndication tools, marketing management tools, comments framework, and web hosting. With WordPress, an agent might not need to make payments for these additional tools if they work on their sites themselves. There are a plethora of free themes available for DIY WordPress users.
3. WordPress Isn't Just for Startups and Small Businesses.
WordPress is used by some of the world's most popular companies and blogs, such as CNN, Mashable, TechCrunch, SONY, The New York Times, Placester, Volkswagen, StyleWatch, UPS, Reuters, Lollapalooza, Smashing Magazine, and Ellegirl.
Your WordPress website will expand with your company, no matter how small it starts. WordPress will scale your company needs, and you're never going to outgrow your site. Your business can expand with your website no matter how small you start.
4. Easy To Use
Even as an individual with little programming knowledge, a real estate agent can have an initial website ready in about five minutes, which requires, depending on the service, setting up the hosting account. Of course, there's the aspect of technology incorporation, branding, customization, SEO, content development, and copywriting that needs to be done, besides all the conventional technologies that a real estate professional might like to incorporate. But it is astounding to have a simple website ready to add content for you via a world-class CMS that can be set up within a few minutes.
5. Ownership
We can't stress enough how critical this is. If you start building a website that you don't own at any point, it will affect you adversely sometime later.
By ownership here, we mean that as long as you've got your hosting account up to date, your site will never go anywhere, go out of business, switch owners, change owners, leave business, become obsolete, change offices, etc.
Interestingly enough, most real estate websites that ranked on Google's first page for strong keywords are there simply because of how long the website has operated.
6. Themes
WordPress themes allow you to build the basis for a beautifully crafted website, such as the best real estate agent website. The WordPress theme repository officially includes 3,815 free themes.
Developers like StudioPress, Agent Evolution, Theme Forest, and Elegant Themes provide a handful of premium themes.
7. Plugins
Since there are so many great things you can do with plugins, let's discuss them more thoroughly as the list progresses.
WordPress plugins are small applications that you can conveniently add to your platform to meet a functional requirement. The WordPress Repository includes 43,768 plugins.
There are also several "Premium" plugin creators, such as Code Canyon, iThemes, and WPMU DEV.
8. SEO
There is a lot to say about SEO, but we won't cover it all in this blog. However, Google Spam's Matt Cutts openly confirmed that self-hosted WordPress sites are advantageous for SEO. He claimed in his WordCamp presentation that "WordPress automatically fixes a lot of SEO issues."
9. Landing Page
You may have heard that a landing page, capture page, or squeeze page is needed to produce leads online. These are essentially one-page websites that have something in return for the visitor's contact information, resulting in a lead.
With the aid of a contact form plugin, WordPress makes designing landing pages very easy. You may also use Leadpages.net to build landing pages and link them into your WordPress account using their plugin.
10. Flexible
Your WordPress site will serve as a CMS, landing pages, and a blog, as previously explained. Single agents, small companies, and firms all use it. It can be used for e-commerce, classified ads, social media, and corporations. WordPress has plenty of capacity to meet the demands of any company.
11. Safe
Protection is a top priority for WordPress. The platform is vulnerable to threats because it powers 25% of all websites. However, WordPress recognizes this and releases fixes regularly to keep the software safe and stable.
However, it is preferable to be healthy than sorry. If you use a managed WordPress hosting service, the account can come with extra security features, including a firewall, virus scanning, and automated backups.
You can use plugins like iThemes Defense, Jetpack, WordFence, and Restrict Login Attempts to provide extra security to your site.
12. Free Updates
WordPress's large group is still working on new features, upgrading existing ones, and solving security concerns. As a result, they have free updates daily.
When a new edition of WordPress is available for free, WordPress will notify you. After that, all you have to do is hit a button to switch to the most recent edition.
13. Referrals
Even better than leads are referrals, and WordPress will boost the generation of your referrals too. The blogging site is suitable to exchange knowledge about your industry and to show people what you know.
If you have given your details to customers, they will more likely call you personally and ask you about your services.
14. IDX Integration
Most IDX providers include a plugin like Realtyna's WPL to merge their service with your WordPress website. A lot of these providers often sell only a plugin or only offer WordPress. Even if a particular plugin is not available, any IDX will easily be incorporated into WordPress.
Pages, widgets, and posts make it easy to incorporate all the IDX features and a good explanation why WordPress is the perfect platform for real estate agents.
15. Social Media
It's simple to transform your website into a social media powerhouse with the aid of themes and plugins. Link to your social media accounts, allow social networking and post your content to your social media platforms with ease.
16. Forms
Forms are an excellent method of lead capture, and they come in a wide range of configurations, shapes, and sizes, many of which are compatible with WordPress.
Numerous WP themes have contact forms, and you can also use plugins like Contact Form 7 or Gravity Forms to add forms to the WordPress pages quickly.
17. Leads
WordPress is ideal for lead generation. Several options are available for converting the WordPress account into a lead generation tool and is an asset to a real estate agent.
In Conclusion
Currently, there are several software that real estate professionals can use for their websites. However, with so many valuable tools and advantages, WordPress websites remain the best platforms for real estate agents.
If this article was helpful to you, you might find these interesting: Top Real Estate Blogs for Agents and What Does IDX Mean in Real Estate.