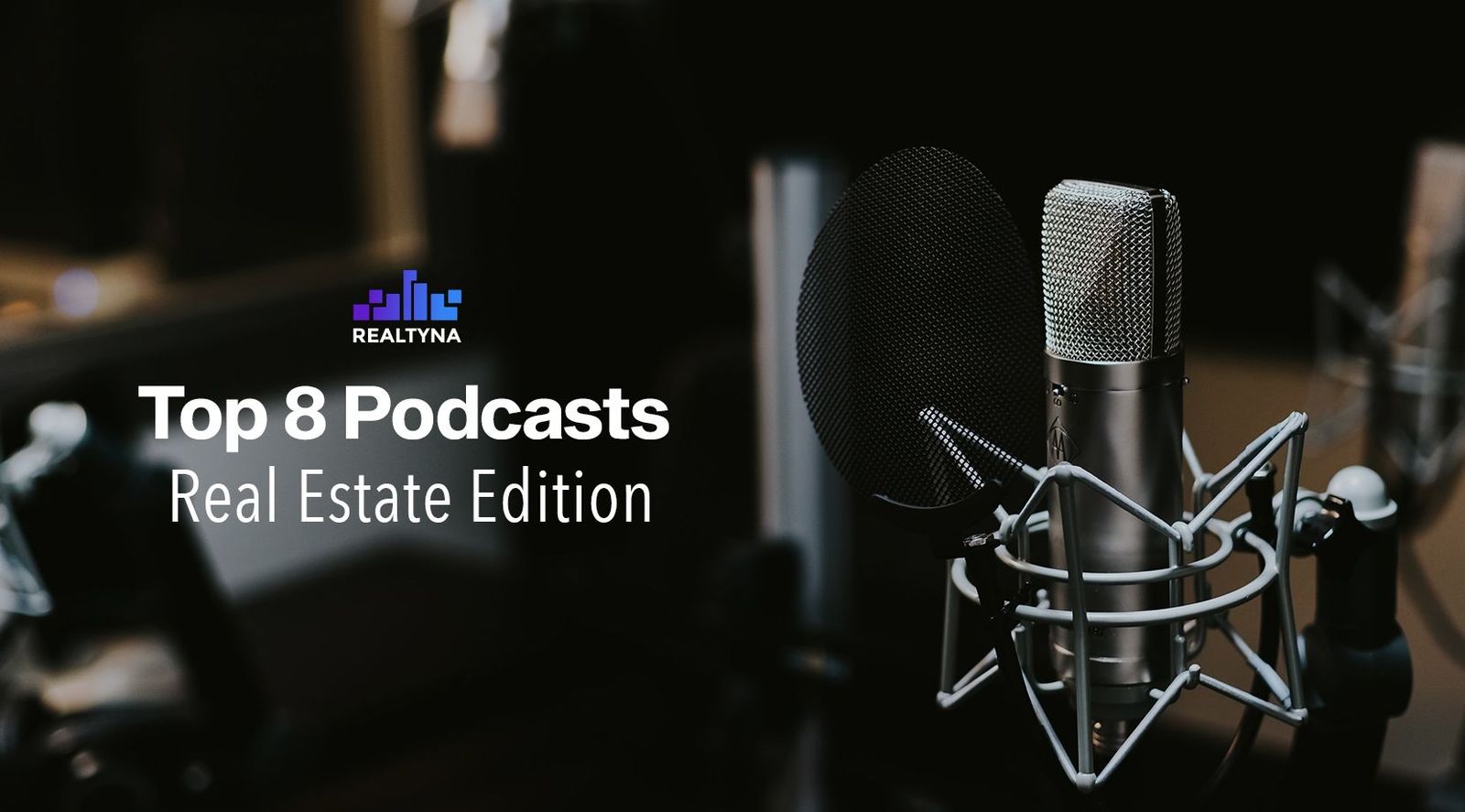 Top 8 Podcasts – Real Estate Edition
05 May 2021

Posted at 11:00h
0 Comments
Real estate agents, brokers, and simply professionals are doing hundreds of tasks on a daily basis. Being in this huge industry requires you to stay on top of trends, which can be a little bit difficult for such busy people. Fortunately, it is the 21st century, and we have the opportunity to get all the information we want with the help of the internet.
For real estate professionals, the best way to get any information while being busy, is to listen to podcasts.You can simply listen to podcasts when you are driving, walking or while you are working out. This is the most simple, yet brilliant way to get more information and education in your area of activity.
Today, we are going to speak about the top 8 podcasts for real estate agents, professionals or anyone who is interested in this industry. We will outline 4 U.S. podcasts and 4 Canadian podcasts. If you love listening to podcasts, this is definitely the right blog for you to read.
Let's jump into it!
U.S. Real Estate Podcasts
There are many U.S.-based podcasts available on the internet, especially speaking about the real estate industry. In this blog, we will stress the four main podcasts available for real estate professionals.
GSD Mode
This podcast can simply be considered as the most popular podcast about real estate. Joshua Smith is the host of GSD Mode. Joshua was voted the 30th Top Realtor in America by The Wall Street Journal. He has mentored thousands of Realtors all over the world. In the podcast, he shares his experiences, story of success, and interviews with real estate professionals. Some of the podcasts of GSD Mode include the following:
Why Realtors need to "think bigger" when building & maintaining relationships!
The most effective ways for Realtors to market themselves online!
The secret referral formula for Realtors- grow your real estate business through relationships.
Real Estate Agent Success Calls
The host of this podcast is Mike Cerrone, who has been in the real estate industry for twenty years. He released his first episode in 2017. Since, he has interviewed hundreds of real estate agents, brokers and professionals in the real estate industry. This podcast is mainly concerned with the success stories of his guests, and it demonstrates to listeners how successful the real estate industry can be. New episodes are published once every two weeks. You can see some of the titles of this podcast below:
Caleb Spears. How A 23 Year Old Agent TRIPLED His Production In 12 Months By Focusing On 1 Number.
Darren James. Sold 52 Homes In One Year Working Part Time. Hiring Team Agents Who Average 36 Closings Per Year. Social Media Content Calendar and Content Compounding.
Scott Kato. Small 350 Person List Results In 60 Closings And 32 Million In Sales Plus How To Find A Cheap Virtual Assistant.
Kevin Ward's YES Talk
The host of this podcast is Kevin Ward, a well-known public speaker and real estate trainer who has been coaching hundreds of real estate agents. He shares new podcast episodes every Thursday. His podcast can simply be considered as a source of education. He also has a YouTube channel where he uploads small videos about the real estate industry. Some of his podcast titles include the following:
How to make 2020 better than 2021
2021 real estate market podcast
Real estate 2021 – how to get more listings
Rev Real Estate School
Michael Montgomery's podcast is definitely something you should listen to if you want to study tricks and tips in the real estate industry. This podcast comes out with new episodes two or three times a month. Michael teaches listeners how to make more deals as real estate agents, marketing strategies and more. Some of the titles are outlined below:
10 ways to improve sales skills
Build your confidence in real estate
Unique strategies for geo farming

Canadian Real Estate Podcasts
As the real estate industry plays a huge role in Canada, there are several good podcasts to listen to if you are interested in this industry. In this blog, we are going to highlight four main podcasts available there. Here, three of this podcast includes two hosts and the other includes only one host.
Vancouver Real Estate Podcast
This podcast is made by two brothers, Matt and Adam Scalena, who share information and analysis on the Vancouver real estate industry every Wednesday. As these brothers know what they are talking about, this is the right podcast to listen to if you are interested in the Canadian real estate industry. Here is the list of some of the podcast available there:
Legacy Building with Bosa Properties CEO Colin Bosa
Fortune Favours the Bold with HGTV's Todd Talbot
Your Real Estate Retirement Plan Simplified with Jenny Bayless & Chris Lopez
A Canadian Investing in the USA
The author of this podcast is Glen Sutherland. If Canadians want to invest abroad, especially in the United States, then this is the right podcast for them to listen to. Mainly, this podcast outlines themes such as property taxes, lower-cost enty in the United States and more. Some of the titles of podcast includes:
USA Landing for Canadians!
Negotiating Creative Purchases with Kenny Clark
How to Buy Large Multifamily Apartments in depth with Darcy White
Breakthrough Real Estate Investing Podcast: Canadian
This podcast has two hosts, Rob Brake, who is an entrepreneur in residential real estate investment and Sandy MacKay, who is an experienced Realtor in Ontario. Their podcasts are published every week on Tuesdays. In their episodes, they share experiences and conversations with professionals in the industry. Some of their podcasts include the titles written below:
Bradley Watson on real estate trends in the industry
Analyzing markets with Nickey Calford
Developing communities of the future with James Burton
The Your Life! Your Terms! Show
This is the podcast made by two brothers, Tom and Nick Karadza, who are brokers and real estate investors. They share their experience with visitors about the real estate industry. They chat about the economy, the real estate industry in general, building a business and more. This is a small list of what they talk in their podcast:
Ali from Tahinis – Egypt to Canada, Business Building, Bitcoin & Living Life on His Terms
Marko Radosevic & Fernando Cipriano – 2021 Economy, Real Estate Market, Debt Levels & Where We Go From Here
Rohit Nair – Journey to Canada, Investing, Real Estate, Trading & Living Life on His Terms