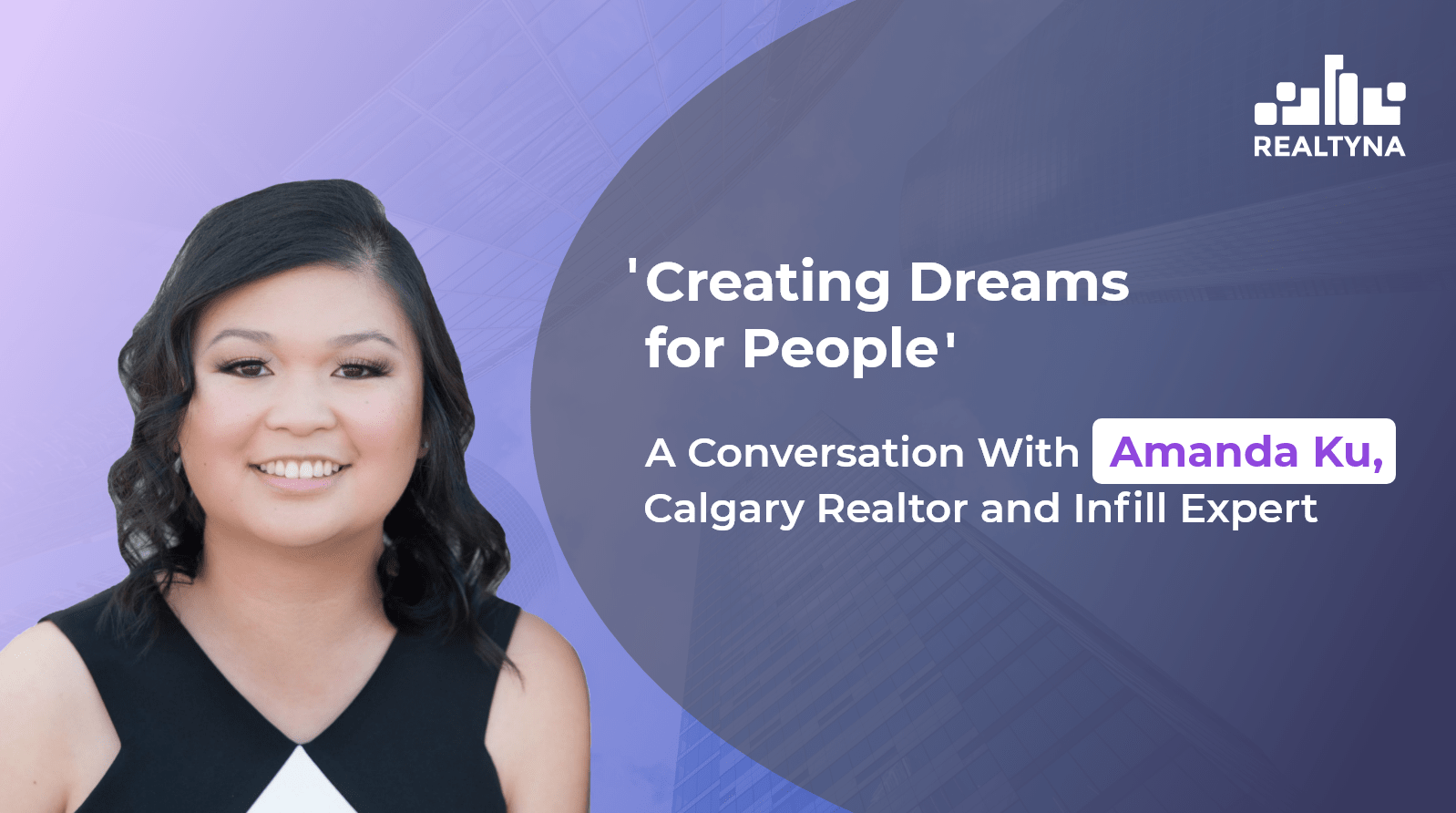 'Creating dreams for people' – A Conversation With Amanda Ku, Calgary Realtor and Infill Expert
18 May 2021

Posted at 11:00h
0 Comments
Amanda Ku is a Realtor and marketer based in Calgary, Alberta. In her ten years in the real estate industry, she has built a reputation as Calgary's most-trusted source on inner city infill development. She's also a member of the Real Estate Investment Network and an advocate in the community.
Amanda spoke to Realtyna in the first installment of our new client interview series. The transcript has been lightly edited for clarity.
Realtyna: Let me start by saying thank you for taking the time to do this. I know you are really busy. We want to hear from our clients to hear what they have to say about their experience in the industry, so we can share it with our readers and our other clients.
Amanda: Thanks for having me Tait. I've been in the industry for about 10 years. Me and my business partner, we saw Realtyna online and we were like, "We do need a website." We researched a lot of services out there and we really like the products you guys have because one, it's organic. My business partner is more into that web design world. I've done simple tasks online. I've done blogging and some other things. To be able to know basic WordPress was really awesome because then you guys did all the heavy lifting of the back-end stuff.
There are like thousands of real estate agents. I'm in Alberta, Canada. The city is 1.5 million people. It's not a big city over all. We are the fourth biggest in Canada, but the state of California has like the population of Canada. But when you think of something like that and I have to compete with seven thousand real estate agents in the city of Calgary and surrounding area, it's like, how do I compete? How do I stay different? I knew for sure that a website was the way to go.
The thing that I really love to do is inner city infills. That's when a house is built on an old existing lot. Sometimes it becomes a duplex or a multifamily or a fourplex. I specifically niche'd myself so that I am the Calgary inner city Realtor expert that loves to focus on helping people either buy infills or sell their existing house to a builder or even working with builders to find properties that may or may not hit the market.
In this real estate world, we are in this weird one where we are in the pandemic. However, so much real estate is selling right now. I'm not sure if this is across the world, but definitely in Canada, the real estate market has been hot, especially Toronto, especially Vancouver, but Calgary is feeling it as well.
When I mention that the real estate market is hot, the builders say things like, "Hey, if you have any pocket listings, let me know," or, "Hey, if you have any properties that haven't hit the market, let me know."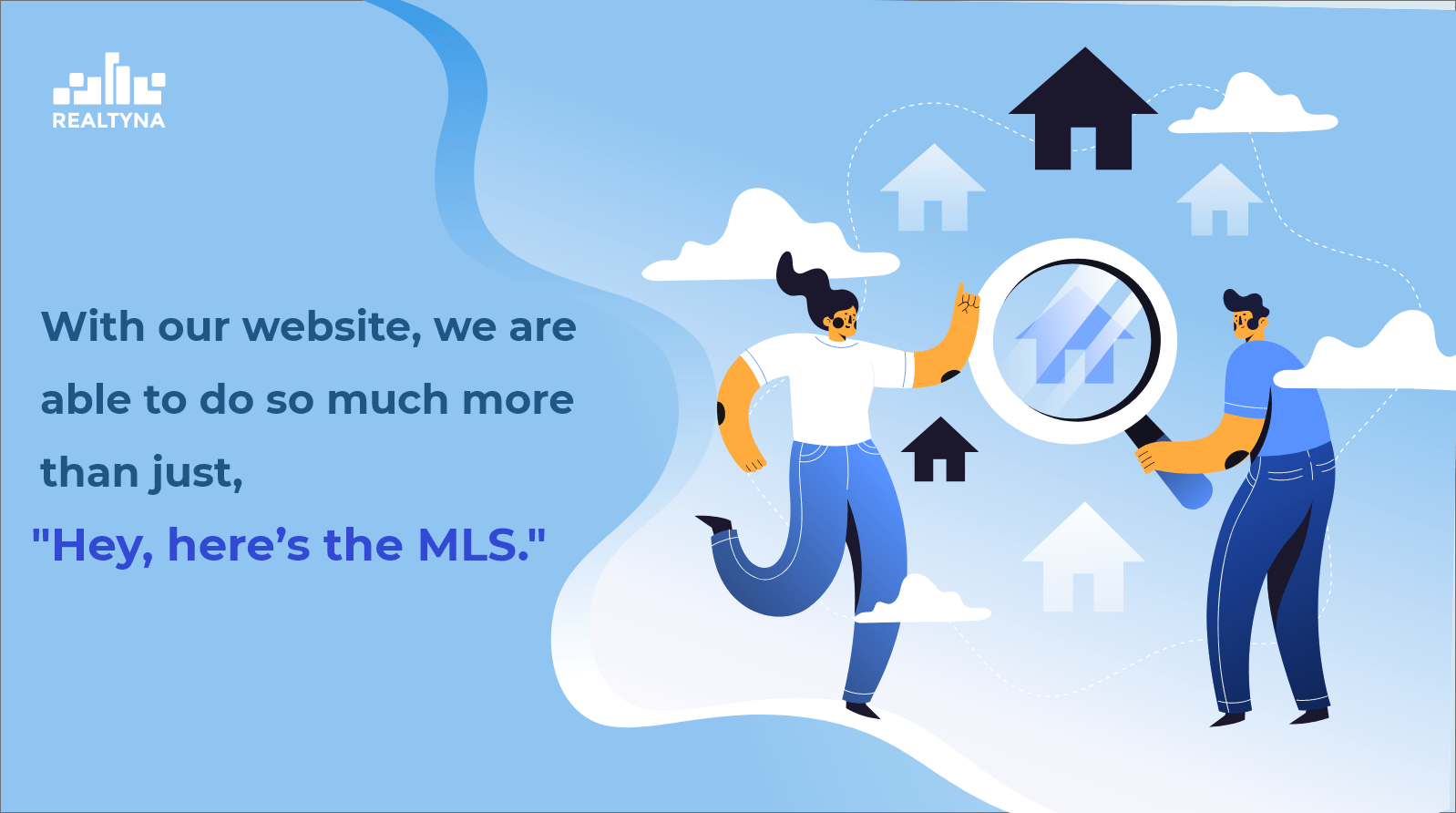 With our website, we are able to do so much more than just, "Hey, here's the MLS. Here are the listings you see on Realtor.ca." We are able to customize our website a little bit more than some of those sticker websites out there. This website has really helped us differentiate ourselves. We've been able to make it very custom and people often compliment us on our website. With your help at the beginning, we were able to figure out how to input only the communities we want to focus on. Out of 150 to 300 communities in Calgary, we only want the inner city ones.
R: Thank you for those kind words. Backing up to your niche, working with infill properties in the city, what was your motivation and inspiration for developing that niche?
A: I've kind of always loved design. I wish I had studied architecture. I studied economics, so not quite the same. I've been working with a lot of investors, and naturally I fell into working with builders. We've had about three or four really luxury listings in the last year that have been fun to market and focus on. Those houses are typically very beautiful. They are modern. Especially in Calgary where we are that farm meets mountains area, so there is a modern/farmhouse trend right now. Knowing that I really like working with the design and watching buildings go up from inception to possession, that has been a fun journey.
To be able to walk people through from the beginning or the builders, if I'm able to help them market, it has been fun to see that. We are there, and we can say, "This week we are putting in the framing. This is what the framing looks like." We do snippets and clips and fun things like that. I actually enjoy that. Maybe Realtors just like to buy and sell, but infills is definitely my niche. People say, "You light up when you talk about it."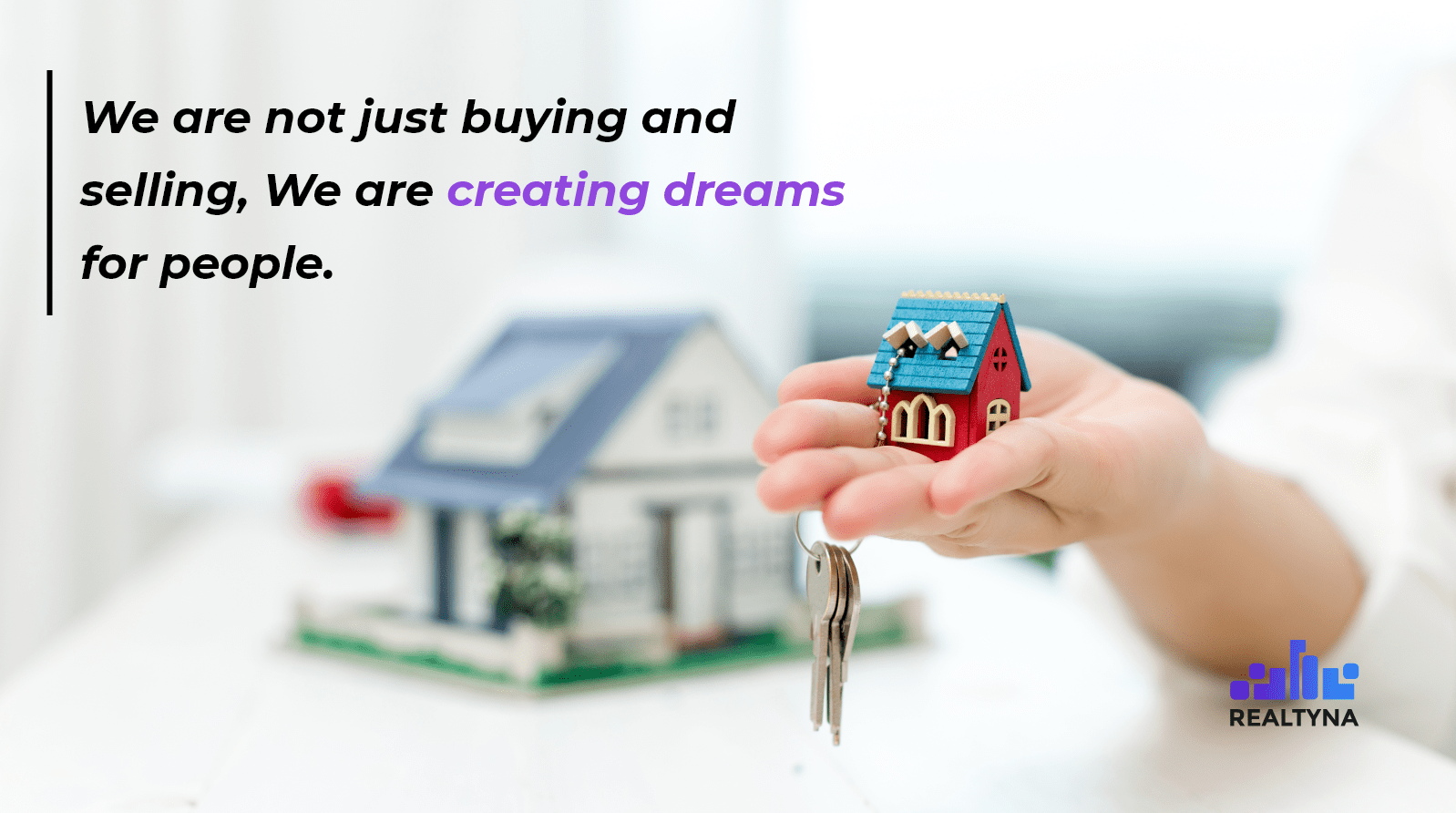 I'm ready, in a few years, to have my own investment and to have more infills under my own belt. It's naturally that you do what you love and when you have something specific like this, I want to be able to help people because I've been there. That's where I say this is 100 percent more than just real estate. We are not just buying and selling. We are creating dreams for people.
Yes, I can definitely buy and sell you a house. I can definitely buy you a suburban new build as well. I've worked with clients doing that. At the same time, it's more fun when you are in the city where you can walk around right in downtown in the pulse of the city.
R: I can see the passion. You get into the nitty gritty.
A: I just really like to educate people. That's another thing we do on our website because we have seen nightmare stories as well. We want to protect people as well.
R: That's a great segue because I want to talk to you about some of the challenges in the real estate industry that you face and how you overcome them.
A: I remember shopping around for one client that wanted to buy an inner city infill and we went into houses that were a little bit older because they didn't want to have a brand new one. So, we go in and we look around, and I remember seeing things like there are roof issues. I remember saying, "This is a five-year-old house. Why are there roof issues?" In Alberta, we have new home warranties, so if it's a new build whether it is in the city or outside the city, we have five years to address issues. These houses were past their warranty. We are seeing roof damage. We are seeing leaking in. To me, it makes no sense to have a new-build house with a roof that is supposed to have a 25 year life, and it's leaking already. It could be shoddy workmanship.
We are making sure to encourage people to have a home inspection, especially with abandoned houses. Make sure you know who the builder is, and see if you can reach out to them if you see major issues. If you see a nail hanging out of a wall, unfortunately talking to a builder they are going to say, "We're not going to fix everything." But the challenge in this real estate world is that you have to work with a good real estate agent that really understands these properties. Anyone can sell intercity, but to have an agent that is working with the builders is one of my ways of overcoming challenges in the real estate industry.
I know there are a lot of discount brokerages that pop up everywhere. Those are fine if you know what you are doing. If you are a first time home buyer and you don't know the process, I don't recommend a discount brokerage because there are a lot of discount brokerages that don't do anything for you. They don't do the estimate brochures. Some don't do professional photography. They don't do professional measurements. If you don't have yourself protected and things go sideways, at least for us we try to eliminate those headaches.
Those are some of the challenges that I've seen in recent years. People are just looking online and saying, "I'm just going to to go and buy the property. Why do I need a real estate agent?"
Typically as a buying agent, if I'm helping you buy a house, the seller pays my commission, not you directly. People don't understand that you want unbiased advice.
Let's say you are divorced and you are working with the same lawyer your ex is working with. Do they have your best interest? The best thing is to find yourself a separate lawyer. In this case, it's no different.
You want to have separate representation in general because if things go sideways, the agent is more biased to the seller.
R: That's a really great point. Can you tell me about some of your working habits? What are some of the things that set you apart, your routines, etc.?
A: I wish I had more routines in my life. [Laughter]
R [Laughter]
A: I'm a very dedicated person. If there is someone that wants to chat or wants advice, I'm very easy to reach via call, chat, text sort of thing. Whatever supports someone's lifestyle. Some people like email or even Messenger, Whatsapp or WeChat. I'm a very adaptable person. Even if someone is just looking, I've been giving a lot of free, unbiased advice online to various groups. I've been out there and flexible with my time. For special habits, I don't really have any, but I recently developed my basement which has been great. I've developed this space for myself in the basement where it is like my time. This has been a great thing for my routine because one, it keeps me healthy and happy and two, it allows me to have my own space, especially because we are still in the pandemic. It is harder for us to go out and dine and network with people. Zoom doesn't have the same type of interaction. Definitely having a good routine to have my own personal space, to have my own happy place, that's been good for my work life because it gives a good balance. I feel like I have time for myself, and I'm able to do other things, so that's been really good.
R: That's important. We are all just improvising with the space that we have, trying to make the most of it while working and living in the same space and using it in new, creative ways. It's a challenge. I'm happy to hear that you've found something that works for you.
So you talked about interacting with customers through various online media, and I think that is one of the things that has been a big change in the last year. What does customer service mean to you? You talked about how you try to build a connection with your clients. How do you do that and how do you do it online through a real estate website?
A: Customer service is so important. I've been giving unbiased advice to people. I've been giving free advice. Just showing people that I am a knowledgeable person in the inner city world has been beneficial. That goes hand-in-hand with customer service.
I already know that any other agent can buy or sell in the inner city. Working with somebody that understands that and gives you the proper advice, this customer service is really important. We often touch base after people move into their property to see if they have any concerns. I think of this as customer service after the fact.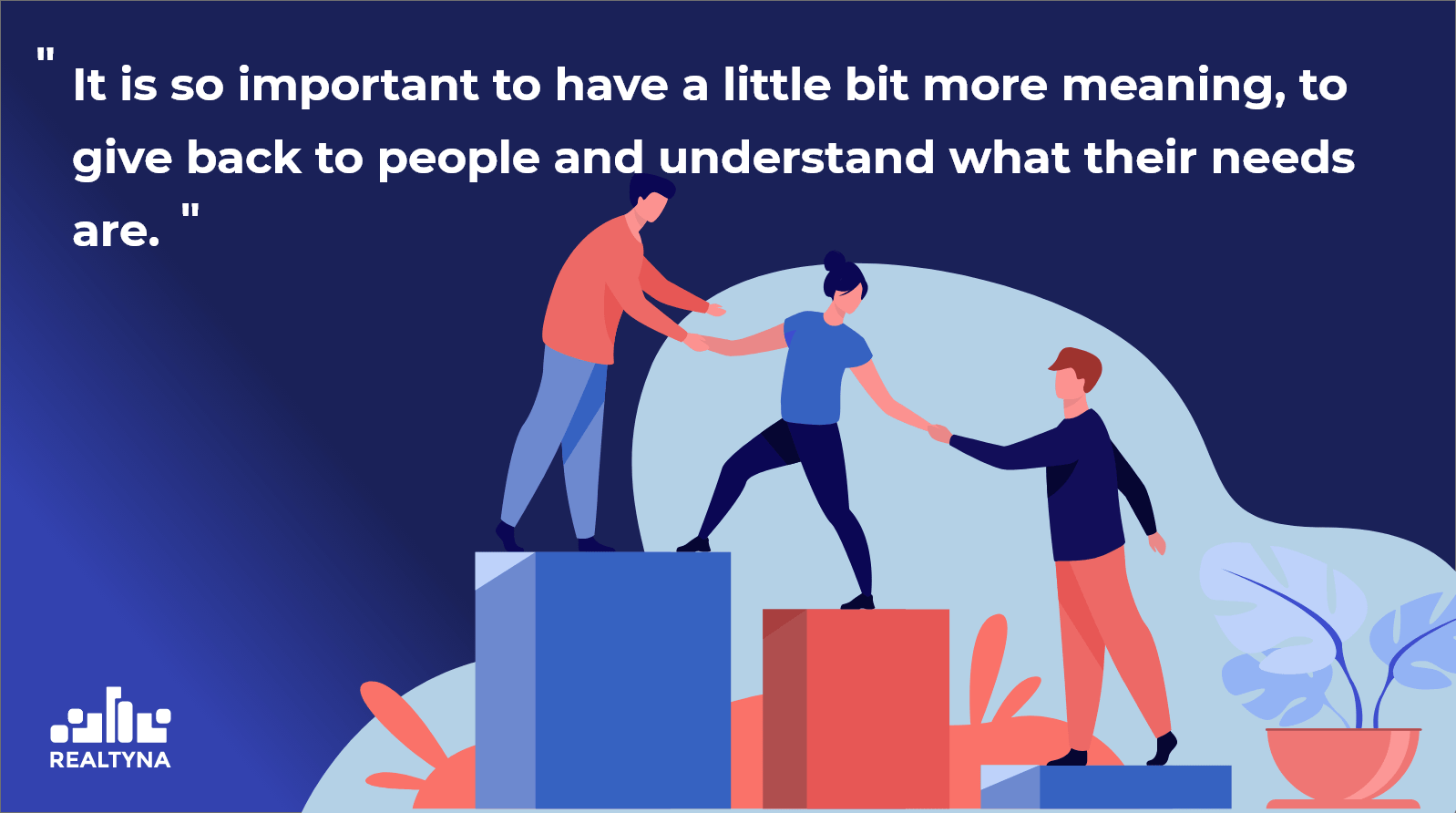 You can be like, "Here is your house. Here are your keys. Thank you so much. Bye bye." But it is so important to have a little bit more meaning, to give back to people and understand what their needs are.
Ninety percent of what we do is customer service. We need to make sure people understand the process because it is a huge purchase in their life. Nowadays, it is every five to seven years that people are moving houses, but regardless of that it is about making sure they know what they want. It can be very tough to sit in someone else's shoes, but we need to give them the best information and our best customer service, so they know what's out there. Whether we refine their search or mold it so that we check off 8 out of the 10 things on their dream list, it's important for people to understand what they are looking for. That's why good communication is so important.
R: That makes sense. I want to take a second to talk about your website currently. What do you think are the most important features of your website that make it more effective?
A: We've broken down all the communities that are inner city. We actually did a little bit more than inputting them. We have a page where I wanted to break down where the schools are in the community. How far are we from the hospital, the schools, the churches, police, downtown? I've actually mapped out in our communities all of those things. If you are new to Calgary, you can go to my website and you can look up certain communities and see what is selling in that area right now. You might see 5 houses on my website and say, "OK we are in this community. It is near the trendy zone where there are a lot of bars, restaurants and eateries. Oh her, we are only two minutes from the train station."
It maps out where the houses are. Instead of it being a search where you are just looking at the price point, now you are getting an overall community feel and look. We map out the communities. This is one thing. But we also wrote a little bit about the community. Things like: these are the parks nearby, these are where the restaurants are, and things like that. We went above and beyond, so that our communities are really clear for people. If people are looking in the city and they have a community in mind, people can click on our website and find a property. Our mapping system was a lot of custom work. It was a lot of manual stuff that I had to research. We wanted to make it very informational. The customization has been amazing for that.
R: That sounds like a great feature. I bet your clients really appreciate that insider knowledge that you give on your site. That knowledge can only come from someone who is really involved in the community and who has been there a long time working. That type of information is invaluable. I'm happy you've been able to put it in place on your website in an effective way.

Amanda, I want to ask you about new agents. What kind of suggestions do you have for new agents that are entering the industry now?
A: For new agents, I would say find a good brokerage that can really support you. In Calgary, I'm part of a company called CIR. We are very local to Calgary and we are expanding. I know there are a ton of like ReMax agents in our city or things like that. People understand the brand, but at the same time all brokerages are different.
When I joined CIR, they had an extensive new agent program, so we really understood how to get out there and start selling. We are not just here thrown into the tank. We had a support group, five to six agents together, and we would brainstorm. Any new agent that had questions, we had a mentor they could reach out too.
I had joined another brokerage prior to me joining CIR. I know that I was part of a team, which was great, but my background was in real estate already. I was in commercial real estate, so some of the fundamentals were already there. It can be very complicated, so having that mentorship and guidance for the first one to two years is really important, so you can work to see how successful agents do it.
R: That's really good advice. Is there anything else you want to add for our interview?
A: My website is calgaryinfillsguide.com. I really enjoyed how we could customize a lot of different things and we were working directly with Realtyna. I don't know if Thomas is still there, but I was working closely with Thomas. We formed a really good relationship. If there was something happening behind the scenes, we could say, "Hey, what's up Thomas?" It was not like, "Hey, support person, please get back to us." He was really responsive.
If people want to check out our website and have a look, there are some things that we did a little bit different. We had to craft it out that we only wanted to see certain specific listings. It wasn't like the whole MLS drop-and-play on our website. It was actually very specific and niched out, so we aren't seeing 10,000 properties. We are seeing 500. It is specific to where our clients' needs are hopefully.
Of course if there are any suggestions from people that are looking to buy or sell, they can give that to us.
R: Thank you. Thank you very much, Amanda.