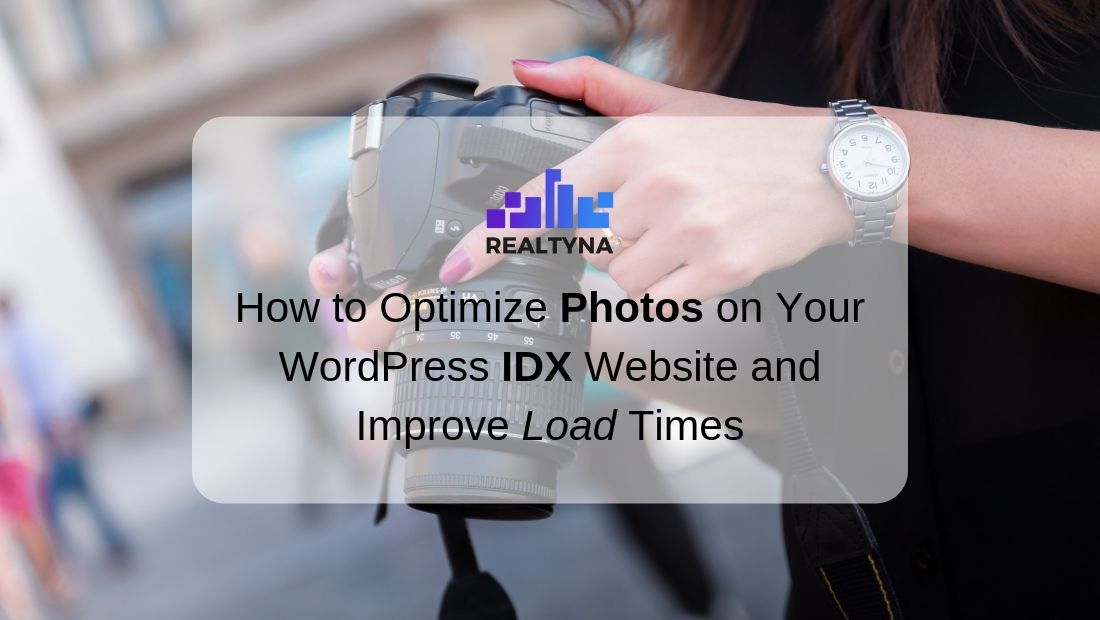 How to Optimize Photos on Your WordPress IDX Website and Improve Load Times
28 May 2019

Posted at 10:00h
0 Comments
Page speeds are hugely important for an online business. The longer your leads wait, the less likely they will stick around. Here are some statistics demonstrating this point:
53%

of mobile users leave a site that takes more than 3 seconds to load

39%

of consumers stop engaging with a site if images do not load

47%

of online shoppers expect a webpage to load in 2 seconds or less
The stakes are particularly high for real estate agents due to the data involved. Robust IDX sites can host more than 60,000 listings and use up more than 300 GBs of disk space.
Ensuring this data loads efficiently is one of the key elements of a successful web strategy. In this blog we'll show you how to do it.
Special attention should be paid to photos on your WordPress IDX website, Photos allow users to "see" a property without needing to schedule a showing. But photos are also the most resource intensive aspect of IDX.
To optimize the photos on your WordPress IDX site, you should focus on two things: the file type and the compression.
*Please note: Not all plugins are 100% compatible with other plugins, solutions or Realtyna products. Please confirm or test compatibility with your solutions before implementing. While we are happy to help you find a compatible solution, we do not endorse any 3rd party products. Suggestions are only made for reference or guide.
File Type
There are two principal photo file types. The first is PNG. PNG files can support multiple layers, as well as transparent backgrounds. They are higher quality, which means they take up a large amount of space. JPEG files sacrifice some image sharpness for a drastic reduction in file size.
Most likely you will want to use JPG for your WordPress IDX site, though PNG with some compression is also possible. Uncompressed PNG maybe too heavy, unless you are working with a small set of listings.
Compression
Image compression is a way of encoding an image so that it takes up less space. Two popular compression methods are deflate and transform. Deflate works by structuring the image data in a hierarchical tree and leaving out some lower-level elements. Transform takes colors with very similar shades and sets them to one value.
You goal in optimization is to mix file type and compression to produce the smallest image possible, while maintaining a minimum level quality necessary to generate leads.
So how do you do this?
Manual Photo Compression
Manual photo compression uses every-day tools to modify images on your site. This method is infeasible for larger IDX, but could work for a smaller site where you post your own listings.
Virtually all photo editor software packages will allow you to save images in your preferred file type. Simply load your raw file, then save as JPG or PNG. You can check the file sizes and note the savings.
Compression can require some more advanced photo software, such as Photoshop. If these packages are out of your price range, you may consider a WordPress compression plugin reSush. it is a free image compression plugin that allow photos up to 5MB. ShortPixel is a more flexible, but more expensive option for compression on WordPress. Paid plans start at $5/month for 5,000 images. Both plugins allow you to bulk-compress the images in your WordPress media library.
Automatic Photo Optimization
If you have a 60,000 listing database, obviously manual photo compression is not going to work.
Automatic photo optimization uses similar compression processes and performs them on every IDX image as it is passed to your site. Automatic photo optimizers may be included in your IDX package as a plugin or add-on. For example, Realtyna's Optimizer Add-on is a software extension for our Organic MLS Integration system.
The Add-on runs compression on all of your IDX images. It also provides for interlacing, which displays images as blurry until they are fully loaded.
Hot-Linking
By itself, Hot-linking does not compress photos or change the file type, though it may be combined with these processes. Under hot-linking, IDX images are hosted on an outside server. Each image is given a unique link and the IDX website uses this link to access the image for users.
This saves your site from having to load images and increases your page speeds. As long as your MLS provides for hotlinking, your IDX provider should be able to incorporate it on your site.
So now you know how to optimize photos for your WordPress IDX website. Have you implemented an optimization method that we did not mention? Let us know in the comments. For more IDX tips, check out How to Reduce Bounce Rate on Your IDX Real Estate Blog