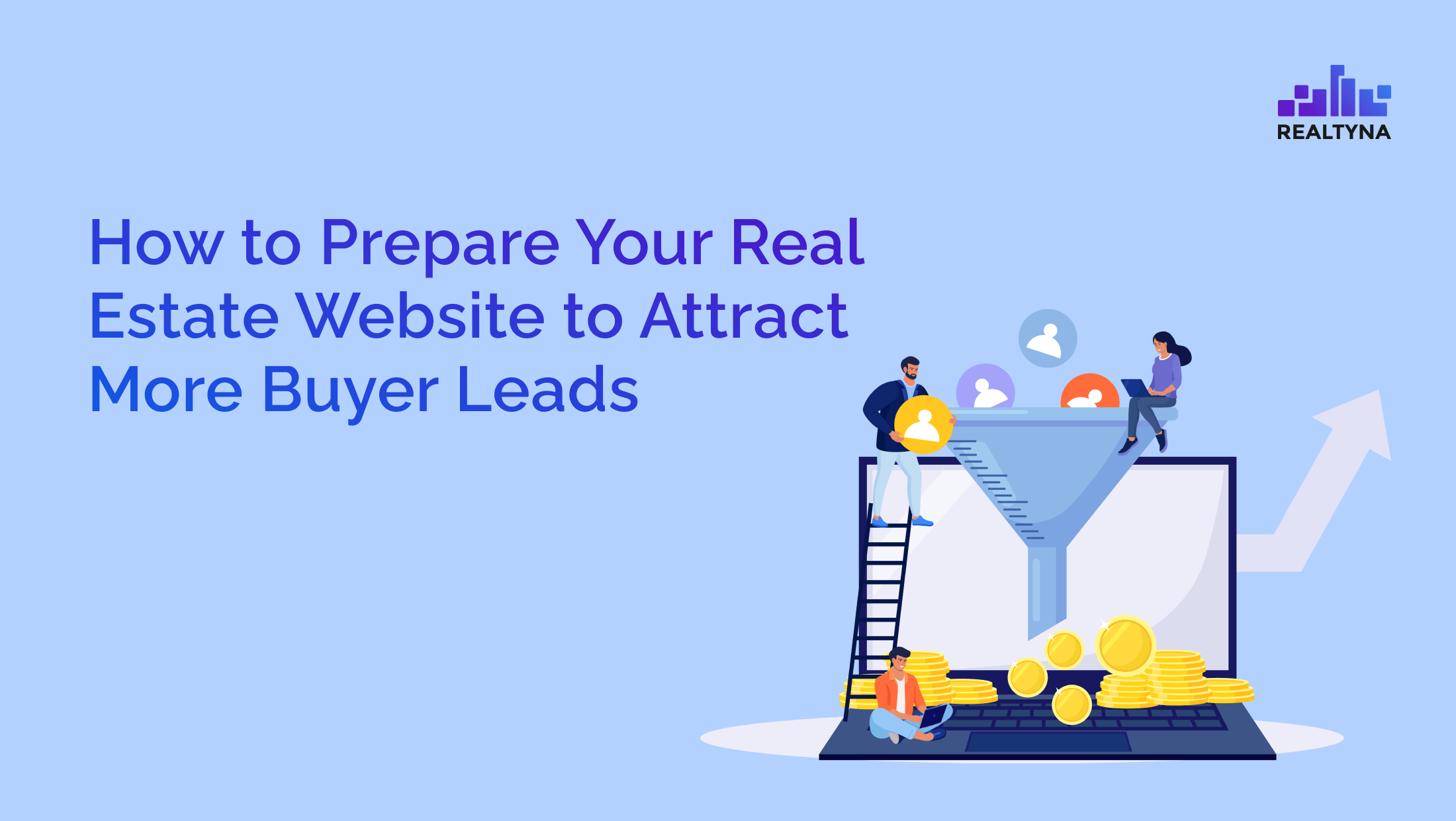 How to Prepare Your Real Estate Website to Attract More Buyer Leads
12 Oct 2022

Posted at 11:00h
0 Comments
The real estate industry is an ever-changing business. When the economy hits a new high, the market starts leaning toward buyers and vice versa. Following a spike in economic indexes and employment rates post-pandemic, real estate analysts anticipate an eventual recession, and this only means one thing for agents and brokers—time to focus on buyers.
Whether or not you focus on buyers, it is time to make a few shifts in how we do business to fully address the needs of the market. In this guide, we are going to focus on your most influential business tool, your real estate website.
Check out Realtyna's Portfolio to see some examples in action.
How Do I Attract Buyers on My Real Estate Website?
To answer this question, we need to know what services buyers look for when they get online. Here is a quick checklist:
Search for potential properties
Receive valuable information about properties
Conveniently reach out to agent(s) for communication
Check out the property online or in person
Calculate home value and mortgage
And more
We have two objectives here. One is to make sure we offer these services and two, make sure we offer these services with the highest possible quality; after all, the competition is intense.
In the following section, we will show you what tools can help you provide the services mentioned above with the highest quality:
What Tools Do I Need?
Realtyna offers a wide range of products and services to ensure that you build a converting real estate website. Here is a list of solutions and services that help you effectively serve your buyer clients:
Organic MLS Integration
Buyers need seamless and easy access to MLS listings. Organic MLS integration guarantees updated and indexable property listings on your site. Learn more here:
Managed Hosting
IDX/ MLS sites with organic listings information require hosting services they can trust. You are highly recommended to use Realtyna's Managed Hosting. Here is why:
CRM and Membership
Potential buyers will find your website on Google and will need to interact with your agents. Proper CRM and Membership solutions can help you make sure every lead is well accounted for.
Open House
Using this feature, those who are interested in a property can easily learn about open house possibilities. They can book a visit using the quick calendar provided.
Mortgage Calculator
You can provide a quick calculator for your clients to get a good picture of mortgage options. Learn more here:
Feature-rich and Customizable Website Builder
Building a website requires a platform you can trust. One with a strong page builder like Elementor and lots of useful widgets and plug-and-play options. WPL for Elementor is the solution here:
School and Demographic Information
School and demographic information is very valuable for buyers. They want to know as much as possible about the vicinity of the property, details like the media income, prices, ages, top schools, etc.
Do You Have an App?
With over 80% of home searches initiated from a mobile phone, a custom-branded mobile app is the key tool to be available for more potential buyers. Check out the following article to see how mobile apps help you generate leads:
Top Real Estate Apps That Can Improve Your Lead Generation
If you are a brokerage or real estate office looking to equip your agents with custom branded tools, Realtyna offers white-brand apps with all the features above. Learn more here:
How Can I Get Started?
To get started, you can contact one of Realtyna's solutions advisors today for a free consultation.